It's here, everyone! My NEW ebook "Enthused: 80+ allergy-friendly recipes you want to eat!" is available for purchase and instant download!
I've created a collection of OVER 80 BRAND NEW allergy-friendly recipes for you that will never bore. In fact, the recipes in Enthused will jolt you right out of any food snooze you may have been experiencing!
From breakfast to sauces and appetizers to main courses and dessert, you'll find everything you need to live a vibrant & mega-delicious life.

Enthused contains 192 pages of
UNIQUE & FUN AIP recipes!
HERE'S A LOOK INTO THE RECIPE CHAPTERS
SUNSHINE & DINE
Beat any breakfast boredom with a new collection of classic grain-free, dairy-free morning meals including…
Southern Style Biscuits, Vanilla & Raisin Scones, Basil & Vanilla Matcha Latte and my take on the classic Breakfast Sausage & Mash.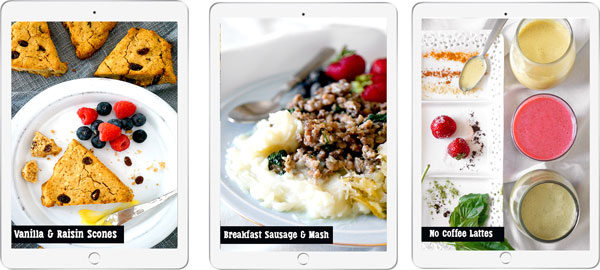 ALL THE LITTLE BITS
Here you'll find all the sauces, dressings and dips you need for food with punch-you-in-the-face flavor.
Don't miss the Garlic Aioli, Cranberry & Pumpkin Meat Sauce, Tigernut Butter, Nightshade-Free Curry Paste, Real Caesar Dressing or Mango Ginger Dressing… okay don't miss any of the recipes in this chapter! I even include at least one recipe in the book using these Little Bits.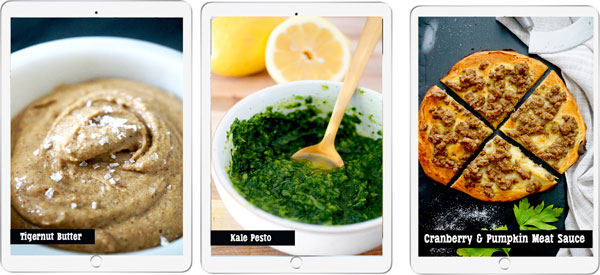 LITTLE PLATES & SIDES
We all need a few go-to recipes to bring to parties or when we're craving a light meal. In this chapter, you'll get access to some stunner recipes including…
 Crispy Fig-Stuffed Prosciutto Rolls

(perfect for holiday parties)

, Chardonnay-Glazed Sea Scallops,  Kale Caesar Salad with Sweet Potato Croutons

(OMG)

, Truffle Fries with Garlic Aioli

(bar food done right)

& the not-to-be-missed

"Cheesy" Bacon & Brussels Gratin.
*You can download Enthused to your desktop, laptop or tablet!*
BIG BOWLS & PLATES
Over 20 new main courses, most a full meal, that will spice up your weeknight rotation. I included tons of ethnic options like…
 Grilled Beef Kofta, Salmon Larb & Sweet Potato Rice, Sticky Orange Beef, Thai Fish Curry Soup, Indian Butter Chicken

and

Lamb Shawarma & "Rice" Plate.  
There's also some interesting takes on classics like Preserved Lemon & Basil Meatballs, Teriyaki Turkey Poppers, Chicken Spaghetti Squash Patties & Beef and Squash Stroganoff! Salivating yet?
BETWEEN THE "BREAD"
I have a feeling this will be the most popular chapter! We ALL miss those comfort foods like pizza, fried chicken & waffles, nachos & wraps! I had a TON of fun creating these recipes, including…
Fried Chicken & Waffles with Sweet & Spicy Syrup, Caramelized Onion & "Ricotta" Pizza (+ 3 more pizzas), Grain-Free Runzas, Puerto Rican Pastelon

and

Pulled Chicken Nachos.
SWEET TOOTH
Okay, maybe THIS will be the most popular chapter. You're getting 8 brand new AIP-friendly dessert recipes including my twist on holiday favorites like:
Tigernut Butter Sandwich Cookies, Salted Gingerbread Cookies, No-Bake Pumpkin Pie Bars & 

Maple Butter and

 Cranberry Bark (that one is to die for – it would be part of my last meal). You'll also get this stellar Apple Butter Banana Bread recipe as well as Salted Lemon Ice Cream with Blueberry-Basil Jam Swirl. 
**BONUS CHAPTER: ROCK YOUR DETOX**
Looking for recipes to support your liver, gallbladder & digestion? Maybe you're doing a liver cleanse program or need an extra boost of detoxification here and there! You'll get this BONUS chapter of 11 AIP-friendly recipes that contain some of the most potent antioxidant foods you can eat on the autoimmune protocol including…
Turmeric Pumpkin Chicken Soup, Liver Loving Green Juice, Ultimate Detox Smoothie Bowl, Pink Lady & Beet Detox Salad, Detox Salad with Creamy Lemon Dressing

& 

Gingered Carrot & Turnip Soup!
---
PHEW! I wanted to give you a really thorough run-down on Enthused so you know EXACTLY what you're getting! But for real, are you drooling all over your shirt like I am?

– 80+ AIP-FRIENDLY FLAVOR BOMB RECIPES FOR ONLY $19.95
– A BEAUTIFUL PHOTO FOR NEARLY EVERY RECIPE
–  EASY TO READ TYPE FACE & FONT SIZE
– A PRESCRIPTION FOR ENJOYING FOOD AGAIN!
– FOOD YOUR WHOLE FAMILY WILL LOVE!
– RECIPE KEY FOR ONE DISH, LOW CARB, LOW HISTAMINE & 30 MINUTES OR LESS!