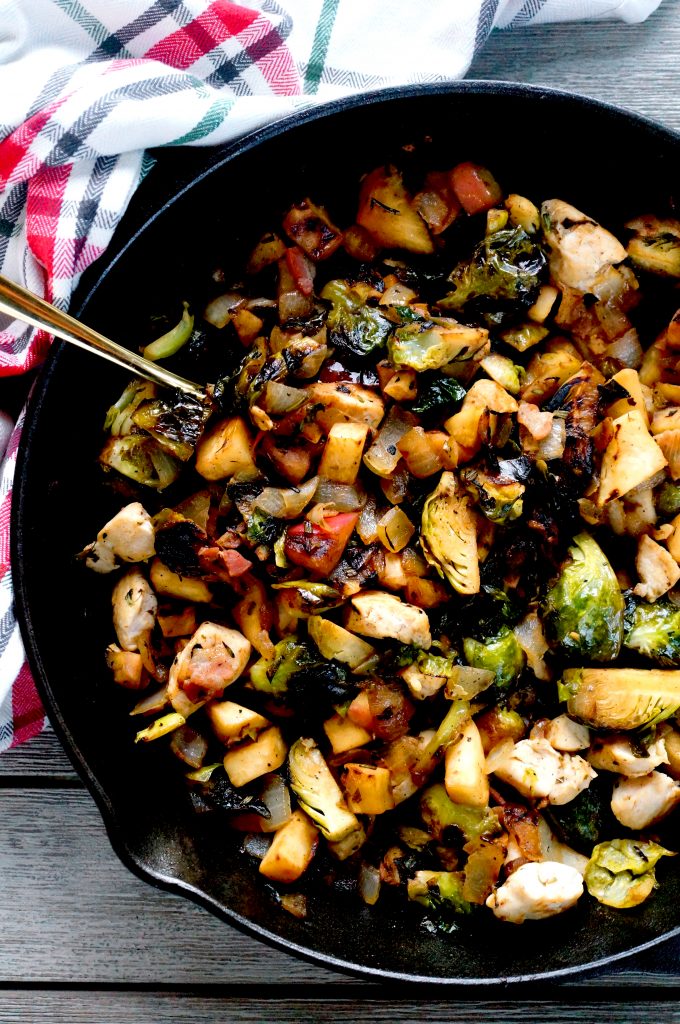 This Harvest Chicken Hash doubles as a Thanksgiving side or fall-inspired breakfast hash – your choice! It's Paleo, AIP, Gluten-Free & Dairy-free to boot!
Hey, it's me, that person who used to post recipes weekly. I have been a wee absent from the blog but still posting away on ye old social media. My absence has been for good reason though – I am plugging and chugging away on my ebook that will be releasing by the end of 2017! YAY!
In fact, I've been so busy making recipes for the ebook that I completely forgot about Thanksgiving. Did you know Thanksgiving is next week? Oh you did? You must look at calendars or talk to humans besides an 18-month-old.
It dawned on me as soon as I shoved this hash in my mouth that it reminded me of a delicious Thanksgiving side dish. So I said to Grace, "Let's put this on the blog as a ebook preview recipe before Thanksgiving!" and she was like, "Mom, that's an excellent idea. I must get my smarts from you and not Daddy." Daddy would agree.
So here we are, my friends!
AIP HARVEST CHICKEN HASH

–> make it a Thanksgiving veggie side by leaving out the chicken or serve it as is for a holiday breakfast!
You'll find this Paleo-friendly Harvest Chicken Hash in the breakfast chapter of my ebook which I have cleverly labeled "Sunshine & Dine". Yes "Sunrise" would make more sense, but what would rhyme with that? "Sunrise + Appetize"? Not great.
Some other breakfast recipes you will find in my ebook:
—

Vanilla & Raisin Scones

that have the loveliest dense biscuit texture + a not-too-sweet flavor!
— Three kinds of

Lattes

(iced + hot) in some super fun flavors
— Hot Gingerbread Cereal which is so warming + kid-friendly
—

Breakfast Sausage & Mash

… maybe one of the most addicting recipes in the book!
The ebook will include over 60 of my best recipes (over 50 of them never published before) including loads of holiday-themed, comfort food favorites + ethnic dishes!
— Chardonnay-Glazed Sea Scallops
— Vietnamese Shrimp Salad
— "Cheesy" Bacon & Brussels Gratin
— Lamb Shawarma + "Rice" Plate
— Teriyaki Turkey Poppers
— Thanksgiving Meatloaf
— Fried Chicken & Waffles with Sweet & Spicy Syrup
— Salted Lemon Ice Cream with Blueberry-Basil Jam Swirl
— No-Bake Pumpkin Pie Bars
— Apple Butter Frosted Banana Bread

RECIPES WILL FEATURE ICONS FOR:
ONE DISH
LOW CARB
LOW HISTAMINE
READY IN 30 MIN OR LESS
STAY UPDATED ON WHEN IT RELEASES BY FOLLOWING ME ON INSTAGRAM, FACEBOOK OR JOINING MY NEWSLETTER AT THE TOP OF THIS PAGE!
Harvest Chicken Hash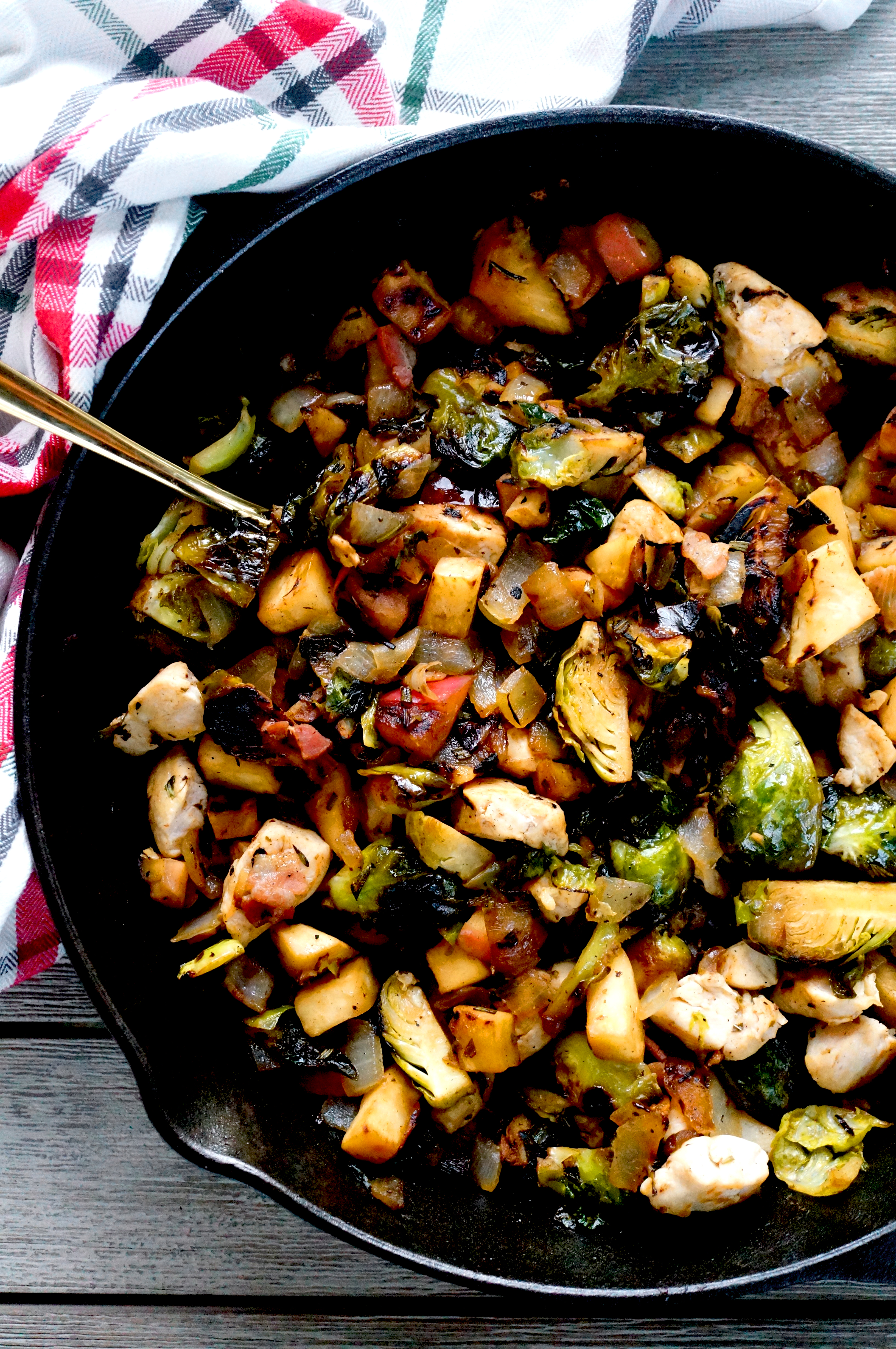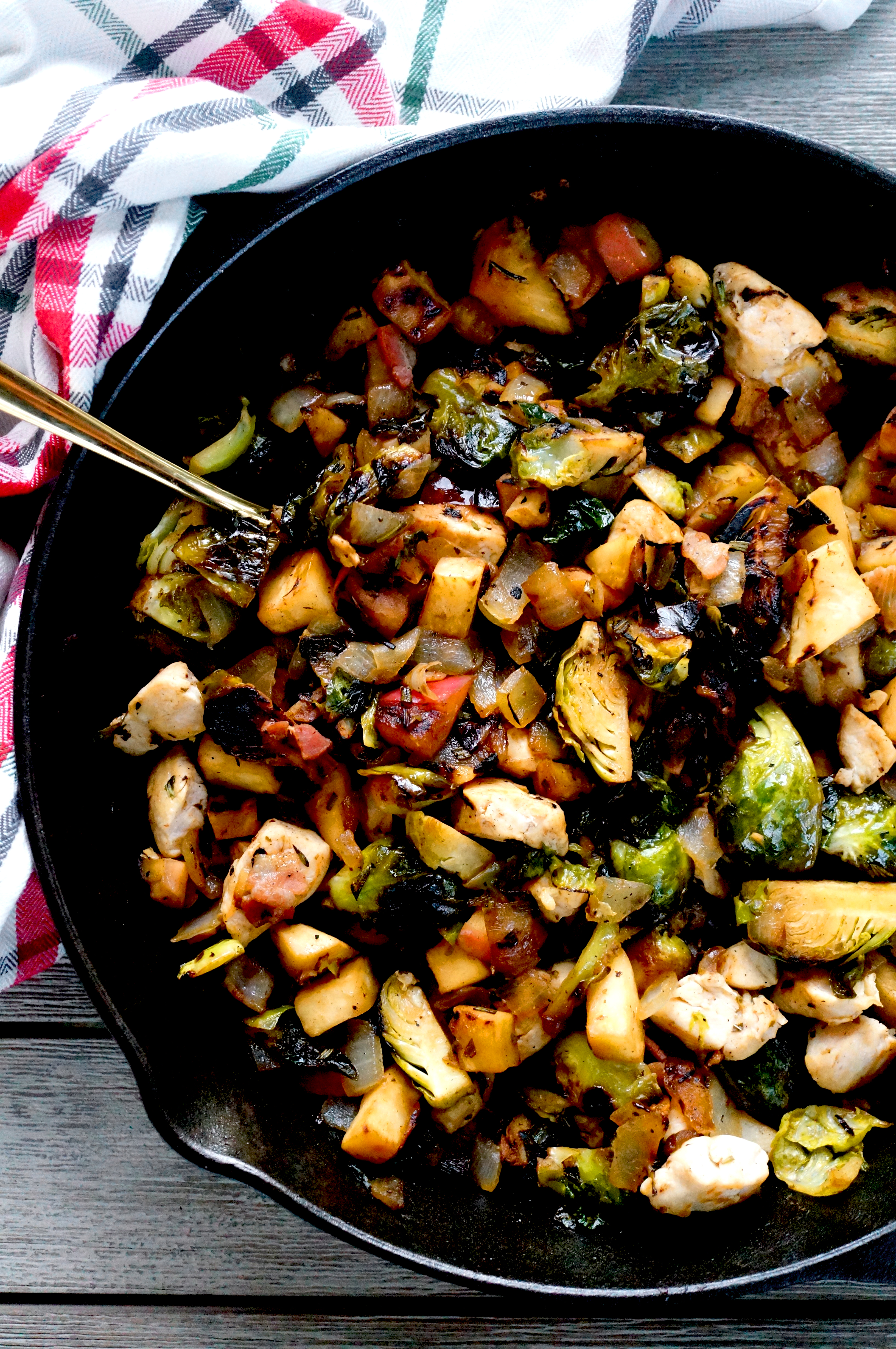 Ingredients
4 slices bacon, chopped into 1/2-inch pieces
1 large yellow onion finely chopped
1 pound chicken tenders
1 teaspoon dried oregano
3/4 teaspoon sea salt, divided
2 tablespoons fat of choice
1 pound Brussels sprouts, quartered
1 pound celery root, peeled and chopped into 1/2-inch cubes
1 gala apple, chopped into 1/2-inch cubes
1 tablespoon finely chopped rosemary
1 tablespoon finely chopped garlic
1 teaspoon ground cinnamon
2 tablespoons maple syrup
2 tablespoons coconut aminos
2 teaspoons apple cider vinegar
1/4 cup water