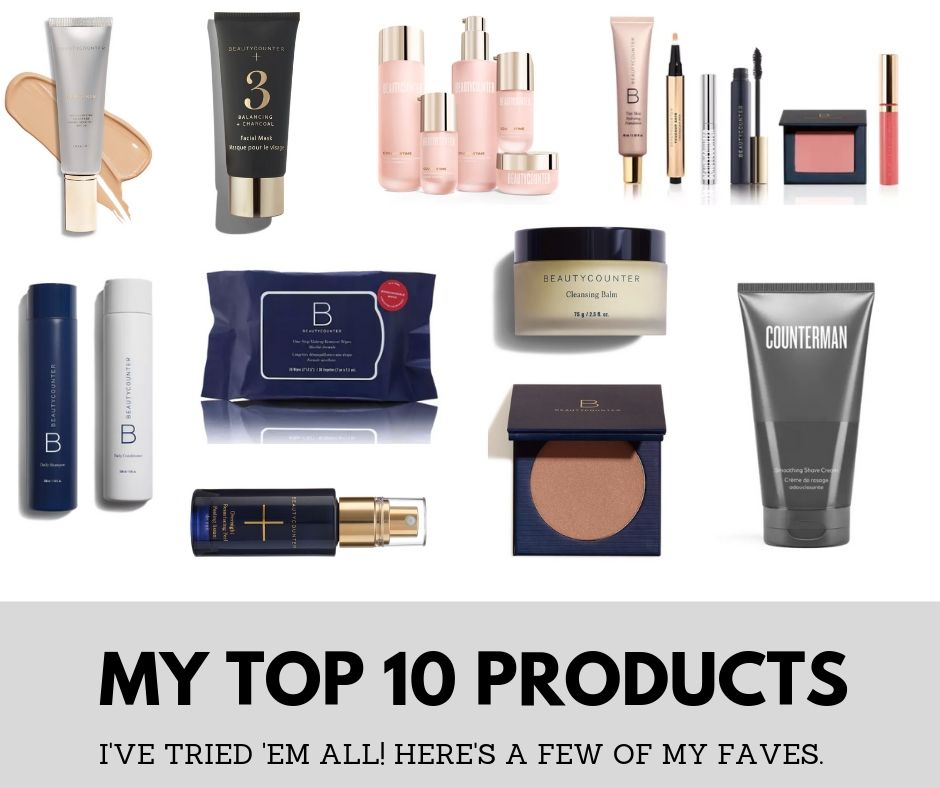 If you're brand new to Beautycounter or have just dipped your toes in, I've got some 'splaining to do about the 10 products you won't find me without lately. I'm sure I could make this my Top 20 Products because Beautycounter addict… I mean advocate, but here's a great place to get started!
1. Dew Skin Tinted Moisturizer: the perfect balance of SPF protection, light coverage and a dewy but not greasy-looking finish. Best seller for years!
2.

No. 3 Balancing + Charcoal Mask

: my dirty little secret to Hashimoto's morning puffiness… add a drop of peppermint oil to my charcoal mask, apply, chill and 10-15 minutes later my face is significantly de-puffed and my skin so, so smooth and detoxed. You can literally see the grime leaving your skin with this wash off mask!
3.
Countertime

is Beautycounter's newest skincare line that offers a safe alternative to Retinol (ranks high hazard) and has been a Godsend for my splotchy post-partum skin. It's helping break up melasma, fine lines and crow's feet as well as some gnarly dark circles from being woken up multiple times a night. You can get it 10% off in the Regimen or 10% off Collection!
4.

Flawless in Five

: this daily makeup collection is already 20% off (even better than sale discount) and a life-saver! It includes everything you need for a natural daytime look and the website has a handy color matching guide for you! If you need further help, simply reply to this email with a photo, and I'll color match you.
5. Daily Shampoo & Conditioner: I recently switched over to this line and love it! A little goes a long way… I'm training myself that "only a dab will do ya". My hair is soft, silky & manageable… bonus no harmful chemicals like conventional hair products!
6.

Makeup Remover Wipes

: Hello, sleepyhead. So many women I know are too tired at night to wash their face! Don't go to bed with makeup on – it's terrible for your skin and eyes. Simply wipe it away with this 2-in-1 cleanser and makeup remover, rinse, pat dry and moisturize. Boom! The most minimal routine on the website.
7. Cleansing Balm: The multi-purpose best-seller that removes all traces of makeup, dirt and oil and doubles as a moisturizing mask. It's helped heal winter dry patches (so stock up now because cooler temps will be here before we know it! The jar recently dropped in price too!
8.

Topaz Highlighter

: Wanna keep that summer glow all year long? You must, must, must try the Topaz Highlighter. I LOVE a 2-in-1 product (see above) and this bronzer-highlighter is insanely gorgeous. I can't get enough. In fact, it's the only Beautycounter pressed powder I've had to re-purchase because I use it excessively in the best of ways.
9.

Counterman Shave Cream

: Literally the last product for me to switch to safer was shave cream. This cream doesn't foam (no polluting aerosol here) but once you massage it into skin, it lathers up so nicely for a clean shave. My husband uses it too on his "whiskers" as Grace calls them. No complaints from him (and I can't say he's the easiest to please).
10. Overnight Resurfacing Peel: Duuuuuh… this product literally put Beautycounter on the map and elevated the brand in the "serious skincare lovers" only game except it's perfect for everybody! We all have a skincare concern the Peel targets… fine lines, dullness, dryness, dark spots, melasma, sun spots, acne, acne scars.
The Peel has you covered. It's a serum – it will not peel your face. You simply apply it like any serum, follow with moisturizer and wash off in the morning (I recommend gentle exfoliation to slough off all the dead skin it lifts up overnight!) If you can only buy one skincare product, I'm gonna say make it this one since it packs such a punch.
If you need any help shopping clean beauty with Beautycounter, email me at
alaena@grazedandenthused.com

! I'm happy to help you select the best products for your skin type or makeup products