For this month's safer skincare post, I'll be chatting about the problems and pervasiveness of heavy metals in your makeup and how you can avoid them!
Be sure to scroll all the way to the bottom of this post for my April Beautycounter gift!
WHAT ARE HEAVY METALS & WHY DO THEY MATTER?
Heavy metals are found naturally in the earth but become more concentrated with human activities like mining and manufacturing. Common routes of exposure include air pollution, dental procedures (mercury amalgams), water (arsenic), food, cigarettes, work, school, the home environment (i.e. lead in paint) and color cosmetics including children's play makeup and face paint.
Many heavy metals have been demonstrated to be harmful to humans. The metals lead, cadmium, mercury and arsenic pose some of the biggest risks to health. The effects of heavy metal exposure can include lowered IQ, neurological effects, cancer, headaches, extreme irritability, and kidney, lung and heart damage (Heavy Metals in Makeup, Beautycounter). 
Heavy metals can be particularly problematic for children whose detoxification systems cannot handle the environmental assault of even a minor amount of heavy metals. Neurotoxins like heavy metals can have dramatic effects on a child's intellectual and physical development (EWG). 
HEAVY METALS IN MAKEUP: HOW COMMON IS THIS?
Companies do not intentionally include heavy metals in their makeup yet their ingredients are often contaminated with these harmful compounds. Beautycounter tested several luxury and natural brands' makeup via third party testing and found that every single product tested had some level of heavy metal in it.
However, heavy metals are frequently found in makeup because they contaminate the colorants that companies use. Whether those colorants are natural ingredients that come from the earth (where heavy metals are present at random and may attach to the intentionally mined ingredients), or whether they are synthetic, heavy metal contamination can be found in both luxury and natural brands (Heavy Metals in Makeup, Beautycounter). 
Currently, the FDA does not require companies to screen, test or limit heavy metals in their cosmetics. If a company discovered dangerous levels of lead in their lipstick, they do NOT have to recall the product. 
HOW BEAUTYCOUNTER IS PROTECTING YOU FROM HEAVY METALS 
Beautycounter sends every single color cosmetic to a third-party testing facility during formulation, at the end of formulation AND then during every single production batch going forward.
Beautycounter tests for 12 heavy metals: antimony, arsenic, barium, beryllium, cadmium, chromium, cobalt, copper, lead, mercury, nickel and selenium. Our goal is to achieve non-detectable levels of heavy metals in all of our products, and we have established extremely low level limits for all metals, much lower than Health Canada's current allowable levels (some of the lowest in the world).
You can feel confident using TRIPLE TESTED products from the only brand I am aware of that screen, tests and reformulates for heavy metals. Beautycounter's #1 mission is to provide safer products for everyone, which is why we've also expanded our lipstick line to compete with long-wearing, high-performance department store lipsticks.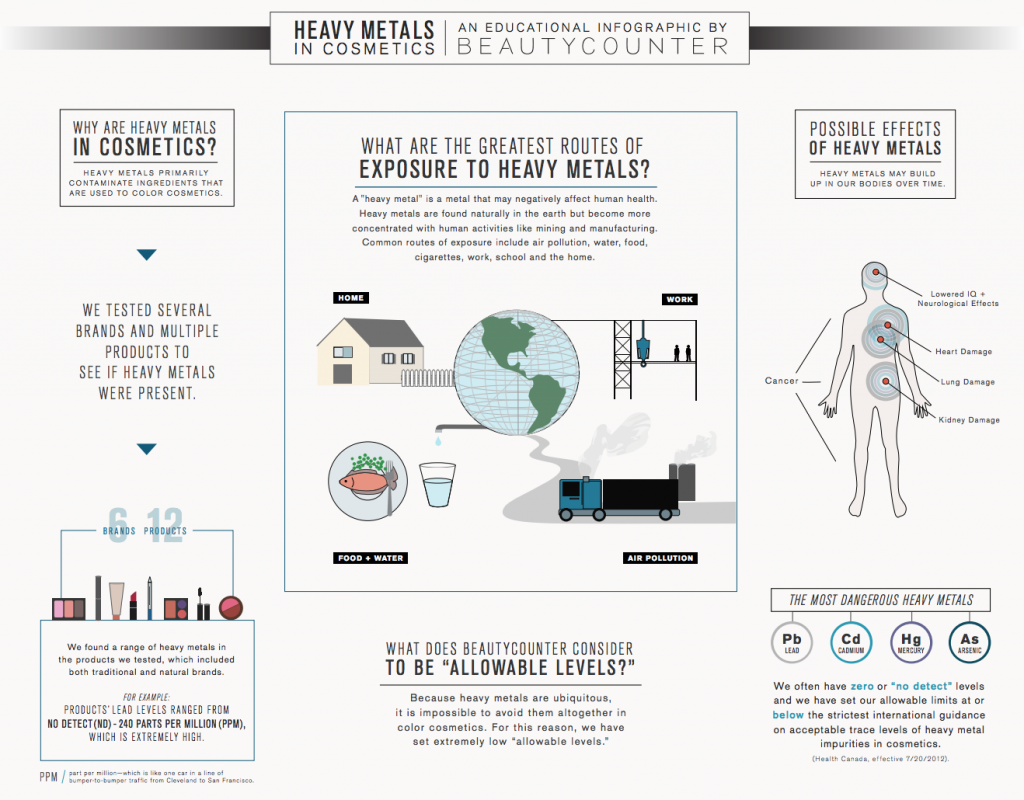 THE NEW COLOR INTENSE LIPSTICK COLLECTION
Okay, I don't think I've ever been this stoked about lipstick in my LIFE! Our newest makeup line is the Color Intense Lipstick Collection which includes 8 BRAND NEW shades from neutrals to pinks and bold reds – a color for every skin tone!
Here's a cheat sheet to help you choose the best colors for your skin! Lipsticks are similar to foundation – you should know if you skin is warm, cool or neutral to choose the best shade.
The first safer LONG-WEARING, ONE-SWIPE, GLUTEN-FREE, SOY-FREE, NUT-FREE & VEGAN LIP STICK YES!!