Looking for eco-friendly, non-toxic gift for babies and children? Here's a list of 35+ gifts I've vetted as an occupational therapist and mom of two!
I don't have much self control around the holidays when it comes to gifting my children. If I see a toy I know would inspire wonder, creativity and fun, I want to buy it for them! I have to reel myself in though because there's such a thing as too many toys. Instead I put on my occupational therapist goggles and really give the toy a good objective look.
I created a list of 20+ toys that use non-toxic, sustainable materials while providing creative play, gross and fine motor advancement and a whole lot of fun!
My Eco-Friendly Baby & Kids Toy Guide had to meet three standards: 
ONE: Are the toys made with responsible, ethically-sourced or natural materials?
TWO: Are the toys open-ended? Can they be explored in multiple ways by a child?
THREE: Will the toys stand the test of time? Both from a child's interest in them and from a quality standpoint.
Materials to look for in baby/kids toys: 
Wood (solid wood is best), Non-Toxic Water-Based Paints, Recycled Materials, Silicone, Phthalate-Free, Low VOC
Types of toys I avoid:
Screens (they get enough of those elsewhere!), Light-Up/Talking Toys (sensory overload, very close-ended, don't allow for imaginative play), Plastic (unless made with recycled materials), toys painted without water-based non-toxic paint (these can be alarmingly high in lead)
Enjoy this mix of high-quality but affordable eco-friendly, non-toxic baby and kids gifts anywhere from newborn to 6 months to 3 years and up!
Lily & River Little Climber 6 months to 3 years + 15% OFF THROUGH 11/24!
This gross motor climbing structure is made of beautiful solid wood, fits any decor and can be used by babies 6 months+ to over 3 years of age. The first day we had it in our living room, my 6-month-old (at the time) pulled to stand and started cruising! Now she's practicing climbing up the rungs while my 3-year-old uses it more for imaginative play. Throw a blanket over it and you get an instant fort. The paint in non-toxic and it was simple to build and arrived quickly from the Etsy shop owner.
Lily & River Little Creator Smart Activity Table 15 months+
Birch hardwood, zero VOC non-toxic paint and a wickedly smart design. You receive the activity table (with a Lego mat for building on the tabletop – genius!), two child-size chairs to promote independent play, and it can be drawn on (and erased) with dry erase markers for endless fun. Children need their own safe space to create – this is it – and perfect if you're short on room at home!
Montessori Wooden Sensory Bin Toolkit 15 months +
Montessori-style learning promotes the use of tools made from natural materials like these wooden bowls, scoops, tongs and cups. Fill up a large bin with beans, rice or even sand and let kids explore! We use sensory bins for nearly every child in occupational therapy as it provides a creative atmosphere for kids to explore imaginative play, sensorial introductions, measuring, fine motor and grasp.
All Seasons Kids Wooden Dollhouse – $80 off now – 3 years+ (small parts)
This is the dollhouse I purchased for my 3-year-old this year as her "big gift". We've been using and loving Hape toys since she was a newborn, and I can't wait for her to play with this 3-story, unique and detailed dollhouse. Each little piece and the house are made with solid wood and painted with non-toxic water-based paint. Seriously, the details are incredible and this is an awesome price for a nearly fully furnished dollhouse! Dollhouses aren't just for little girls – boys love to play "make believe" with them too and imaginative play is a healthy way for children to work out real life conflicts.
The Play Gym by Lovevery Baby Newborn to 12 months
My sister just got this for her soon-to-be born baby boy, and from a therapy standpoint I am very impressed. FSC Certified Wood, organic cotton materials and TONS of grasping, tracking, reaching and sensory opportunities for your little one! Don't know what to get a pregnant mama in your life? This is it!
Cuddle & Kind Handcrafted Dolls  Newborn+
My friend gifted us this adorable matching dolls when I had my second daughter earlier this year. Every doll purchased provides 10 meals to a hungry and malnourished child globally (most of their work is done in Africa). Fair trade and handcrafted, these are one of the loveliest and kindest gifts you could give to a child who has it all and a great way to teach them about helping others.
Personalized Cotton Kids Apron & Oven Mitts 4 years+
These little cotton matching apron and oven mitts for tiny kitchen helpers are cute, functional and encourage kids to get in the kitchen! One of the best ways we can model to our kids the importance of healthy eating is by getting them involved in the process too!
Wooden Musical Eggs 3 months+ to 3 years+
I can't tell you how many uses we've gotten out of these wooden musical eggs! Each egg makes a unique sound when you shake it and has so many uses for 3 months to 3 years+. My youngest practices grasping, shaking and sound exploration while my oldest uses them as a musical instrument while we dance around listening to Pandora in our living room. What a cute stocking stuffer for a family with multiple kids too!
Wooden Sound Discovery Musical Blocks 6 months+ to 3 years+
We also love these, if you're looking for more sound-making manipulatives. HABA makes most of their toys from solid beechwood and non-toxic water based paints so you don't have to worry about your baby mouthing these cute musical blocks! Younger babies (6 months) will enjoy grasping them and checking out the colors while older babies (12 months+) will be able to manipulate them, pressing buttons, twisting and rubbing together to make music!
Mori Organic Cotton Play & Sleep Clothes Newborn+ 60% off now!
This brand has been on my online-ogling list for awhile! The clothing is made of soft organic, basic in style and just about the perfect gift for a new little one in your life. Get up to 60% off during their Black Friday sale now – limited supply!
Honeystick Crayons 12 months to 3 years
Non-toxic art supplies are not easy to come by! While Crayola calls their products non-toxic, I try to avoid anything that could possible end up in the mouth of a young child that has questionable contaminants. These Honeystick Crayons have a nice chunky body for easy grasp for toddlers 12 months and up!
AromaDough Gluten & Soy-Free Playdough Christmas Scents
One of the biggest hits under our tree last year – gluten and soy free playdough with some interesting scents for sensory exploration! My only complaint is they dried out after 9 months, but I've found that to be the case with all playdoughs outside of the actual Playdough brand (which we avoid because of the wheat flour, preservatives and colorings in it).
Montessori Wooden Alphabet Tracing Board 4 years+
Is your kid getting ready for kindergarten next year? Showing an interest in learning how to write? This wooden Montessori-style alphabet tracing board is a great starting place! It's important to scale a new skill for kids so they can remain confident and inquisitive. Don't just hand your kids a marker and expect them to draw their name! Their CNS will start to "code" the alphabet in their moldable little brains by tracing along on this inventive and affordable practice board.
Wooden Alphabet Blocks 6 months+ ON SALE NOW
Every child needs a solid collection of wooden blocks and these happen to be decked out with the alphabet and pictures of animals for object identification. The website says 18 months+ (for building purposes) but kids as young as 6 months+ if sitting independently can play with these versatile, classic toys.
Wooden Play Kitchen 15 months+ 20% off now
Another play staple in our house for over 2 years! Wood, non-toxic water based paint and easy to clean (trust me!) The Hape play kitchen is affordable, fun and makes great storage for all their play kitchen plates, food and utensils.
Solid Wood Tea Set 3 years+
Remember your childhood tea parties with plastic, scratched cups? Plan Toys has created this mega cute solid wood tea set with kettle, mugs, tea bags, stirrers, spoons and saucers.
BPA-free silicone suction cups kept my eldest busy while I made dinner every night. She loved suctioning them to our glass doors or the fridge, decorating them with beads, and rattling them around.
Wooden Stackable Animal Train 12 months+
Have you ever seen a cuter wooden animal pull-a-long train? This toy is so functional – stackable, creative-driven, and made from FSC Certified wood. Absolutely adorable – cute that I grabbed a couple for some mamas in my life!
Plan Toys Sensory Tumblers 6 months+ 10% off now!
Babies don't need much – just some colorful, shakeable manipulatives they can mouth, wiggle and throw! These sensory tumblers are made from sustainable rubberwood too!
If I had to choose ONE gift for a kid 6 years+, this would be it. Endless fun to be had on a wooden rocking balance board. If you as an adult haven't ever tried one of these, it's like a safe version of surfing without the sand, sharks and sun! Stuck inside during winter? Let your kid get their energy out with a balance board!
Peter Rabbit Touch & Feel Board Book
This is one of our favorite books that both my kids enjoy reading at the same time. The baby likes the sensory aspect while my oldest enjoys the colorful large illustrations. I wouldn't really call it eco-friendly since it's a board book but I had to put it on the list! It doesn't tell the whole tale of Beatrix Potter's Peter Rabbit but perfect for young readers/explorers.
Wooden Garden Wheelbarrow Play Set 3 years+
Any real food mama will flip over this sustainable wooden garden wheelbarrow play set. For every tree turned into a toy, they plant a new rubberwood!
Stokke Trip Trap Wooden Highchair to Step Stool 6 months+
One of our most used buys in 3 years – this wooden Swedish style highchair is beautiful, high-quality and transitions to a kitchen helper step stool. Seriously worth the investment as you'll use it for many, many years to come!
Personalized Wool Toddler & Kids Slippers
How sweet are these customizable wool toddler and kids slippers handmade on Etsy? They come in a ton of sizes, and I don't know about your kid, but mine really loves to see her name stamped on just about anything.
I may be the last human on the planet to try out Rothy's, but I really have nothing but admiration for their business model and material sourcing. Recycled materials give way to some trendy, comfortable and long-lasting shoes according to many of my friends, and now they have sneakers for kids too!
Leather & Suede Handmade Moccasins Newborn to 4 years
When my eldest was learning how to walk, we didn't want to stick her in heavy rubber-soled shoes. She wouldn't be able to feel the ground beneath her and that sensory input is important for balance. Natural material handmade moccasins are the perfect first shoe for new walkers.
Big City Architecture Block Set 3 years+
How much fun is to be had with this architecture-inspired building block set? Answer: infinite amounts. My daughter really got into building castles and towers and cities when she turned 3, but children up to 8 to 10 years old will love this too! Screen-free play – that's what I'm all about!
Baby's First Year – A Book of Firsts 0 to 12 months
This is more a book for a new mama but I had to include it. What new mom doesn't want to revel in their baby's firsts? Something as big as their first smile to placeholders for photos of their first Father's July. A baby book in addition to your standard baby book that I wish I had done for my kids!
Soft Veggie Garden Set 12 months+ 20% OFF!
Getting your kid the Hape play kitchen above? Throw in these felt vegetables and wooden box so they can shop the farmer's market before creating you their masterpiece dinner!
Green Toys Stackable Cups 6 months+
This is one gift we received that's been used countless times at the beach, in sandboxes, in the bath, sensory tubs and anywhere in between. Scooping, measuring and stacking may sound pedantic to you but this is an open-ended toy that allows your children's imagination to run wild.
Wooden Shape Sorting Cube 6 months for manipulation, 18 months+ for sorting
One of the only gifts I'm purchasing my 8-month-old this year after seeing how much she enjoyed using a similar one outside the home recently. We've always had a positive experience with Melissa & Doug toys. Can't go wrong with this coordination classic!
National Parks of the USA Illustrated Book 6 years+
Have an older child who has the travel itch? Gift them this illustrated National Parks book so they can explore and plan your next family trip! Expand their world and their growth is limitless.
Wooden Art Easel 2 years+ $30 OFF FOR BLACK FRIDAY
When my oldest was 2 years old, she received a wooden art easel for Christmas and abruptly squealed. Nothing else mattered except the fun to be had with a blank canvas. I love that this one has a built-in tray for tools and paints.
Natural Beeswax Crayons for 3 years+
These thinner crayons are made from beeswax and are great practice for a handwriting-ready grip for kids 3 years+. Around this age, crayon breakage is much less likely! Until then, I like the chunkier Honeysticks or markers.
Silicone Teether & Wooden Pacifier Clip Newborn to 12 months
New baby in town? Trust me, we can never received enough soothers for our babies. Loop it around a toy or pacifier for them to grasp and clip it onto their shirt collar. Mamas need a break too!
Wooden Cash Register 3 years+
We call these "pilos" in our house – don't ask me why – I still don't know! I do know that my 3-year-old has been playing with her "pilo" for 18 months and still hasn't tired of it. Getting to pretend to be a grown-up is really fun for a kid (again, don't ask me why, I'd much rather be a kid!)
Baby's First Toy Starter Set 6 months + 20% off now!
What a cute useable set of toys for a baby who's ready to do some environmental exploration. You get Green Toys famous stacking cups, baby key ring for mouthing and jingling and a cute elephant rolling toy with a handle for easy grasp!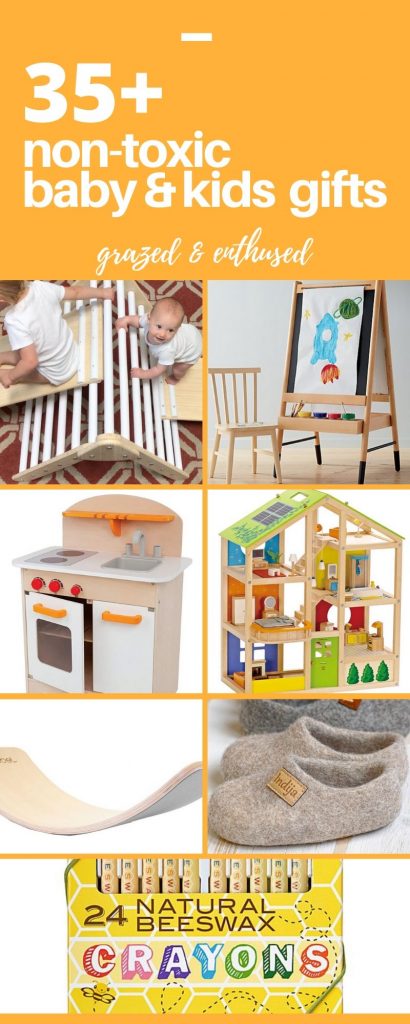 You may also want to check out my article The Minimalist's No BS Baby Registry Guide!