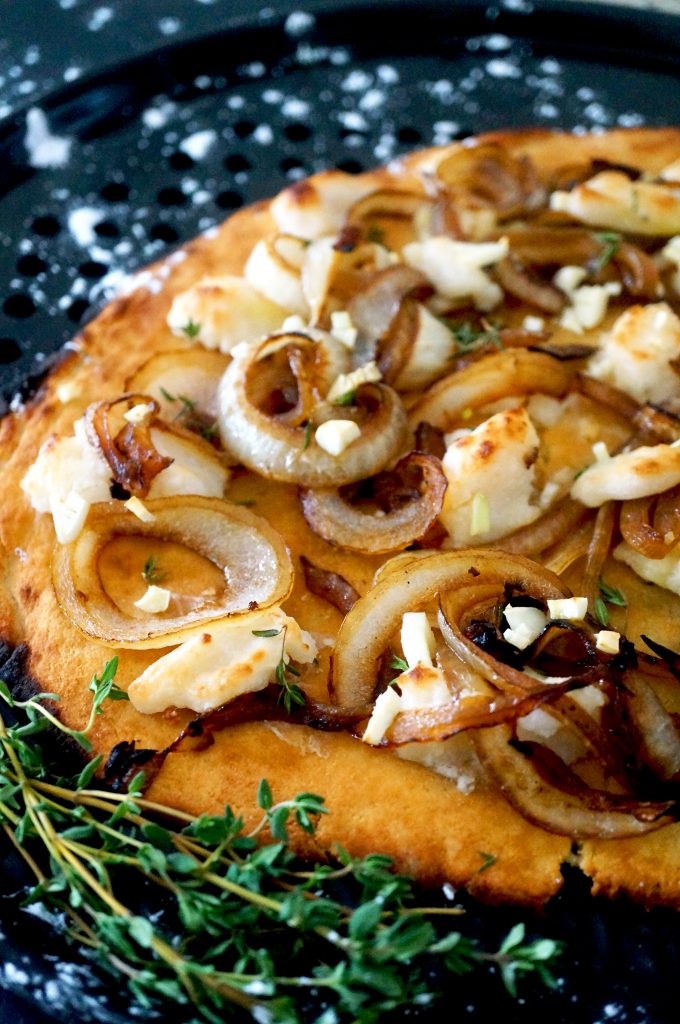 Dairy-free, grain-free Caramelized Onion & "Ricotta" Pizza – from my new ebook Enthused!
If you follow me on Instagram, you'll know I've posted about this new AIP-friendly pizza recipe MANY times this month! It is STELLAR. One of my favorite recipes I've ever created (I say that a lot, but I swear I mean it every time!)
The combination of a thin, chewy & crispy-edged pizza crust, sweet caramelized onions, dairy-free "ricotta", garlic, truffle salt & thyme… hello flavor explosion! We eat a lot of nourishing meals on our healing diets, but sometimes (hmmm, once a week at least) I need a "special" meal that falls outside my daily norm.
If you've been eating AIP for sometime, I'm sure you've tried my pizza crust recipe. If not, GET ON IT. I wasn't going to reinvent the wheel with my crust recipe… it's the same one you'll find in my Pesto Chicken Pizza but the toppings make all the difference.
You've probably hard of "ricotta" made from cashews for a vegan cheese alternative, but have you tried one made from coconut? It's shockingly convincing when you combine coconut butter, coconut milk and some extra-flavorful truffle salt and then broil it.
The "ricotta" gets melty and bubbly-brown and adds a rich, salty taste to the naturally sweet caramelized onions. Finished with fresh garlic and thyme to round out this classic restaurant-style pizza.
YOU CAN FIND THIS RECIPE BELOW AS WELL AS OVER 80 MORE AIP FLAVOR BOMB RECIPES IN ENTHUSED!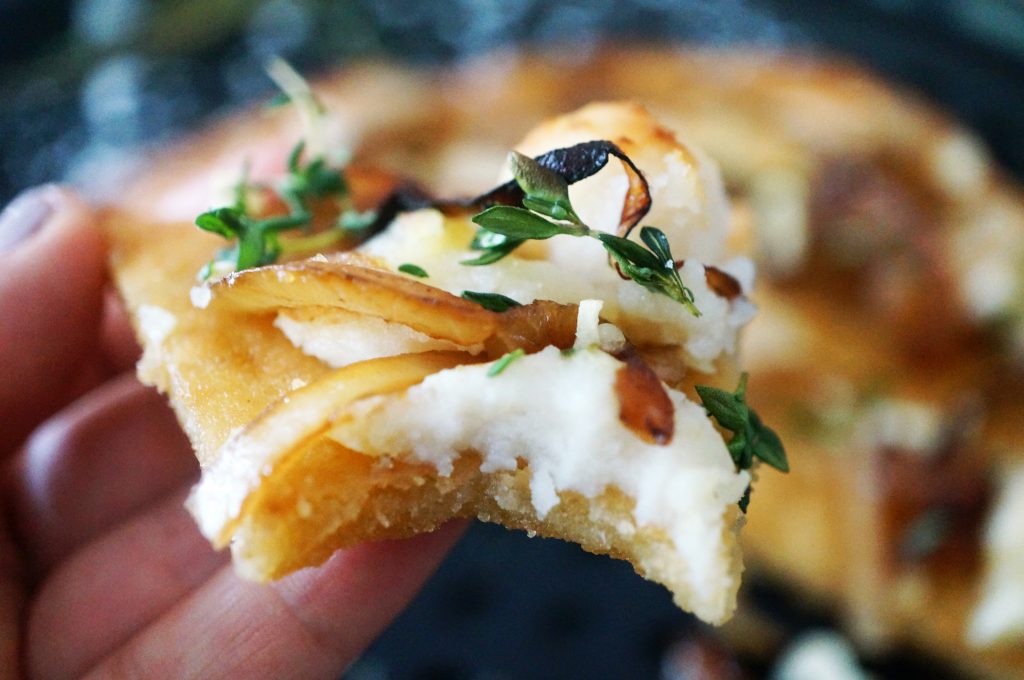 Look at that ooey gooey deliciousness! But don't just look – try it for yourself below!
What else will you get in Enthused?
Some of my best recipes including Southern Style Biscuits, Italian Sausage & Roasted Veggie Soup with Dairy-Free Parmesan, Smoked Salmon Flatbread, Teriyaki Turkey Poppers, Real Caesar Dressing, Apple Butter Banana Bread & MUCH MORE!
I made sure to produce a high-quality ebook that I am proud to share with all of you! A follow-up to The Healing Kitchen that includes more unique, ethnically diverse & interesting recipes spanning Asian, Middle Eastern, Italian & Latin American cuisine!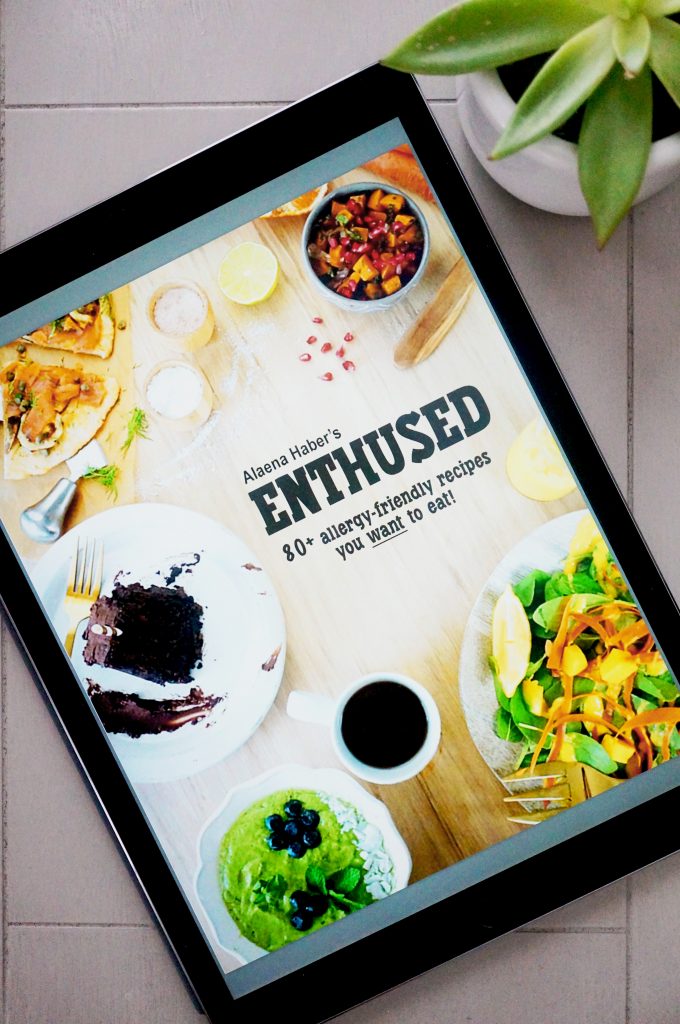 Print Caramelized Onion & "Ricotta" Pizza
Author:

Prep Time:

15 min

Cook Time:

12 min

Total Time:

27 minutes

Yield:

1 10-inch pizza
---
Ingredients
Grain-Free Crust
2/3 cup arrowroot or tapioca starch
1/4 cup + 2 tablespoons coconut flour
1 teaspoon cream of tartar
1/2 teaspoon baking soda
1/4 teaspoon sea salt
2 tablespoons olive or avocado oil
1/2 cup warm water
Caramelized Onions & "Ricotta"
2 tablespoons olive oil, divided
1 medium yellow onion, thinly sliced
2 teaspoons balsamic vinegar
1/4 cup coconut butter, softened
2 tablespoons coconut milk
1/2 teaspoon truffle salt
2 teaspoons fresh thyme leaves
---
Instructions
Make the crust: Preheat the oven to 425 degrees. Line a cookie sheet or pizza pan with parchment paper.
In a mixing bowl, whisk together the dry ingredients. Slowly pour in the olive oil, continuously stirring the mixture as you pour. Mix in the warm water thoroughly. The dough may be slightly crumbly, but once you roll it out in the next step, it will bind together well.
Place the dough on the prepared cookie sheet or pizza pan. Lay another sheet of parchment paper on top of the dough and use your hands or a rolling pin to smooth the dough into a crust about ¼ inch thick. You may roll it into the desired shape, such as a circle, oval, or rectangle.
Bake for 12 to 13 minutes, until light golden brown and crisp.
While crust is baking, prepare the Caramelized Onion & "Ricotta" by heating 1 tablespoon olive oil in a medium skillet over medium heat. Saute onions for 5 minutes until lightly browned. Sprinkle in balsamic vinegar and allow to caramelize and reduce for another 5 to 7 minutes, stirring frequently.
In a small bowl, whisk together the coconut butter, coconut milk and truffle salt to make the "Ricotta".
Distribute caramelized onions evenly across baked crust. Sprinkle with teaspoon-size blobs of "Ricotta" and drizzle with remaining tablespoon olive oil.
Preheat broiler to high. Broil pizza on second highest oven rack for 2 minutes until the "Ricotta" is light brown and a little bubbly. Finish pizza by sprinkling with thyme leaves and minced garlic. Slice into 6 pieces and serve immediately.
---