This may be one of the most popular recipes in

The Healing Kitchen

so far! Pizza is a universally loved food. Have you ever met a person who said, "I don't like pizza." No. I've met people who say they don't like cilantro (weird), or beer (extra weird), or cake with frosting (psychotic). BUT PIZZA? I'd send them straight to the neurologist to get their brain right. I spent all of college deciding how I could procure pizza while just the right amount of drunk. Not so intoxicated that it came back up 45 minutes later and not so sober that I had any guilty feelings about sitting on a curb with two slices of cheese that only cost $1.95 each. It was a delicate balance. 
Now, no guilty feelings of excessive pizza consumption exist. Mostly because I can't eat gluten, dairy or nightshades, so what's the point? Or so I thought. I have tried gluten-free pizza without cheese (dumb), gluten-free pizza without nightshades but with cheese (about as satisfying as frosting-less cake), and gluten-free pizza without nightshades or cheese (also called bread). But when I developed this thin, crispy, flatbread-like pizza crust awhile back, it re-sparked my love for holding a triangular-shaped object topped with something yummy. Because us AIP-ers are fairly limited with the traditional pizza toppings like tomato sauce, cheese, and pepperoni, I had to create something that was bursting with flavor to make us forget our previous taste memories. The first time I had my first bite of AIP Pesto Chicken Pizza, I squealed. It didn't leave me wanting anything else in the world besides another bite. My brother-in-law came home a few minutes later and I made him try it and he couldn't believe it either (Paleo skeptic in the house). 
Please don't leave off the olives. It'll make me so sad. But if you do include olives, don't use those nasty canned, soggy, tasteless ones. If that's all you can get, then yes leave them off. Seek out an olive bar or at least a jar of oil-cured olives. I'm an olive snob. I admit it. It's one of my biggest faults (sarcasm). Well, I've just used up all my parenthetical inclusions, so I'll wrap this up fast because I can't communicate without parenthesis. They're my world. 
Enjoy real PIZZA! And check out three more PIZZA recipes in

The Healing Kitchen

including Prosciutto & Fig Bistro Pizza, Spinach & Garlic Lover's Pizza & Ham and Pineapple Pizza!
Pesto Chicken Pizza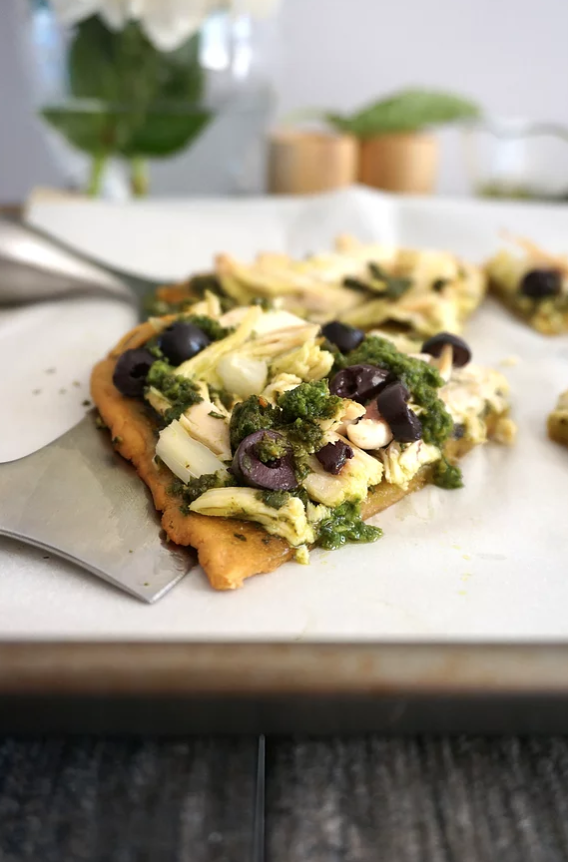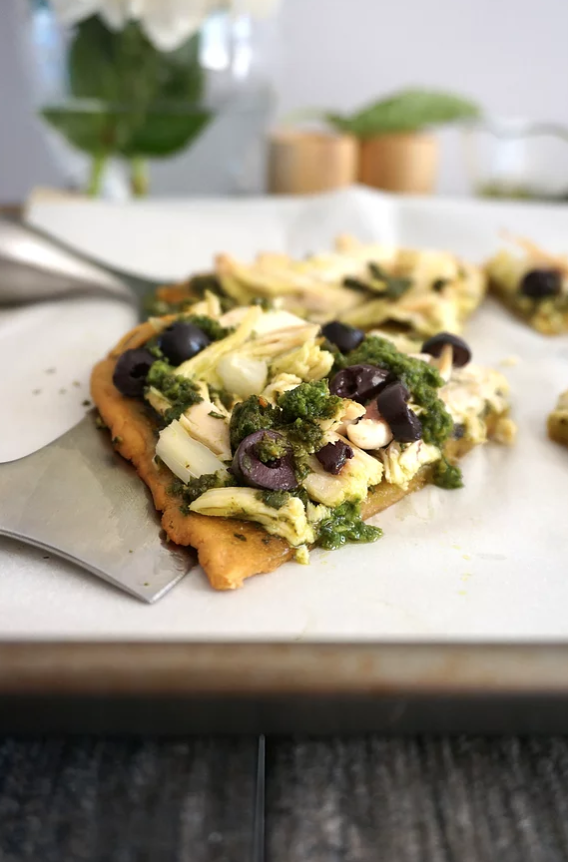 Ingredients
Crust:
2/3 cup arrowroot starch
1/4 cup plus 2 tablespoons coconut flour
1 teaspoon cream of tartar
1/2 teaspoon baking soda
1/4 teaspoon fine sea salt or truffle salt
2 tablespoons extra-virgin olive oil
1/2 cup warm water
Pesto :
2 cups loosely packed fresh basil leaves
3/4 cup loosely packed fresh cilantro leaves
1/3 cup mashed avocado
1 tablespoon chopped garlic
1 teaspoon apple cider vinegar
1/2 teaspoon fine sea salt
1/2 cup extra-virgin olive oil
Pesto Chicken Pizza:
1 recipe Crust
1 recipe Pesto
1 1/4 cups shredded cooked chicken
1/4 cup sliced black olives
1/4 cup sliced canned artichoke hearts
1/4 teaspoon truffle salt or fine sea salt
Directions
Crust
Preheat the oven to 425 degrees. Line a cookie sheet or pizza pan with parchment paper. pan>

In a mixing bowl, whisk together the dry ingredients. Slowly pour in the olive oil, continuously stirring the mixture as you pour. Mix in the warm water thoroughly. The dough will be slightly crumbly, but once you roll it out in Step 3, it will bind together well. pan>

Place the dough on the prepared cookie sheet or pizza pan. Lay another sheet of parchment paper on top of the dough and use your hands or a rolling pin to smooth the dough into a crust about ¼ inch thick. You may roll it into the desired shape, such as a circle, oval, or rectangle. pan>

Bake for 12 to 13 minutes, until light golden brown and crisp. Use immediately in one of our pizza recipes, or let cool and store as directed pan>
Pesto
Place all the ingredients except the olive oil in a food processor and blend until the herbs are finely chopped. While the food processor is running, slowly pour in the olive oil to make a smooth pesto sauce. Pesto is best served after the flavors are allowed to marry for at least 1 hour.
Pesto Chicken Pizza
Preheat the oven to 425 degrees. pan>

Place the pre-baked pizza crust on a cookie sheet or pizza pan. Spread the pesto evenly on the crust, reserving a few tablespoons for garnish, if desired. Top with the chicken, olives, artichoke hearts, and salt. pan>

Bake for 8 to 10 minutes, until the crust is crispy and the edges of the toppings are lightly browned. Let rest for a few minutes, then slice the pizza using a rocker knife or sharp pizza cutter. Garnish with a drizzle of the reserved pesto, if desired.pan>