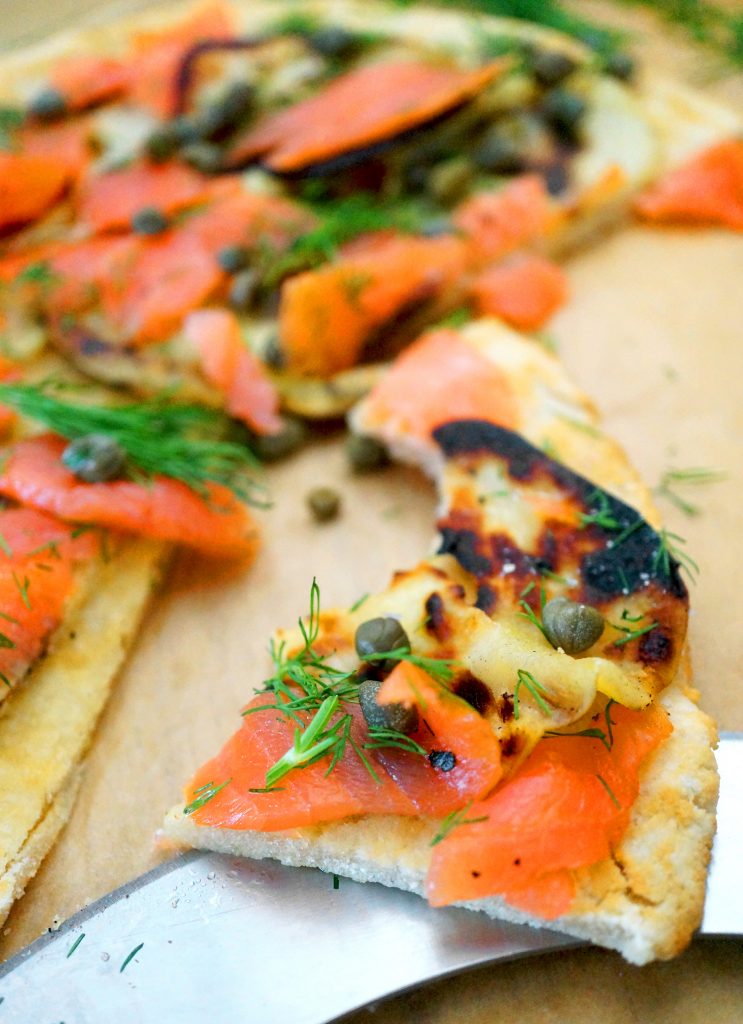 Have you been craving a salmon-capers-dill-bagel situation on your healing diet? Then you HAVE to try this grain-free, dairy-free Smoked Salmon Flatbread!
Friends! I'm back with another ENTHUSED ebook preview recipe for you! This will likely be the last one I'm sharing (really, Autoimmune Wellness is sharing) but it's a good one! You can also find two other preview recipes for Caramelized Onion & "Ricotta" Pizza and Harvest Chicken Hash on my blog!
I am so blown away by the response this ebook & can't thank those of you enough who have ordered the ebook & shared your creations with me!
The most popular recipes so far are the Beef & Plantain Casserole (Pastelon), Indian Butter Chicken, Hot Gingerbread Cereal, Salted Gingerbread Cookies, Spiced Custard, Caramelized Onion & "Ricotta" Pizza and the Italian Sausage & Roasted Vegetable Soup with Dairy-free "Parmesan"!
I love how you all are choosing some out of the box ethnic recipes mixed in with family favorites! This is exactly why I created this book for our community – so you have a one-stop-shop for certified delicious recipes that will either take you out of your usual comfort zone OR bring back a ton of memories!
This Smoked Salmon Flatbread reminds me of a girls trip to NYC I took several years ago (my last hoorah with gluten, in fact!) We grabbed bagels & lox and ate them while walking down the street chatting about our fun evening prior. Now when I make this flatbread pizza, I'm reminded of that awesome trip & those equally awesome friends.
HERE ARE 3 MORE PALEO & AIP PIZZA RECIPES YOU'LL GET IN ENTHUSED!