These Paleo, Gluten-Free and Egg-Free Chocolate Chip Cookie Bars are made in one bowl which means a delicious, mess-free and easy recipe you can make with your kids! They feature real food ingredients like grass-fed ghee, almond flour, chia seeds and coconut sugar!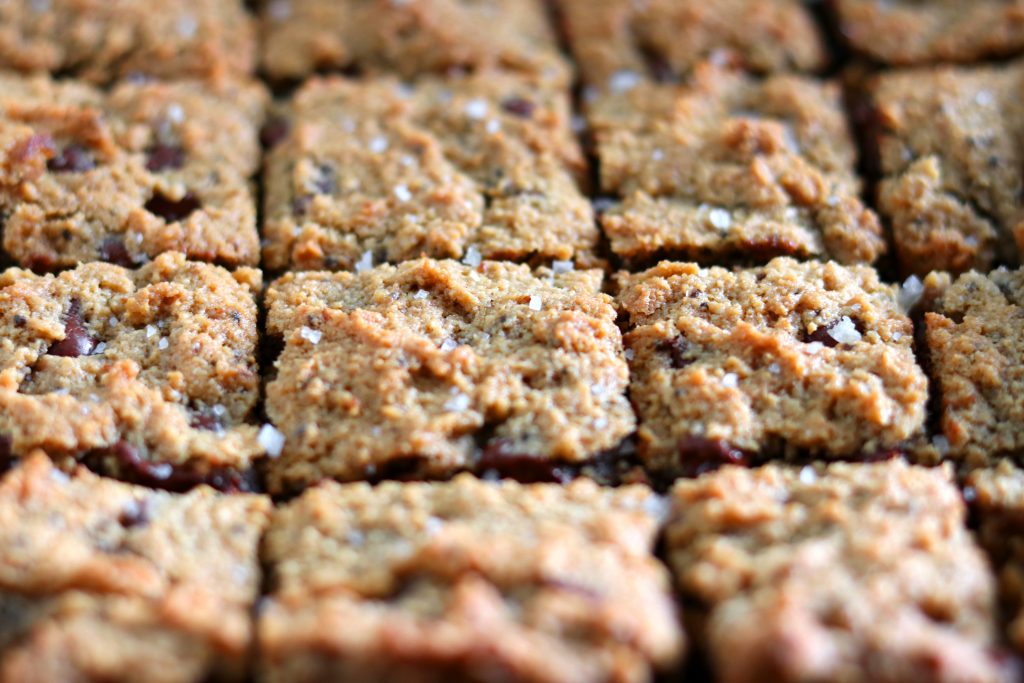 My husband said, "No offense but these are the best dessert you've made. They're so good! And they aren't too sweet, so I can eat a lot of them, right?"
He has a ridiculous sweet tooth and usually my treats are "too healthy tasting" for him. Therefore, I'm pumped I created a Paleo, gluten-free, grain-free AND egg-free fairly nutrient dense Chocolate Chip Cookie Bar that met his high standards.
These Gluten-Free Chocolate Chip Cookie Bars are:
1. Easy to make! You just need a food processor (or you could make in a bowl and get a good arm workout in), a glass baking dish and the ingredients!
2. Chewy, Gooey, Sweet and a little salty! I love the combination of dark chocolate and flaked sea salt, so I sprinkled the baked Cookie Bars with a little of my favorite flaked grey salt. Adding salt to your treats actually helps them taste sweeter without needing to use so much sugar! It also provides a nice contrast for the palate.
3. Best eaten cold or room temperature! I prefer them cold myself – they take on a denser, fudge-y, blondie-like consistency! Room temperature they are softer with crispy edges – think half-baked cookie. You can obviously bake them longer if you want them more "done" but I prefer the above texture.
The specific brands/ingredients/kitchen tools I used:
Nestle Tollhouse 3-ingredient Chocolate Chips:

How cool is it that Nestle offers an allergy-free chocolate chip now? They taste just like Nestle Tollhouse regular chocolate chips and melt beautifully.
Publix Greenwise Finely Ground Almond Flour:

For Paleo cookies, you want to source finely ground almond flour for the best texture. Almond "meal" (which you can get at Trader Joes is better for breading alternatives).
Fourth & Heart Grass-fed Ghee (plain, unsalted): You could also use their Vanilla Bean Ghee here but I didn't have that on hand! I use it in my Tigernut Chocolate Chip Cookies which are a huge hit! Those are more AIP-friendly and don't contain any nuts (tigernuts are a unique tuber).
Cuisinart 9-cup Food Processor: This food processor plus my Vitamix get the most kitchen love in my house by far! I use this food processor many purposes – to make quick guacamoles, salsas, hummus, salad dressings, purees and breading (like my plantain chip crust for my AIP Chicken & Waffles). It can handle the smallest amount of ingredients which is helpful for small batch recipes!
Pyrex Easy Grab 8-inch Glass Baking Dish: This high quality glass baking dish comes with a detachable lid which makes storing food straight from the oven a BREEZE!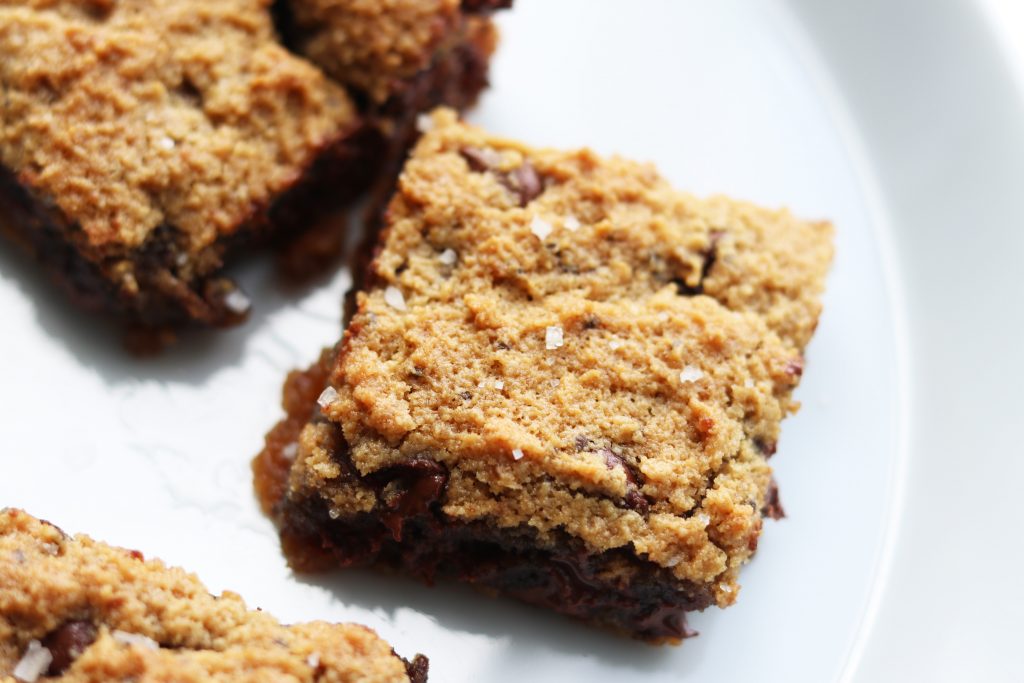 Enjoy this easy & fun Paleo Chocolate Chip Cookie Blondie Bars recipe! Let us know in the comments if you make any successful substitutions (like adding toasted coconut – why didn't I do that!?)
Print One Bowl Chocolate Chip Cookie Bars
Author:

Prep Time:

15 min

Cook Time:

25 min

Total Time:

40 minutes

Yield:

9

to

12

bars

1

x
---
Scale
Ingredients
½ cup room ghee, unsalted, room temperature
½ cup coconut sugar
2 teaspoons vanilla extract
1 teaspoon apple cider vinegar
1 tablespoon chia seeds
¼ cup hot water
2 cups finely ground almond flour
1 teaspoon baking soda
¼ teaspoon fine salt
1 cup allergy-free chocolate chips
flaked salt of choice (like Maldon brand)
---
Instructions
Preheat oven to 350 degrees. Arrange oven rack in middle of the oven. Grease a 8-inch x 8-inch glass square baking dish and then line it with parchment paper. This will help the parchment paper stick.
Cream together the ghee, coconut sugar, vanilla and vinegar in a food processor for 30 to 60 seconds.
In a small bowl, whisk the chia seeds with the hot water. Allow to gel for 5 minutes. Once gelled, add to the food processor and process for 15 to 20 seconds until combined with the creamed ghee and sugar.
Add almond flour, baking soda and salt to the food processor and combine for 20 to 30 seconds until well mixed.
Remove the lid of the food processor and stir in the chocolate chips with a rubber spatula.
Scrape the mixture into your prepared baking dish and spread evenly with the spatula.
Bake for 22 to 25 minutes until the edges are golden brown and the top if firm to the touch. Sprinkle with flaked salt.
Remove from oven and let cool completely before cutting into squares and serving. I like them served straight from the fridge, but that's just my preference!
---