These Tigernut Chocolate Chip Cookies have been called "the best gluten-free and Paleo cookies" by many readers! They taste very similar to Nestle Tollhouse Cookies but without any grains, gluten, nuts, or eggs!
Um… I don't think these Coconut-Free Paleo Chocolate Chip Cookies made with tigernut flour need much of an introduction. They're basically the chupacabra of grain-free chocolate chip cookies. Coconut-free, egg-free, nut-free, and not loaded with sweeteners or sugar!
Well, first, I'm disappointed in myself for shying away from tigernut flour for so long. The price and my inexperience with it intimidated me. I had tried sliced tigernuts once and didn't care for the tooth-breaking texture.
Little did I know Organic Gemini Tigernut Flour is the best thing that has ever happened to my sub-par baking skills. It's light, fluffy, a little grain-y like almond meal + has a nice "whole wheat" flavor with a bit of sweetness. PS: Not sponsored. Just impressed!
Why I'm Loving Tigernut Flour Right Now
— Tigernuts are renowned for their high content of prebiotic fiber which helps good gut guys flourish
— Organic Gemini's Tigernut Flour is organic, non-gmo & made in a dedicated gluten-free facility
— The sweet, nutty flavor of the product replaced almond flour for nut-free baking
— It makes a nut-free alternative to baked goods for school events
My goal with these Tigernut Chocolate Chip Cookies was to make coconut-free. That's right – nary a teaspoon of coconut oil in sight. But what's better than coconut oil for baking? GHEE. Specifically 4th & Heart Vanilla Bean Ghee.
My Tigernut Chocolate Chip Cookies taste like the real deal (my husband brought them to a work Thanksgiving + they disappeared before all the other desserts). The combination of the 4th & Heart Vanilla Bean Ghee with the richness of the extra-virgin olive oil takes these next level.
Why olive oil?

The monounsaturated fat in olive oil makes for the perfect (in my opinion) cookie texture when combined with Vanilla Bean Ghee. Soft yet crisp, well-formed but with a fine crumb. Straight out of the oven, these will blow your mind, and you'll always think "salad dressing + chocolate chip cookies" = good decision.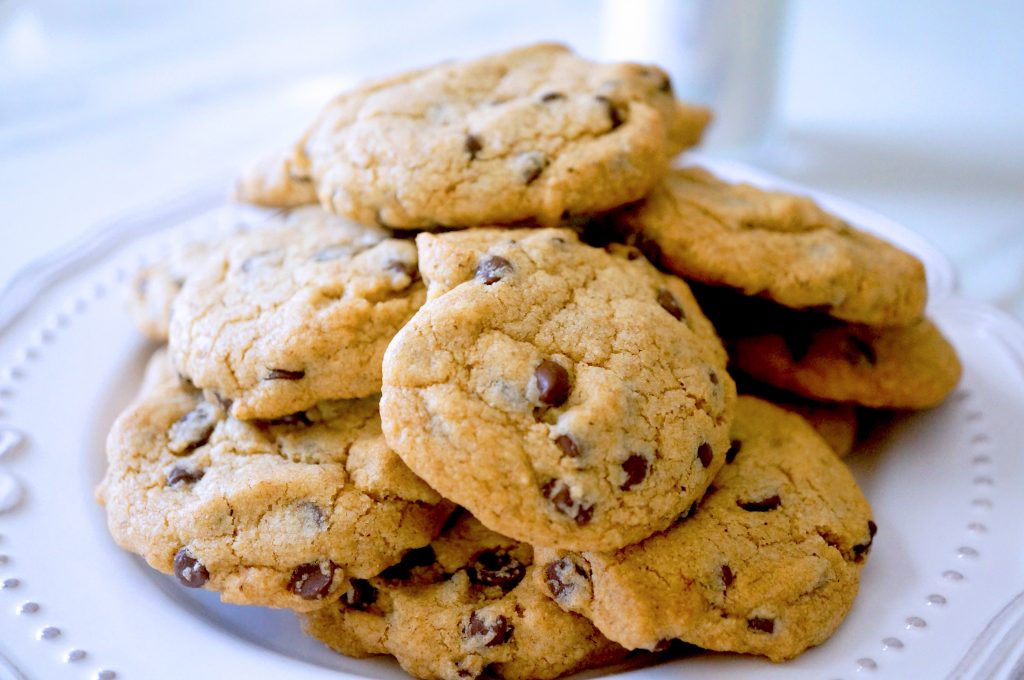 I've only made these cookies as directed below, so I can't make firm recommendations on substitutions but here are some ideas. I'll say it once: you cannot replace the Tigernut Flour with coconut flour.
Substitution Theories
— You should be able to replace the cassava flour 1:1 with arrowroot starch for similar results (not exact of course). I haven't tried this – I'm just assuming based on my past experiences working with the two flours.
— Yes you can use a plain ghee instead of Vanilla Bean. Just don't use Garlic Ghee. You can probably use softened butter too. This is only a theory.
Okay without further ado friends… ENJOY! And Happy Thanksgiving!
Print Tigernut Chocolate Chip Cookies
Author:

Prep Time:

15 minutes

Cook Time:

:10

Total Time:

10 minute

Yield:

approx

14

2-inch cookies

1

x
---
---
Scale
Ingredients
1 cup

Organic Gemini Tigernut Flour

2 tablespoons

Otto's Cassava Flour

2 teaspoons

gelatin

1 teaspoon

baking soda

1/4 teaspoon

sea salt

1/4 cup

4th & Heart Vanilla Bean Ghee, room temperature

1/4 cup

extra-virgin olive oil

1/4 cup

maple syrup

1 teaspoon

vanilla extract

1/2 cup

Enjoy Life Mini Chocolate Chips
---
Instructions
Preheat oven to 350 degrees. Line a light-colored cookie sheet with parchment paper.
In a medium bowl, whisk together the dry ingredients until incorporated. Stir in the ghee, olive oil, maple syrup, and vanilla extract until you achieve a smooth dough. Stir in chocolate chips.
Drop rounded tablespoons of dough onto parchment paper, leaving 2 inches in between each cookie. Using the palm of your hand, gently flatten the cookie to about 1/2-inch high.
Bake in preheated oven for 8 to 10 minutes, watching closely, until the edges are a light golden brown. Do not overcook or they will turn out too crunchy. Let cool (or burn your mouth on hot chocolate like I do) slightly before serving.
---