If you haven't picked up one of these ultra-handy modern day kitchen conveniences, you're likely spending way too much time in the kitchen. Here are my best tips for how to use your Instant Pot and the best model for you!
I bought my first Instant Pot in 2013. I remember the day fondly…. a cloudy November in Chicago when all I wanted to do was cuddle up on the couch with my dog and a bowl of soup. Yet I had no broth nor a time machine to travel 24 to 48 hours prior to make broth in my slow cooker or *gasp* on my stovetop.
But I finally had what I affectionately refer to as my Silver-Haired Boyfriend: the Instant Pot 6-in-1 6 quart pressure cooker. He came to to the rescue like a knight in shining stainless steel. One hour later I had soup.
Ever since that fateful day, I have used my Instant Pot many times a week to speed up cooking, minimize prep and time standing over a stove. You know, so I can go out and enjoy life instead of being chained to the kitchen.
In today's post, I want to share with you some easy ways to combat any Instant Pot anxiety (it's a thing). PS Your Instant Pot will not explode. It is created with many safety features… just read your manual for additional safety tips for your model!
I now own the Lamborghini of pressure cookers… the Instant Pot Ultra Multi-Use Programmable Pressure Cooker listed below.  All models prepare your food up to 70% faster than using traditional cooking methods!
MY MOTTO: INSTANT POT SAVES LIVES. 
I NEED TO MAKE THAT INTO AN INSPIRATIONAL SCRIPT-Y QUOTE ON MY BEDROOM WALL.
---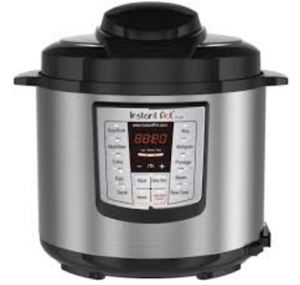 CHOOSING A MODEL
Here are the 3 most popular models…
Instant Pot 6-in-1 6 quart: This base model Instant Pot really does everything you NEED it to do… unless you want to make homemade yogurt. Which I still haven't done. It has a 
Pressure Cooker, Slow Cooker, Rice Cooker, Sauté, Steamer, and Warmer function. It is easy to use, easy to clean, and pretty much dummy proof. 
PROS: It's the cheapest of the line! It does all your basic pressure cooker functions listed above! FOOL-PROOF!
CONS: The 6-quart model is fairly small…. enough to hold a rack of ribs or a 3 pound whole chicken. If you want to fit a 5 pound pork roast though, you'll have to cut it into smaller chunks.
Instant Pot 7-in-1 8 quart: This is the model up from the above 6-in-1. The 7-in-1 has the added feature of being able to make yogurt. It also is two quarts larger which is helpful for making larger batches of broth or larger roasts.
PROS: Larger pot size for bigger roasts, broths, chickens or soup bones. Yogurt function included.
CONS: It's about $50 more expensive than the 6-in-1 with not a ton more functionality. I would recommend skipping this model unless you really want the extra space, and choosing either the base 6-in-1 or the Ultra 10-in-1 below!
Instant Pot Ultra Programmable 10-in-1 6 quart: This uber high-tech machine has a Delay button so you can program it to start pressure cooking up to 24 hours in advance. The Warming function keeps food warm for up to 10 hours! It also has a turn dial knob to quickly switch between functions. It has the most amount of functionality including: 
Soup/Broth, Meat/Stew, Cake, Egg, Sauté, Rice, Multigrain, Porridge, and Slow Cook. 
PROS: More functionality and much greater control of cooking temperatures and time. The Slow Cook & Saute functions have 3 levels (low, medium and high heat). Better for high altitude cooking (adjust for altitude). Great for on-the-go families – set it to start cooking while you're at work or a soccer game! You can make yogurt in this one too.
CONS: This one is a bit less intuitive to use. You really need to read the manual to figure out how to properly set your functions. Once you get the hang of it, it's a breeze though!
---
PRACTICE RECIPES TO START
(instructions for base 6-in-1 model – "Manual" function is the "Pressure Cook" function on 10-in-1)
BONE BROTH
Broth is one of the easiest recipes to make in your Instant Pot. Start with at least 2 pounds of pastured beef, chicken or pork bones. To get the most gelatinous broth, choose chicken feet. To get the most flavorful broth, make sure you add carrots, onions, garlic, sea salt, and a bay leaf to your pot.
RECIPE
2 to 3 pounds pastured beef, chicken or pork bones (see note above)
Filtered water (enough to cover the bones)
Vegetables: 1/2 onion, 2 carrots, 8 cloves peeled garlic, 2 teaspoons sea salt, 1 bay leaf
1 tablespoon apple cider vinegar
Add all ingredients to Instant Pot. Set "Manual" function to at least 60 minutes (the more, the better flavor). Once timer has elapsed, set the "Saute" function for 30 minutes. Keep the lid off and let your broth simmer to reduce slightly and condense the flavor into a stock. At this point, you can add fresh herbs, lemon juice, or dried herbs. Keep a close eye on the liquid level to make sure it does not reduce too quickly (the full 30 minutes may not be necessary depending on liquid amount). 
CAULIFLOWER RICE
You do not want to over-cook your cauliflower rice. It is best to set for no longer than 2 minutes or you risk winding up with a watered down mush. Use my recipe for Creamy Cauliflower Rice as a start.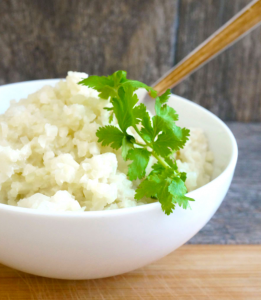 WHITE RICE
Soak uncooked rice by covering it with filtered water for 30 minutes in the pot. Discard all water and rinse rice again. Add an equal amount of liquid to the pot. For example, if you used 1 cup dry rice, use 1 cup liquid of choice (water, broth, coconut milk). Add 1 teaspoon oil for every 1 cup of rice as well as a generous pinch of salt. Cook using the "Rice" function on your Instant Pot model and release pressure as soon as the timer elapses to prevent over-cooking the rice. Stir immediately to prevent sticking.
STEWS & SOUPS
My basic formula for making quick stews and soups is below. Note that you do not want to always add the vegetables at the same time as the meat. To get perfectly cooked components, you add them at separate times just like you would on the stovetop. The nice part is you don't have to stand over the stove to watch for burning or over-cooking when using the Instant Pot. My 1-hour Pot Roast is a good example of this technique.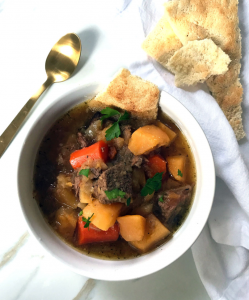 2 pounds grass-fed stew meat
1 onion, chopped
4 cloves garlic, minced
Seasonings of choice (sea salt, dried herbs *not fresh yet*, coconut aminos, etc)
Broth (amount dependent on how thick you want your stew – no more than 1/2 cup for thick stew, 2 cups for soups)
1 lb starchy vegetable of choice, peeled and cubed (sweet potato, parsnip, carrot, beet)
3 cups hearty leafy greens
Turn "Saute" function on. Saute beef until lightly browned (2 to 3 minutes) then add onion and garlic and sautee for another 2 minutes until fragrant. Set "Manual" pressure cooker timer to 25 minutes. NOW you add the starchy veggies to prevent overcooking them with the meat (which needs a longer cooking time). Cook meat & starchy veggies for about 7 or 8 minutes on "Manual" function. Release pressure, place on "Saute" function and stir in hearty greens until wilted and tender. 
BABY FOOD
When first introducing solids to my baby, I used the Instant Pot for a lot of her food. The first reason being it's all I had time for…. secondly I didn't have to stand over the steamer basket poking sweet potatoes obsessively to see if they were done.
MASHED SWEET POTATO
Washed and unpeeled sweet potatoes
1/2 cup water
Fat of choice (ghee, lard, tallow, coconut oil)
Depending on size of sweet potato, cook for about 10 minutes on "Manual" setting. Release pressure when timer elapses, poke with a fork for doneness. You can always add a couple more minutes if you think your large sweet potato needs longer. Remove sweet potatoes to a cutting board, slice open and let cool. Mash with fat of choice until smooth. You can even use the cooked sweet potato make my Sweet Potato Fat Balls which are easy for babies to self-feed and pick up!
COCONUT YOGURT
I have not made yogurt in my Instant Pot yet but thankfully by friend Laura has so check out her recipe! Coconut yogurt provides baby with real food probiotics, is easy to digest and full of healthy fats!
PLAIN STEWED MEATS
Unseasoned stewed meats are an excellent first food for babies! You can make the stew recipe above but keep any spicy spices out of it to be safe! Remove the meat and starchy veggies from your stew, let cool, and shred, mash or puree for your baby depending on their age and abilities. I also suggest making Broth of Stock out of marrow bones but first roasting the bones, scooping out half the marrow and reserving it for baby, and then making your family's stew with the remaining bones and marrow!
---
MORE OF MY PALEO INSTANT POT RECIPES
++++
 GET 141 MORE INSTANT POT RECIPES FROM BREAKFAST TO DINNER TO DESSERT & MORE
IN THE PALEO AIP INSTANT POT COOKBOOK