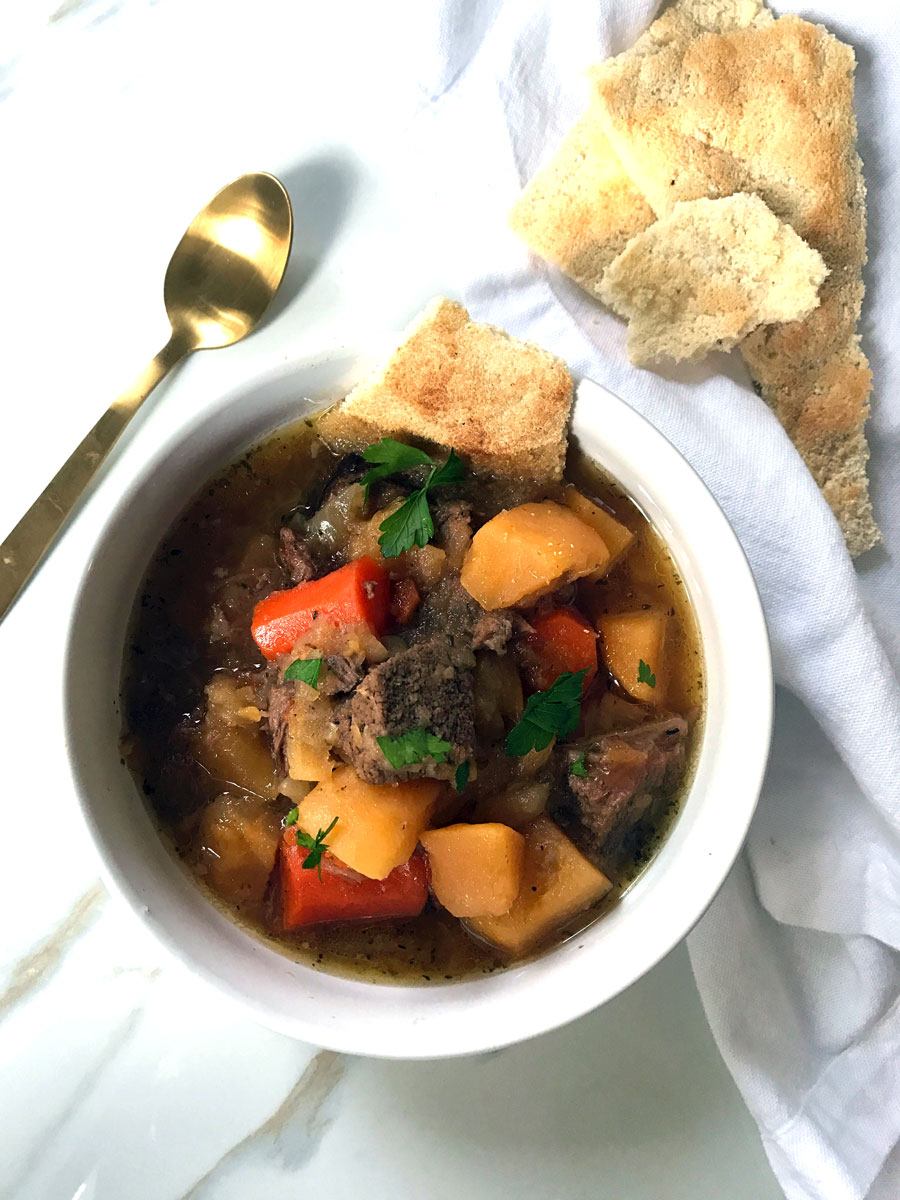 I know it's not really pot roast season anymore, but even on an 85 degree humid Florida day, I still sometimes want to eat a comforting bowl of easily digestible food! And I've been wanting to make a pot roast in my Instant Pot for ages – not the kind my mom used to make (sorry, Mom) but something flavorful and tender.
I couldn't be more obsessed with my Instant Pot! I made this Pot Roast in less than 1 hour and the meat is pull apart tender and paired with perfectly cooked root veggies!
I get most of my grass-fed beef from Butcher Box and US Wellness Meats these days. In my new neighborhood, I have to drive at least 45 minutes to get freshly butchered grass-fed meats, so ordering online is convenient and I'm guaranteed the animal was raised and fed well. Gone are the days I had 3 Whole Foods within a 15-minute drive. I'm still mourning that loss.
This Pot Rot roast recipe really cuts down on the time and ingredients in a traditional roast which often contains red wine, butter and fresh herbs. I like the simplicity of dry herbs here so your chopping is limited to the vegetables and apple. I added apple, which you don't typically find in a pot roast, for sweetness to balance out the meat and onion.
Another way I cut down the time is by pressure cooking the roast for just 50 minutes and then cutting it into large chunks which then go back in to pressure for 10 minutes with the veggies. This creates more surface area for the meat to absorb all that delicious beefy-onion liquid!
Whoo! I'm recovering from last night's Flaming Lips show. They put on such a performance every single time, and the older they get, the more wild it gets. There was confetti, there was an LED light explosion, there was a grown man riding a unicorn wearing inflatable wings, and there was so some spectacular people watching. If you have the opportunity to see them live, even if you don't know their music, go! Especially if you're a fan of Pink Floyd and more experimental music. We didn't get to see my favorite song since we had to get home to Grace by 11pm though. We played the live version this morning during breakfast for her though! The only other show we've seen since she was born was Austin City Limits last September! It's still hard to leave her at night because I like to be there for bedtime.
I don't think I've mentioned it here but I'm going to be leaving her for the first time for 4 DAYS (gahhh!) for Meg & Shawn's Soul Sista Getaway in Boulder! My husband and I love Boulder and have visited several times, so he's going to come with and just go do his own thing while I participate in all the fun events they have planned like eating and yoga and eating.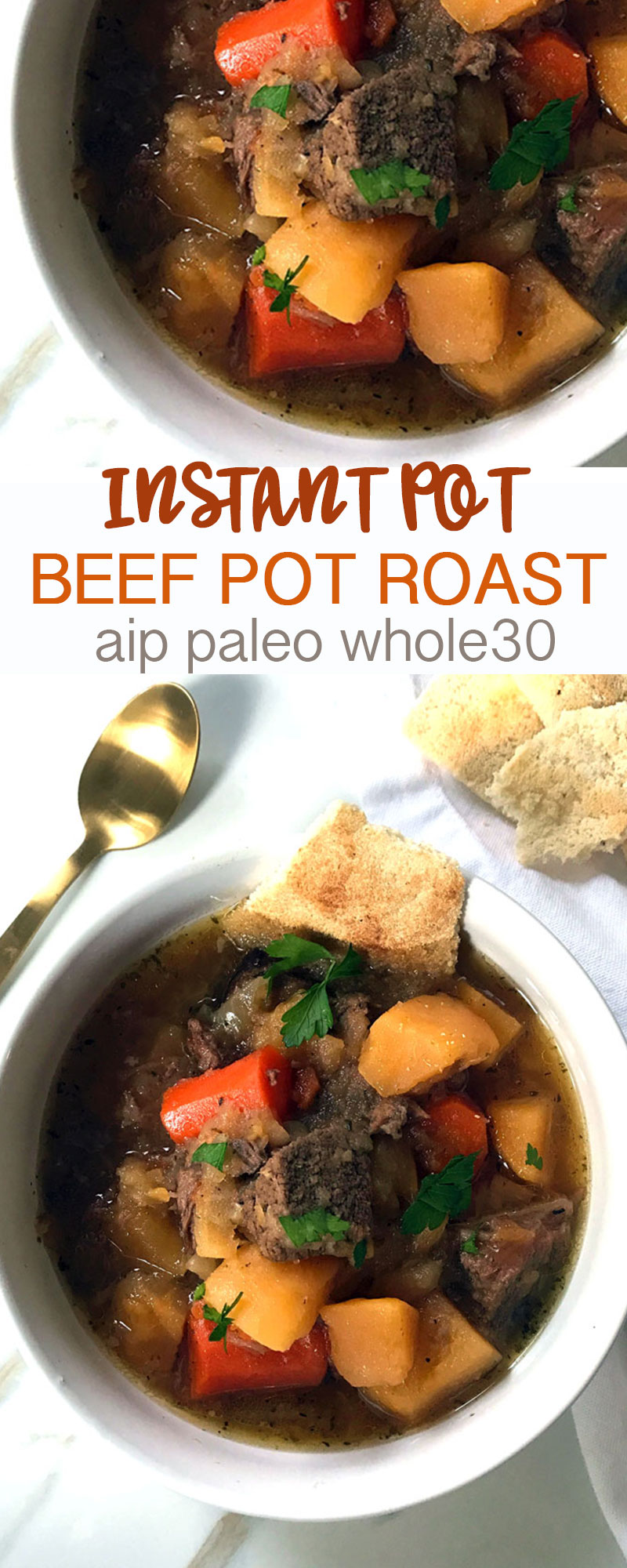 This Beef Pot Roast is tender, flavorful & on the table in an hour!
Instant Pot Beef Pot Roast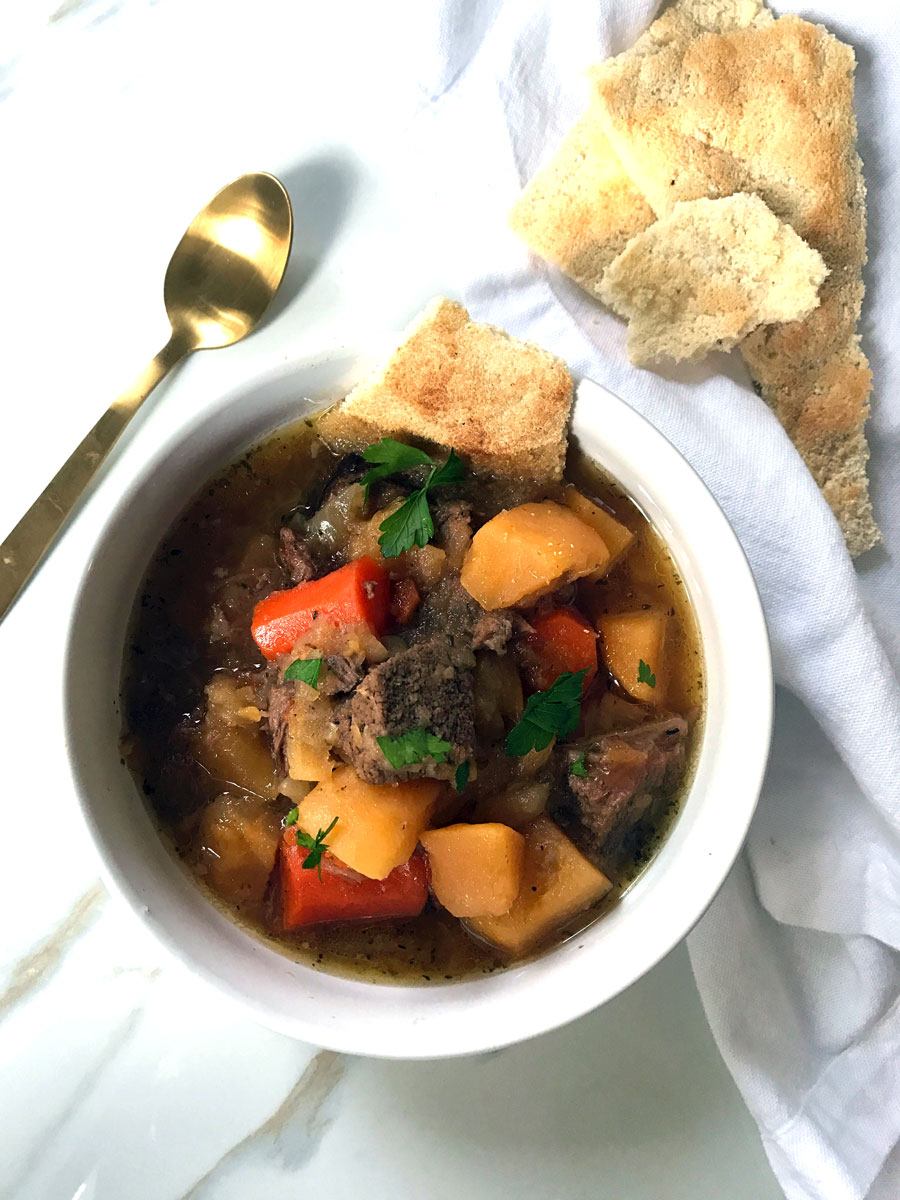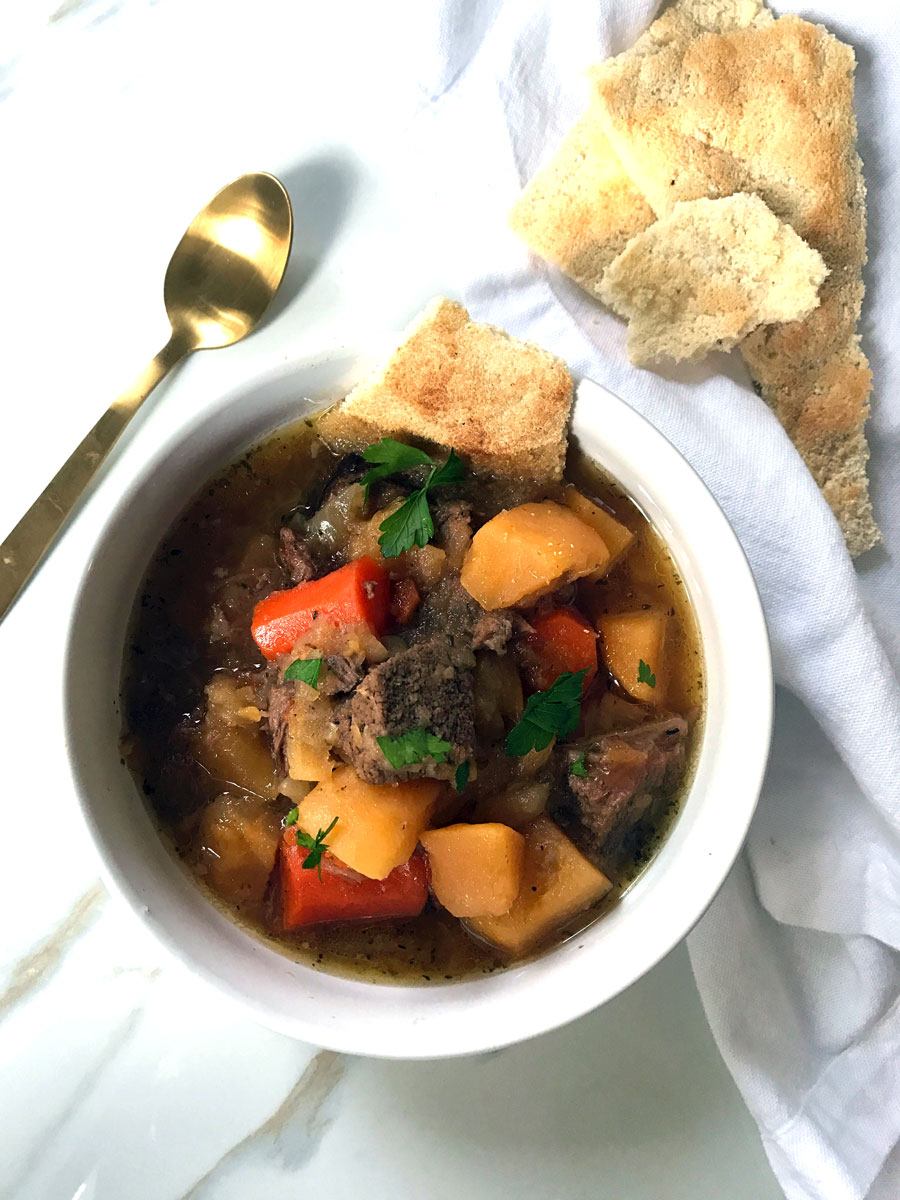 Ingredients
2 pounds beef loin roast
1 tablespoon dried Italian herb seasoning
1 teaspoon each garlic and onion powder
1 teaspoon sea salt
1 tablespoon balsamic vinegar
1 large yellow onion, sliced
1/2 cup broth
2 medium rutabagas, peeled and chopped into 1-inch chunks
6 carrots, peeled and chopped into 1-inch chunks
1 Pink Lady apple, chopped into 1-inch chunks
1 tablespoon coconut aminos
Directions
Place beef loin roast in Instant Pot insert with fat cap side down. Rub the dried herbs, garlic and onion, and sea salt on the meaty side of the roast. Brush balsamic on top of the meat and layer with onion slices. Pour broth around the roast.
Seal the lid and set to cook on "Manual" for 50 minutes. When timer elapses, vent the lid and transfer the roast to a cutting board. Slice against the grain into 1-inch chunks.
Return meat to the insert along with the vegetables and apple. Seal the lid and set to cook on "Manual" for another 10 minutes. When timer elapses, vent the lid, stir in the coconut aminos to slightly break up the onions and rutabaga to help thicken the liquid. Serve warm sprinkled with parsley.
Recipe Notes
You may also use other large cuts of beef like chuck roast.