These Gluten-Free and Paleo-Friendly Lemon Poppyseed Cookies couldn't be easier to make. They feature grain-free almond flour, grassfed butter, maple syrup, three extracts, grated lemon zest and poppy seeds.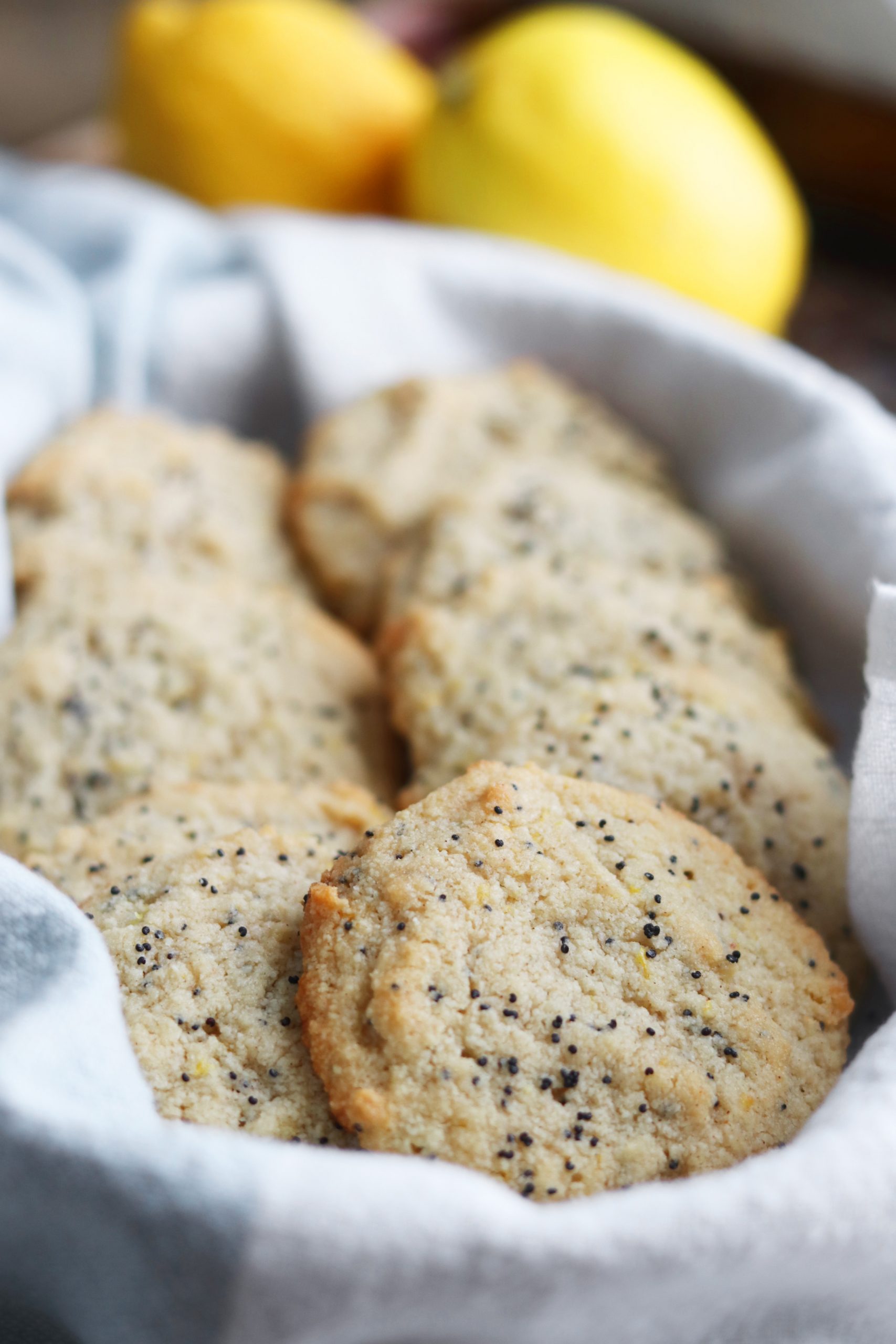 Mother's Day is coming up in this weekend, and for some reason I always think LEMON for Mother's Day. Maybe because it's springtime, maybe because every mom I know loves all thing lemon. I nailed these cookies on the first go, but continued to test them three more times, varying the amount of lemon, almond and vanilla extract I used.
If you're a lemon lover, you will be in Heaven with these moist, chewy Lemon Poppy Seed Cookies. They are brightly flavored with just enough sweetness from the maple syrup and richness from the grassfed butter (I use Kerrygold).
Here's what you need for Gluten Free Lemon Poppy Seed Cookies:
Almond Flour: Finely milled is best.

Maple Syrup: I much prefer the flavor of maple to honey in most baked goods.

Lemon, Almond and Vanilla Extract: You can find these in the baking aisle of any grocer, and yes organic exists!

Grassfed Butter: Use softened or room temperature unsalted butter. You can try subbing softened (but not melted) coconut oil, palm shortening or unsalted ghee too. The texture will vary, but it should work!

Ground cinnamon and sea salt 

Grated Lemon Zest: You will use a microplane grater or zester to finely grate the zest from one large lemon.

A few years ago for Mother's Day, I made these Lemon Poppy Seed Waffles. They are grain-free, dairy-free, egg-free AND nut-free. If you want go all out on Sunday (or any day), you could make both, but if I had to choose these cookies would win.
I polled my Instagram community, and you all said you prefer chewy cookies to crispy cookies. These have a chewy but delicate and buttery texture. I find the lemon flavor develops over the day, and they're even better the next day! That's pretty rare for a cookie. With one of my batches, I made Lemon Caramel Cookie Sandwiches, and O.M.G. I'll include the instructions for those here.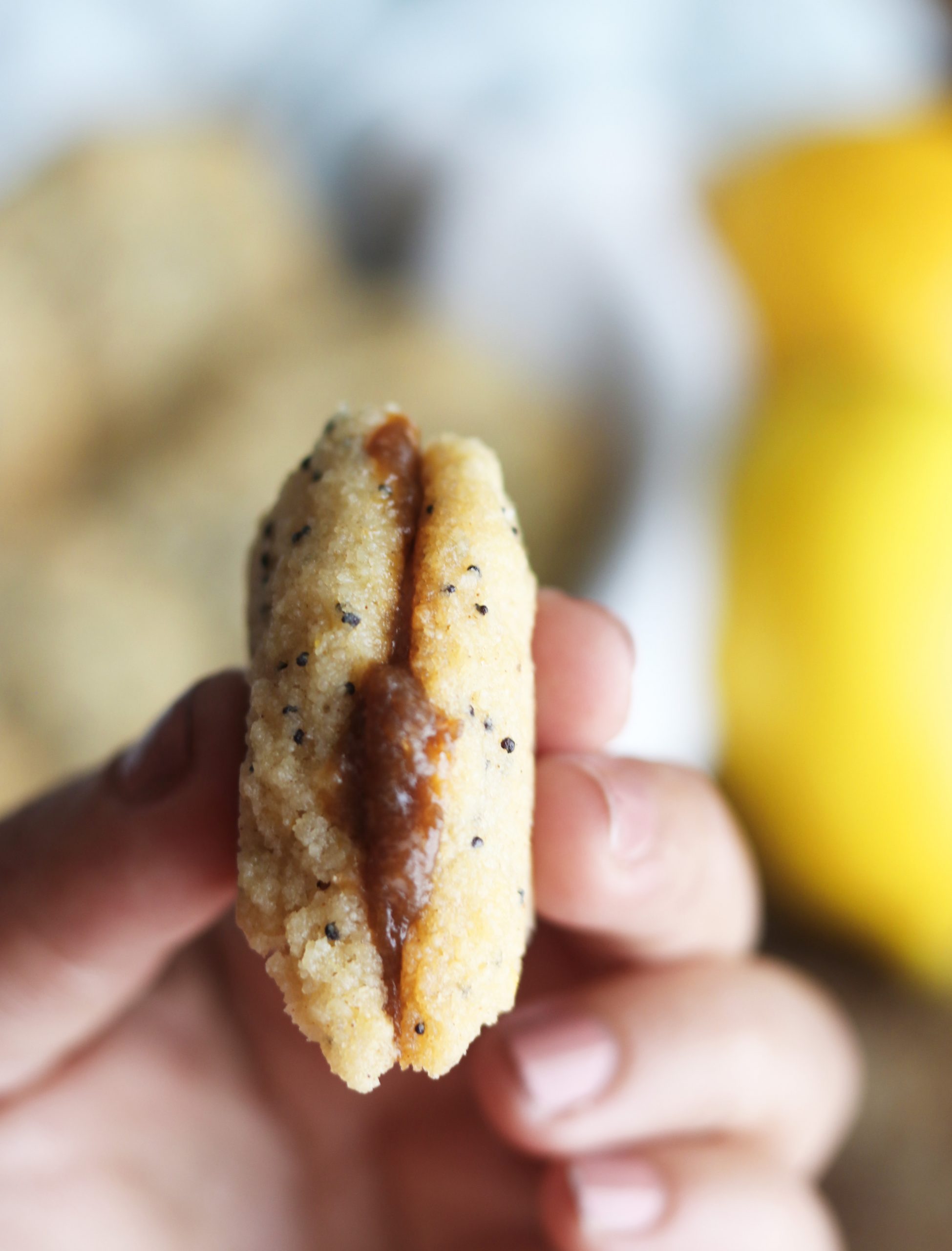 How to make Lemon Poppy Seed Caramel Cookie Sandwiches:
1. Double the Lemon Poppy Seed Cookie recipe below to make 18 cookies. You'll want that even number.
2. Let the cookies cool completely. Flip half the batch over and spread the Lemon Caramel (recipe below) gently and evenly on the bottom.
3. Sandwich with another cookie and enjoy this decadent sweet, tart, lemon-y treat!
Okay without further ado, let's get to that recipe!
Print Gluten-Free Lemon Poppy Seed Cookies
Author:

Prep Time:

10 min

Cook Time:

13 min

Total Time:

23 minutes
---
Scale
Ingredients
1 1/3 cup fine almond flour
¼ teaspoon ground cinnamon
¼ teaspoon salt
1 teaspoon grated lemon zest, packed
4 tablespoons unsalted butter, room temperature
¼ cup maple syrup
1 teaspoon vanilla extract
1/2 teaspoon lemon extract
1/2 teaspoon almond extract
1 teaspoon poppy seeds plus additional for sprinkling
---
Instructions
Preheat oven to 350 degrees. Line a light colored baking or cookie sheet with parchment paper.
In a medium mixing bowl, whisk together the almond flour, cinnamon, salt and lemon zest until well combined. Stir in the softened room temperature butter
In a small bowl, whisk together the maple syrup and extracts, then scrape with a rubber spatula into the dry mix. Stir until well combined. Finally, stir in the poppy seeds.
Transfer dough to prepared sheet using rounded tablespoons. Gently flatten with the palm of your hand. Sprinkle additional poppy seeds on top.
Bake for 12 to 13 minutes until the edges are a very light golden brown. Remove from the oven and cool at least 10 minutes before enjoying. These are delicious at room temperature or out of the fridge.
---
Print
---
Scale
Ingredients
2/3 cup

full-fat or light coconut milk

1/4 cup

coconut sugar

3 tablespoons

fresh-squeezed lemon juice
pinch sea salt
---
Instructions
Combine all ingredients for caramel in a small saucepan set over medium heat. Bring to a simmer and then reduce heat to medium-low.
Maintain simmer for 20 minutes as you periodically stir the caramel and scrape any browned bits off the bottom and sides of the pan. Remove caramel from heat once it has reduced to a thick brown syrup that sticks to the back of a spoon.
Transfer caramel to a small glass dish and let cool for a few minutes before spreading on your cookies as directed in the blog post.
---
Looking for more healthy lemon-themed recipes?
PIN ME!