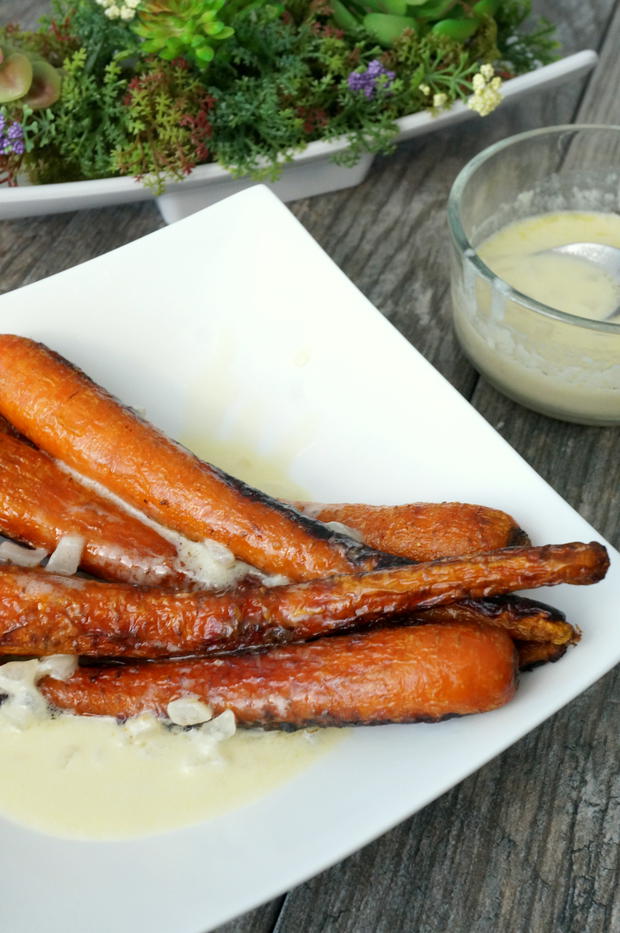 I felt super trendy calling these "blistered" carrots. It's one of those words you only see on fancy pants menus and you're like "Ooh, I wonder if it tastes burnt!? I bet it doesn't because the chef is just so damn talented, they are capable of blistering their food without it tasting like rubble." Please think this of me when you eat these carrots. Even if it's not true. 
By the way, try not to blister yourself when you're making this recipe. The best way to do this is to make sure those rinsed carrots are patted dry well! You know what they say about water & oil? You know what they say about me being too impatient to dry my carrots? Blisters. They say blisters. 
I'm really sick of the "B" word now, darn it. 
Let's see. I think by the time you read this, I will be in Colorado visiting family and friends. Then we are off to HAWAII! Mostly to relax, but I'm sure we will also be doing some fun outdoor stuff while we're there. Well, I'm really sure we are. Why would we go to Hawaii and not do those things!? If you want to follow me on my trip, make sure you get all up in my Instagram account! You should see how crazy 'ish gets over there. You wouldn't BELIEVE how many vegetables I eat every day. So crazy, I think they will shut down my account for inappropriately high vegetable consumption. They don't even want to see what I can do to a head of cauliflower in less than 10 minutes.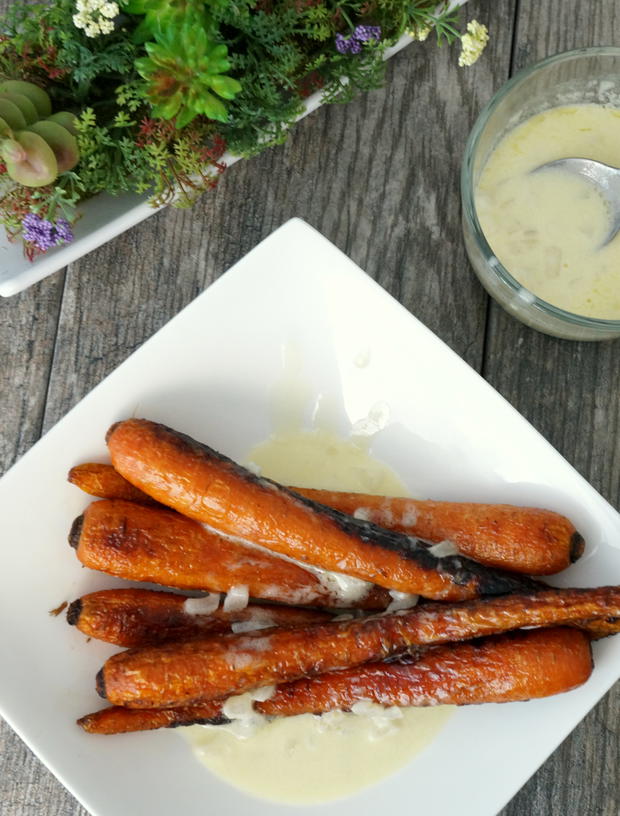 No one's gonna have to force you to eat your veggies when they taste this good!
Print Blistered Carrots with Lemon Cream Sauce
Author:

Prep Time:

5 minutes

Cook Time:

30 minutes

Total Time:

35 minutes

Yield:

4

1

x
---
Scale
Ingredients
1 tbsp

olive oil

8

large carrots, rinsed and dried

1/4 tsp

sea salt
Lemon Cream Sauce, for serving
---
Instructions
1. Preheat oven to 400 degrees. 
2. Heat olive oil in a large oven-proof skillet over medium-high heat. 
3. Blister carrots by sprinkling with sea salt and searing for 2 to 3 minutes per side for about 6 to 8 minutes total. Watch as the carrot goes from a golden yellow in spots to a blistered and charred look (only in spots). Remove from heat at this time. 
4. Finish cooking ovens in the oven by roasting for 15-20 minutes until fork tender. Be sure to flip carrots over halfway through cooking time. 
5. Pour desired amount of Lemon Cream Sauce in the bottom of a serving dish. Lay carrots on top and serve warm. 
Make It A Meal! Serve with broiled or pan-cooked salmon or cod with extra Lemon Cream Sauce ladled on top! 
---