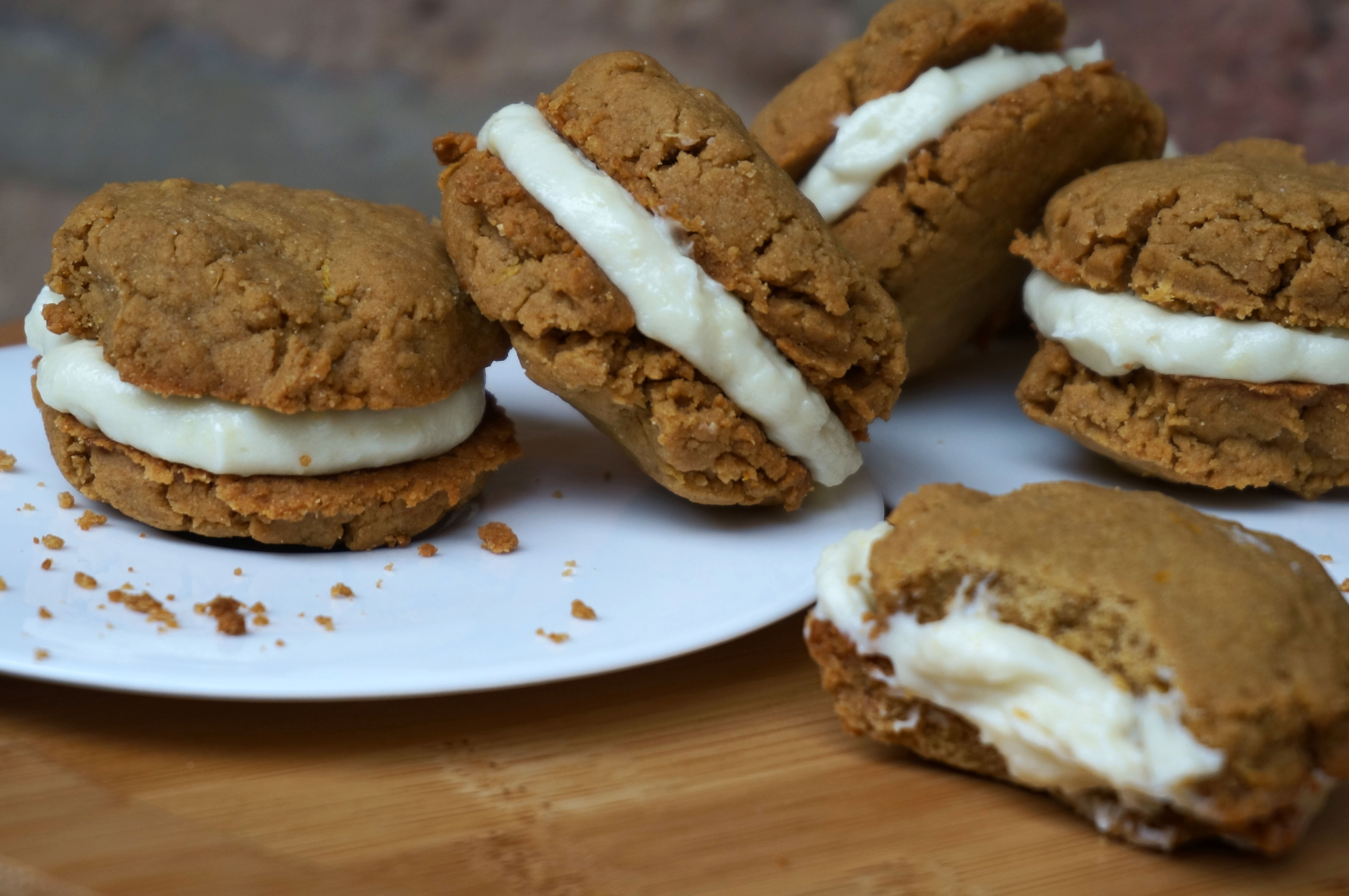 Oh these made me one happy little gal. My recipe development method is a little obscure, but usually an idea pops in my head so late at night that it wouldn't be logically sound to begin testing it at 10 pm. So then I bound out of bed and get busy in the kitchen as quickly as possible. I have this silly Type A thing where I want to nail something on the first try, and I often don't have the food budget to be testing and re-testing recipes over and over again. Sometimes my first-try is spot-on, and I feel 100% comfortable sharing a recipe right away!
I used to make a similar cookie for my family every Christmas except they were more flat and round and the lemon creme was less fluffy and more tangy. These beat the socks off those flour & sugar filled cookies though! Can Christmas hurry up and get here so I can make these again!?
If you haven't tried sweet potato flour yet, please do! It is by far my favorite AIP baking flour. It's naturally sweet of course so lessens the need for added honey or maple, and it tastes a little caramel-y. No, it's not cheap, but it's for special occasions and because you're wroth it. Maybelline. I have a couple other recipes using it for my Mini Blackberry Tarts and Tartelette au Sucre (both are really, really delicious!) I know, I know, this is another recipe using my all-time favorite ingredient Japanese yam. I can't help it. It's PERFECT for binding AIP recipes, adding creaminess and subtle sweetness, and very affordable. Sue me. Or just eat with me. Whatever sounds more pleasant and humane.
Ginger Sandwich Cookies with Lemon Cream [AIP]
Makes 8 sandwich cookies | Ready in
1 cup Zocalo brand sweet potato flour
1/3 cup arrowroot starch
Zest of 1 lemon
1 tsp baking soda
½ tsp sea salt
1 T grass fed gelatin (the kind that gels up)
1 ½ tsp ground ginger
¼ cup honey*
¼ c + 1 T coconut oil, melted
2 T palm shortening
*If using a raw honey, melt it first then measure ¼ cup liquid. I have not tried this recipe using maple syrup.
Lemon-Ginger Cream
1/3 cup mashed white sweet potato* (Japanese yam or California white sweet potato)
2/3 cup palm shortening
1 T honey
1 T lemon juice
1 tsp arrowroot starch
¼ tsp ground ginger
Small pinch sea salt
*I use this type of sweet potato in many of my recipes because of how versatile it is. It binds well, adds a nice sweetness without using natural sweeteners, and makes for a creamy end product. I realize it can be difficult to find, but you may have luck at your local Asian grocer, health food store, or co-op. Using regular sweet potato here will alter the flavor and texture.
Preheat oven to 350 degrees. Mix dry ingredients (first 7 ingredients listed) together in a medium size mixing bowl. Add wet ingredients and use a spoon and your hands to mix well. The dough will be moist but crumbly.
Using firm pressure, scoop tablespoon-size balls into a measuring spoon and gently place on a parchment-lined baking sheet. You should be able to make 16 cookies. Flatten each cookie lightly with your palm. They will be about 2 inches in diameter.
Bake in preheated oven for 8-9 minutes until the edges begin to lightly brown. Remove and let cool completely. Make the cream in the meantime.

For Lemon-Ginger Cream:

 Place all ingredients in a high powered blender or food processor and process on low until smooth. You may need to scrape down the sides a few times in between blending.

Assemble Cookie Sandwiches:

Spoon approx. 1 T of Lemon-Ginger Cream on the bottom of half the cookies. Top with remaining cookies to make mini sandwiches. You may have leftover cream, which can be served with berries for an additional treat idea. Serve at room temperature.

To Store:

Store in a sealed container at room temperature up to 3 days or in a sealed container in the freezer up to 3 weeks.