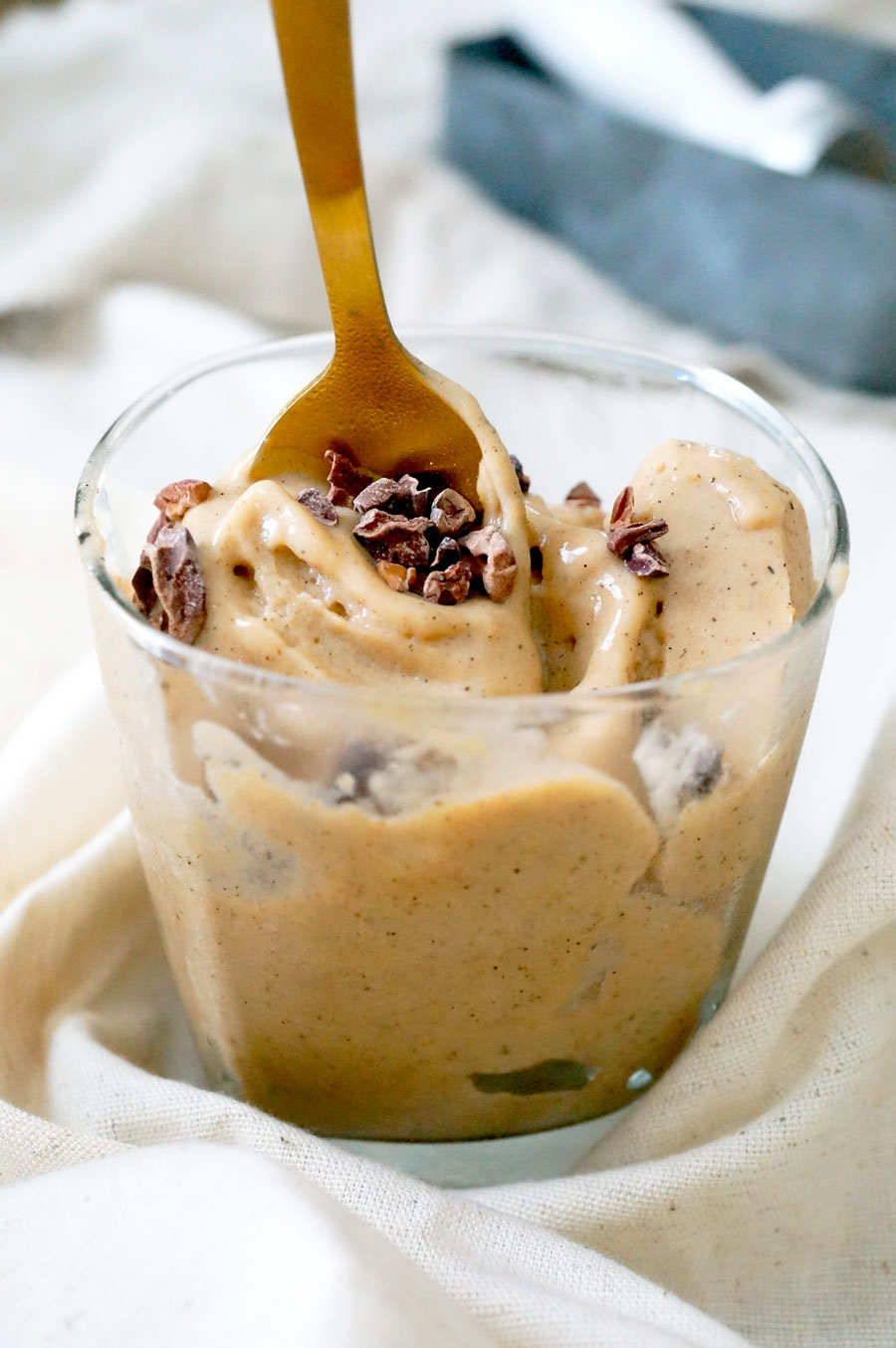 I feel like I have some convincing to do in this post. Caramel Vanilla Bean Ice Cream without any sugar added whatsoever? It sounds sacrilegious and like total BS, I know. But really it's real food MAGIC. And you're going to be happily surprised! And you won't believe what the caramel is made from (keep reading!)
 Caramel Vanilla Bean Ice Cream without ANY added sugar…. seriously!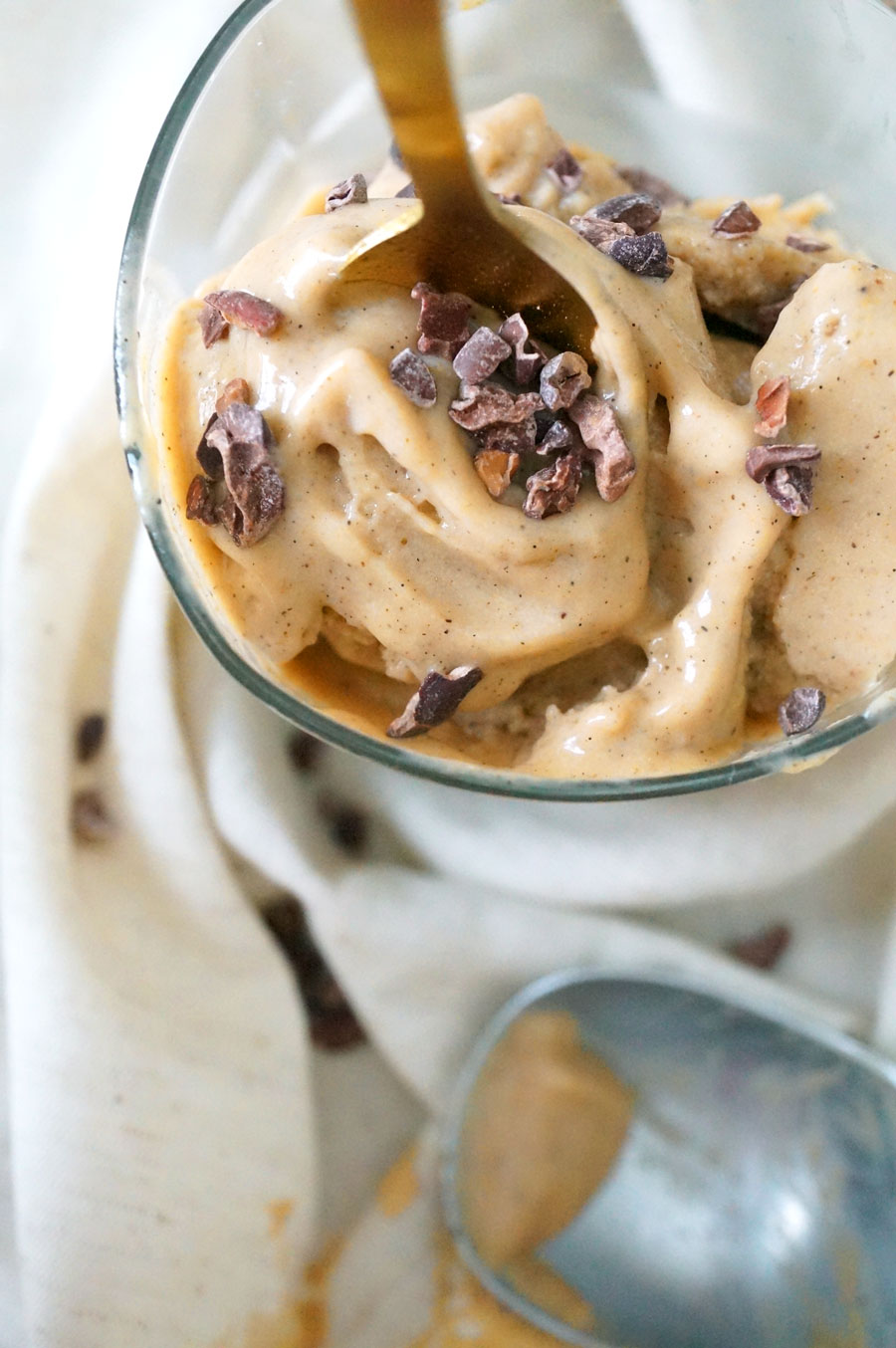 I love playing around with developing treats from fruits & vegetables without using sugars like honey or maple. I haven't talked about it much but I participated in Ginger Newtrition's Spring Liver Detox program last month + was so pleased with the results I've continued to keep sweeteners and nuts out of my diet. I'm also continuing with some of the detox tools as well.
I plan on doing a post either here or on Instagram about the positive changes I saw in my sleep, mood, energy, skin and digestion from their liver support program. It is designed to do 4x a year (every season) and the program changes slightly with each season passing.
So let's get into the deets on this ice cream! Similar to my other delicious AIP homemade ice creams, I used white sweet potato to increase the creaminess. That's a no-brainer these days! But simply combining coconut milk (this is my favorite brand), white sweet potato and Wild Foods Vanilla Bean Powder does not render you a sweet-enough treat…. even for someone who hasn't tasted sugar in 6 weeks! Enter the SURPRISE ingredient!
Want the creamiest homemade ice cream? I use the Whynter Stainless Steel Ice Cream Maker – it's electric so you just place on counter, plug in, pour your mixture & churn in 30 minutes!
The Caramel color and flavor actually comes from…. DRIED APRICOTS! Crazy! I bought several bags of Made in Nature's Dried Apricots the other day and they have the MOST delicious caramel, vanilla flavor of any dried apricot I've tried. Their prunes, dried figs + dates are also amazing.
When you blend softened dried apricots into sugar-free vanilla bean ice cream, it transforms into perfectly sweet Caramel Vanilla Bean Ice Cream.
If you don't believe me, try it! But please, please use those delicious organic Made in Nature dark golden gems. Did you know those bright orange apricots only look like that because of a preservative called sulphur dioxide? Choose organic preservative free dried fruit! Specifically, choose this brand for the best result!
Most importantly, I recommend Wild Foods Wild Vanilla Powder for this AIP-friendly ice cream! I'm always worried about the alcohol in vanilla extract causing a gluten reaction + the alcohol-free versions include soy-based glycerin which I'm allergic.
This richly flavored unprocessed Wild Vanilla Powder creates the perfect traditional vanilla bean ice cream! I also add a pinch to my smoothies every morning!
SUBSTITUTIONS
Note: For best results, use my suggested brands in the recipe! Do not replace Vanilla Powder with vanilla extract or dried apricots with fresh apricots or you will be disappointed.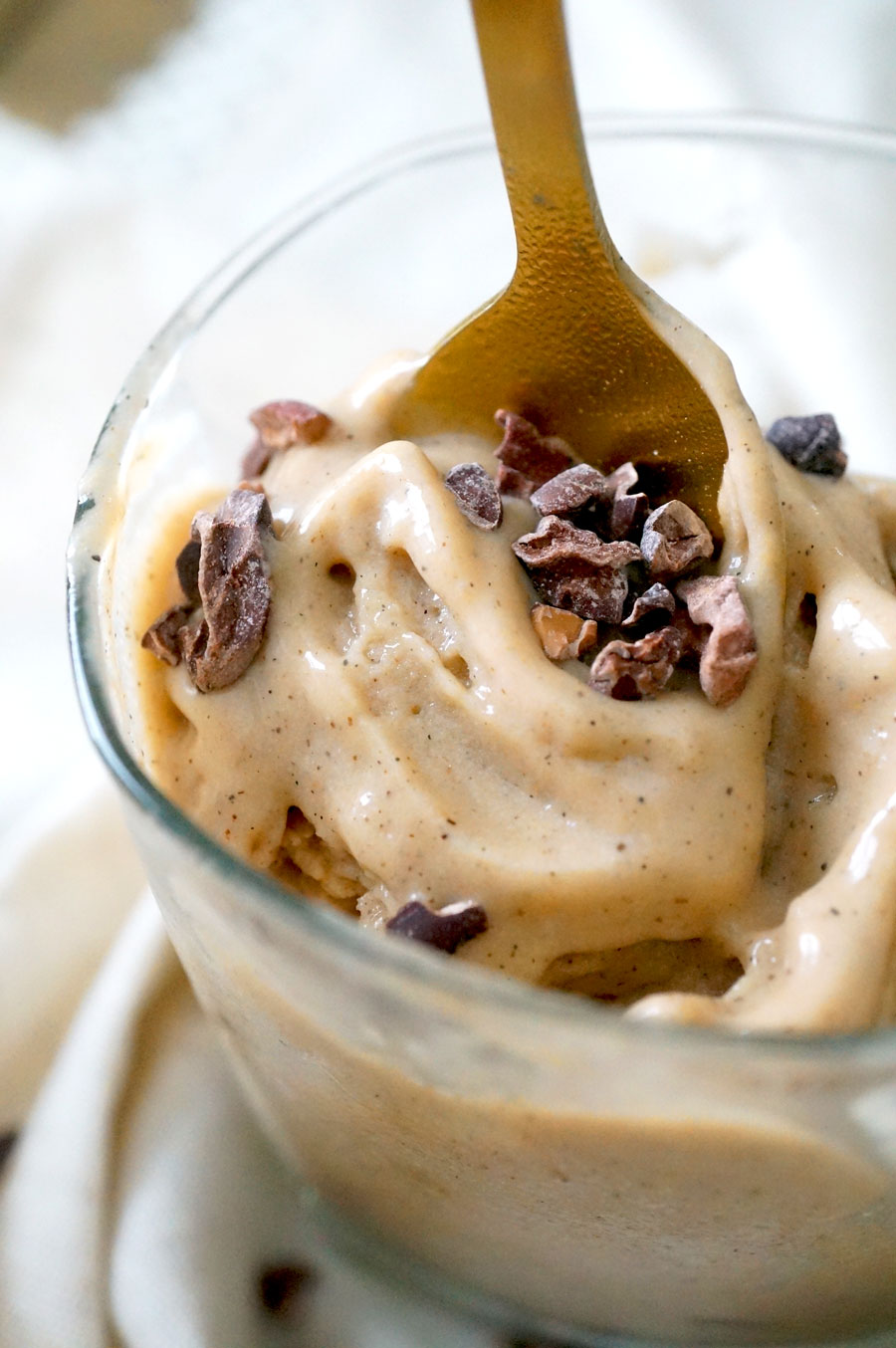 Print Caramel Vanilla Bean Ice Cream
Author:

Prep Time:

:10

Total Time:

:10

Yield:

2

to

4

1

x

Cuisine:

dessert
---
---
Scale
Ingredients
2 cups

full-fat coconut milk

1 cup

mashed white sweet potato (bake, microwave or steam and then mash)

3/4 cup

Made in Nature Dried Apricots

1 1/2 teaspoons

Wild Foods Wild Vanilla Powder
---
Instructions
Combine coconut milk, sweet potato and Vanilla Powder in a high powered blender until very smooth.
Place apricots in a microwave-safe bowl. Cover with water and microwave for 60 to 90 seconds until soft. Drain the water.
Add apricots to the blender and blend until pureed and caramel color.
Transfer mixture to ice cream maker and churn according to manufacturer's directions. Turn ice cream maker off once ice cream is thick and creamy.
---
Notes
I prefer my ice cream on the softer side when freshly churned. Note that homemade coconut milk hardens significantly in the freezer and requires longer thaw time than store-bought ice cream made with emulsifiers.
Looking for more dairy-free, low-sugar ice creams?