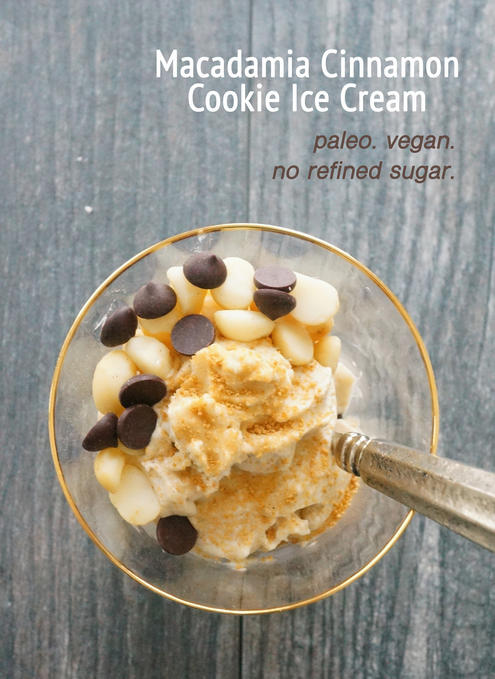 Oh man, this dairy-free macadamia nut ice cream is SO DREAMY. I actually had a dream about it the night after I ate it/finished it.
Last year when I received my Whynter Stainless Steel Ice Cream Maker, it inspired me to create an ice cream cookbook. Well, that never happened. Not because I didn't want it to, but I got busy with other projects. And realized writing an ice cream recipe book would not help me fit into my pants any easier post-partum. It may still be in the works though as a free community resource!
In fact, even with my healthy diet and daily exercise, weight loss after baby has not been easy. Actually I haven't lost any poundage since two days after I got home from the hospital and have even gained some since then! Breastfeeding clearly does not burn as much energy as people say it does!
And it makes you so dang hungry, and I'm not one to let myself go hungry. Especially when it could compromise my baby's health. Rather than focus heavily on still not fitting into my old clothes, I am focusing on how I've maintained and increased my strength so much the last 3 months! 
I've started back at group fitness classes, and let me brag for a second… I am just as strong as I was before I became pregnant! It's less my competitive spirit and more my self-respect that ignites this pride. Exercise and fitness have been so integral to my being for so many years, and it feels amazing to be able to push myself again, if only for 20 minutes at a time!
I was very active during pregnancy, hiking many miles a week, jogging, and doing bodyweight and moderate weight circuits in my garage.
And it really served me well. I have rebounded physically from pregnancy and am pleasantly surprised with my energy levels (although I wish they were better some days!), mood, and strength.
I really encourage any pregnant or soon-to-be pregnant women out there to do the same – so many people told me I was the happiest pregnant woman they had ever met! I definitely owe that to all the time I spent outdoors taking care of my body and getting fresh air.
I haven't been doing too many sweets lately, since I noticed both sweets and coffee were triggering fatigue, mood swings, and upset tummies that I usually don't have. The poison is in the dose for me and caffeine, and I really wish I could eat it every day but it's effects catch up with me quick!
I'm allowing myself a cup or two a week, and that seems to be a good balance. I really wish I was someone with a higher caffeine (and alcohol) tolerance. I still need to treat myself to a little something each day though, so I've been having bowls of frozen berries with coconut milk. The coconut milk hardens into a thin little shell – it's so damn good! I had two giant bowls of frozen blueberries and cherries with coconut milk last night and went to bed a very happy girl.
I've figured out how to make super creamy macadamia nut ice cream and the trick is sweet potato as the emulsifier!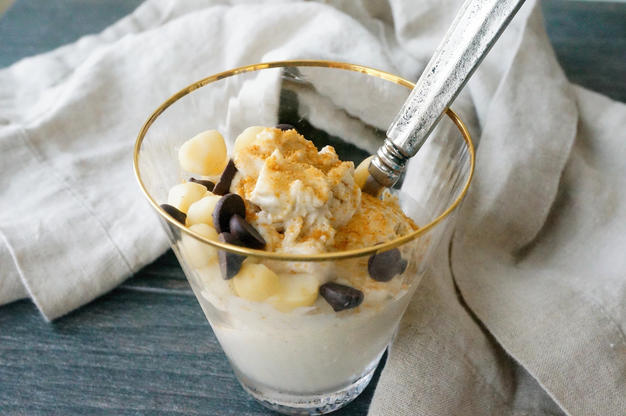 When pureed into coconut milk they make the fluffiest, creamiest ice cream! You can leave them out to make the recipe AIP, but it will just be a cinnamon-flavored ice cream! That's why I've also included starchy white sweet potato in this recipe… to increase the creaminess, especially if you choose to leave out the macs!
This creamy, dreamy dairy-free macadamia ice cream will blow you away! Top with chocolate chips & treat yo self good!
Print Macadamia Cinnamon Cookie Ice Cream
Author:

Prep Time:

10 minutes

Cook Time:

0 minutes

Total Time:

10 minutes

Yield:

4

1

x
---
Scale
Ingredients
13.5 ounce

can coconut milk

8 ounces

white sweet potato, steamed, cooled and cubed

1/2 cup

unsalted macadamia nuts

2

to

3

tbsp Primal Palate Cinnamon Sugar Cookie seasoning

1/2 tsp

Wild Foods Wild Vanilla Powder
pinch sea salt
for serving: chopped macadamia nuts & dark chocolate chips
---
Instructions
Blend all ingredients together in a blender on high speed until smooth. Transfer mixture to your ice cream maker per the manufacturer's directions and churn until smooth and creamy. Avoid over-churning so you do not end up with hardened ice cream. Serve with additional macadamia nuts and chocolate chips, if desired!
*I use this electric Whynter model which sits on my kitchen cart and simply needs to be plugged in! No freezing overnight required! I never let it run the full 60 minutes to prevent hardening and always scrape down the sides after 20 minutes or so. 
---