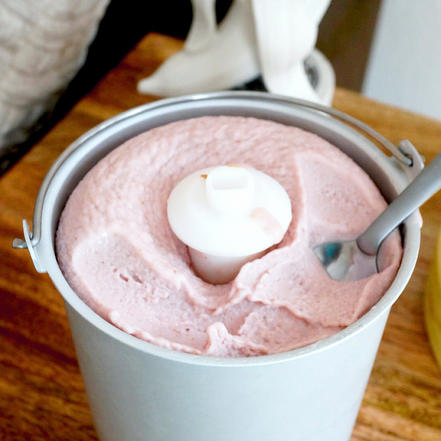 My favorite cooking gadget that I didn't really "need" but HAD TO HAVE has been sitting unused for the past 7 months! The Whynter Stainless Steel Ice Cream Maker isn't a cheap "Hey, might as well at that price" kind of purchase. My husband bought it for me for my 27th birthday after I had been asking for an ice cream maker for years but didn't want to deal with the hassle of the freeze-ahead models that cost much less. I think he also was hoping I'd make ice cream every night for dessert if he got it for me. I don't think my tummy can handle that much coconut milk though, and during my pregnancy if the craving for coconut milk ice cream has hit, there's been lots of local places near me that can heed my craving! 
Here's the list of coconut milk ice creams I've tried since we've moved to Austin. They aren't AIP since they contain cane sugar or agave (and sometimes chocolate) but all the flavors I've had are gluten-free, dairy-free, egg-free and soy-free!
Lick Honest Ice Creams:

My husband really likes this place. I think it's okay. The customer service experience is always odd. The ice cream is really creamy though but the kids behind the counter are always confused about the ingredients. They say their chocolate flavors are soy-free.

Nada Moo

(store-bought): Definitely yummy in a pinch! Not the cleanest ingredients (gums, agave). The best flavors are Chocolate and Mint Chocolate Chip. The Maple Pecan tastes like gasoline.
 

Sweet Rituals:

basic ice cream flavors but very creamy (they use a gum in their ice cream to emulsify it but no egg) and you can get toasted coconut as a topping!

Thai Fresh:

my favorite by far because you can get a cold scoop of coconut ice cream over a warm ball of sweet and sticky rice – Thai Coffee, Thai Basil, & Lavender are my favorites! They say their ice cream is coconut milk and organic cane sugar with the flavor additions. They usually have 10 dairy-free flavors!

Fat Cats:

This one has a HUGE selection of coconut milk ice creams and toppings like coconut whipped cream and vegan salted caramel! I don't know if it was the large serving size or what, but I got a tummy ache from their ice cream  and my digestion was off for a few days – may have to try again to see if it was an off-day for me.
Organic strawberries have been on sale at Whole Foods for a couple weeks, and they reminded me of my Strawberry Milkshake from The Healing Kitchen! I based this ice cream recipe on that super simple "milkshake" recipe with some minor tweaks to make it creamier. The white sweet potato acts as the emulsifier to decrease the amount of water crystallization in the recipe caused by the freezing of coconut milk (which is 30-40% water). I don't suggest leaving it out. I also don't suggest complaining about how you can't find white sweet potato. I have zero ability to control the distribution of white sweet potato to your town. Orange sweet potato would be disgusting here. Don't even think about it. You can try parsnip (not as flavorless as white sweet potato though), raw egg yolks if tolerated, or a couple tablespoons of gelatin (not as creamy) in its place.
Sorry, but if I hear "I can't get white sweet potato, plantain, ground beef that came from a cow named Jane who has a sister named Polly" ONE MORE TIME, I'm going to stop blogging. JK I'm being dramatic. But seriously, if I find a recipe I want to try and I don't have access to that ingredient, I MOVE ON WITH LIFE. [Blogger rant ovah. Love you.]
Enjoy this creamy, dreamy fruit-based non-dairy ice cream!
Print AIP Strawberry Ice Cream
Author:

Prep Time:

10 minutes

Cook Time:

0 minutes

Total Time:

10 minutes

Yield:

4

1

x
---
Scale
Ingredients
27 ounces

(

2

13.5-ounce cans) full-fat coconut milk

1 pint

ripe organic strawberries, hulled

1

medium white sweet potato, cooked, cooled and skin removed

3

to

4

tablespoons maple syrup or honey

1/2 tablespoon

vanilla extract or the seeds of 2 vanilla bean pods (omit for AIP)

1/4 teaspoon

fine sea salt
---
Instructions
1. In a high-powered blender, combine all ingredients until smooth. Taste and add more sweetener, vanilla or sea salt to your liking.
2. Pour into prepared ice cream maker and run per manufacturer's directions until cold and creamy. Serve with shaved dark chocolate or dark chocolate magic shell if not following strict AIP. 
---
---