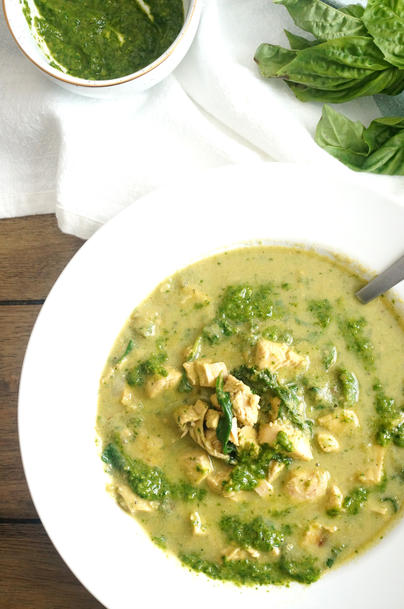 This Kale Pesto Chicken Soup is a hearty, flavor-packed, quick & easy one-pot meal! It's Paleo, grain-free, gluten-free and made with the most delicious homemade kale pesto!
Pesto may be the flavor I crave the most when asking myself the age old question: "What the heck am I in the mood for today?" I try to always follow my cravings. Cravings are our bodies way of signaling to us it needs more of a certain nutrient. You can't get much more nutrient-packed than fresh garlic, dark leafy greens and pastured chicken with bone broth!
What you need for Kale Pesto Chicken Soup:
Zucchini

Shallot and Garlic

Bone Broth

Chicken

Cumin

Kale

Spinach

Lemon

Basil
The zucchini, shallot and garlic are cooked down to bring out their sweeter flavors and then pureed with the broth to make a creamy, flavorful soup base!
How to make dairy-free Kale Pesto in a food processor:
In a food processor, blend kale, spinach, garlic, shallot, cumin, salt, pepper and olive oil together to make an earthy and bright kale pesto.
If you're a lover of all things Pesto like myself, be sure to check out the following recipes on my website.
THIS RECIPE IS A GUEST POST ON BALANCED BITES