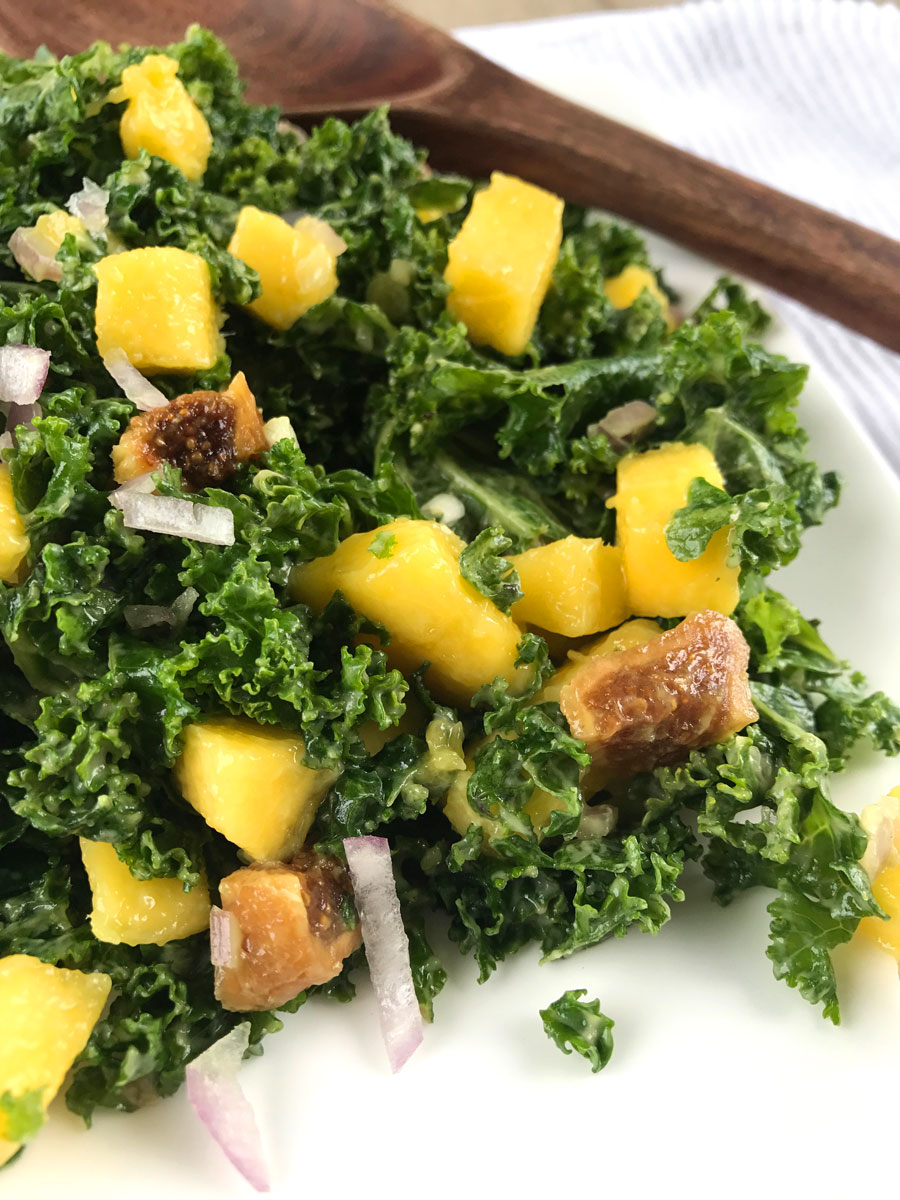 Whoo! It's been a little bit since I posted a new veggie-heavy recipe! I love inspiration for new salads and side dishes, but it seems like most of my readers prefer main dishes and treats, so I tend to post those more often. But we cannot underestimate the value of a tasty kale salad that you actually look forward to eating!
I eat salad every single day but not because I am in love with the taste – I just know how much better I feel when I get a large amount of greens in my day.
This kale salad couldn't be easier to whip up and is really delightful. The tangy avocado creamy dressing softens the kale while the mango and figs add sweetness and texture & the shallots add a little pop of flavor! Trust me – shallots and mango below together. You'll see.
Yesterday we got home from a mini trip to my parents who live 3 hours away. It was just me, Grace & Rafael and our first time on the road together! On the way there, Grace screamed her head off for a solid hour until I finally was able to pull over and check on her. She had thrown her pacifier overboard and her face was bright red. I could see the blood vessels bursting out of her forehead & then I started to cry.
I felt so bad for not pulling over sooner, but I thought she would tucker herself out and take a nap (she despises the car seat even for short trips to the store so this is her normal). Once I soothed her and gave her Lamby back – she slept for a good portion of the remaining drive.
But then I realized I forgot her Pack n' Play at home (where she was going to sleep at my parents) and her pajamas! So I had to stop at Target and buy another dang Pack n' Play for the child. Traveling with a child ain't easy…. I don't know how people go to Europe & Asia with their kids. I envy their patience.
We also made a pit stop at an outdoor shopping mall so that I could do some retail therapy after the stressful drive. I find the best clothes when I'm stressed (I also ate a bar of Alter Eco Salted Dark Chocolate on the drive that was supposed to be part of my mom's Mother's Day gift…. well guess what, THIS mom needed it more. Gramma understood.) The chocolate and a new romper, dress and clutch did the trick!
I'm starting to overhaul my wardrobe. I used to dress really well and then when I went through a Hashimoto's flare and gained a shit ton of weight, I couldn't fit into any of my clothes anymore so I just bought a bunch of stretchy loose things that aren't that flattering.
Then I went straight into pregnancy and post-partum from that flare, so it's time to get back to enjoying clothing. I'm a pretty low key dresser – a combination of moderate boho with a lot of athleisure thrown in but I like a good, figure-flattering dress more than anything.
It feels confidence-boosting to start focusing on that little piece of me once again. I'm sure every new mom understands!
Looking for some other KALE RECIPES?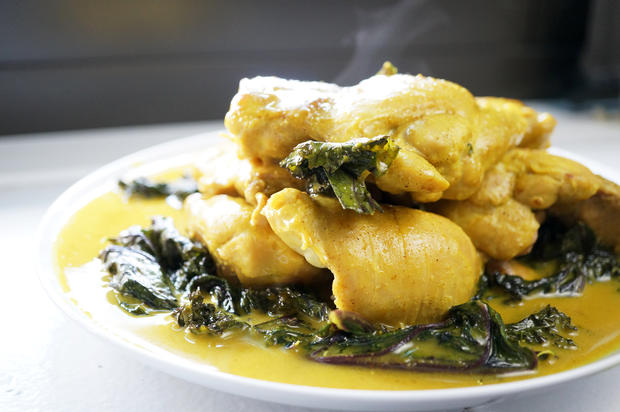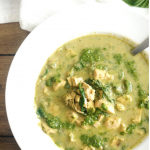 This easy creamy kale salad will get your whole family to eat their greens thanks to the sweet additions of mango and dried Turkish figs!
Print Creamy Kale Salad with Mango & Figs
Author:

Prep Time:

10 minutes

Cook Time:

0 minutes

Total Time:

10 minutes

Yield:

2

1

x
---
Scale
Ingredients
1

ripe avocado

2 tablespoons

avocado oil or olive oil

1 tablespoon

lemon juice

1 tablespoon

white wine vinegar

1/2 tsp

sea salt

6 cups

chopped kale (stems removed)

1

ripe mango, peeled and diced

6

dried Turkish figs, chopped

2 tablespoons

minced shallot
---
Instructions
In a food processor, combine avocado, oil, lemon, vinegar and sea salt until smooth and creamy.
In a large bowl, toss chopped kale with avocado dressing until well-coated and slightly wilted. Toss in remaining ingredients.
Serve immediately or let flavors marry for 30 minutes prior to serving (my preference!) either room temperature or cold.
---