Vegan and Paleo Ganache-Stuffed Medjool Dates are a no-bake healthy treat that comes together in minutes! The dairy-free Ganache can be used to top ice cream, freezer fudge, chocolate cake and more. You won't believe how rich, creamy and chocolate-y this carob, AIP-friendly ganache really is!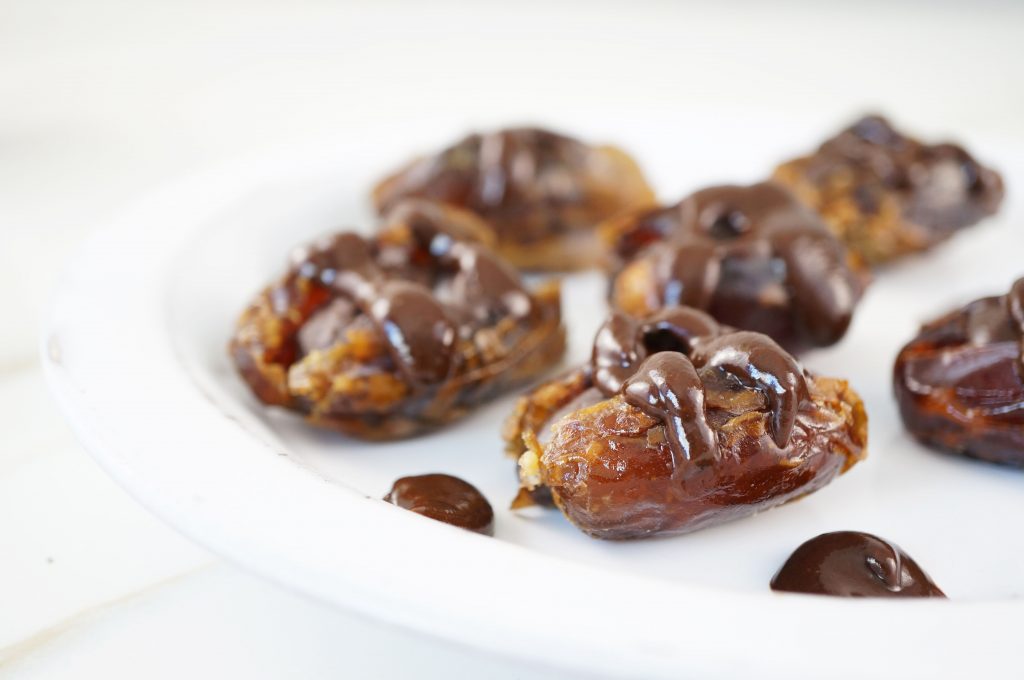 When I was creating the dessert recipes for The Healing Kitchen, I wanted to ensure the treats would be as nutrient-packed as possible. You'll find ice cream made from sweet potatoes and coconut milk, Warm Bananas with Date Caramel Sauce, No-Bake Lemon Macaroons, Truffle Fudge Pops and more!
You'll see on my website and in my cookbooks, I use very minimal amounts of sweetener in my recipes. Often times don't add any refined, powder or liquid sweeteners at all! This recipe for Dairy-Free Ganache and Hot Fudge is the perfect example!
The health benefits of Medjool dates include: 
They are a good source of important vitamins and minerals including potassium, magnesium and copper.

Dates are high in fiber and can help ease constipation – especially when eaten with other high fiber and water-rich fruits and vegetables.

They decrease the active labor time in birthing women and can decrease the likelihood of being induced due to late term pregnancies.
I know many pregnant women swear by consuming 3 Medjool dates (or 6 smaller variety dates) a day during their third trimester to decrease the length of active labor as well as promote onset of labor. If you're wondering how dates could possibly make labor more tolerable and taste so good, there's a couple reasons:
Dates contain tannins that help facilitate contractions in birthing women, decreasing the average active laboring time compared to women who do not eat dates.

Dates contain oxytocin-binding compounds that make contractions stronger and more effective, decreasing the average active laboring time and helping to naturally induce labor in third-trimester women.
Outside of the health benefits of nature's sweetest treat, this Vegan, Paleo, and AIP-Friendly Hot Fudge and Ganache is just too easy to make.
Here's what you need to make Vegan Dairy-Free Hot Fudge and Ganache
Medjool dates: You can source organic Medjool dates from most grocery stores. They are easy to pit yourself, so there is no need to pay extra for pitted dates.

Coconut Cream: this is best sourced from a can of organic coconut cream. Use only the thick creamy contents of the can and reserve any water-y coconut milk for another use.

Carob Powder: Carob powder is a nutritious alternative to cacao and desirable for those following an AIP elimination diet. You can certainly use cocoa powder in place of the carob powder. Carob is quite a bit sweeter than cocoa powder, so your fudge will be a little less sweet as well.

Coconut Oil: Coconut oil helps thin out the Hot Fudge so that it is pourable. It also helps firm up the Ganache in the refrigerator since it turns solid at cooler temperatures. It's an excellent gut-healing addition to this real food Paleo fudge and ganache!
Print Vegan Ganache-Stuffed Dates
Author:

Prep Time:

10 min

Cook Time:

5 min

Total Time:

15 minutes
---
Scale
Ingredients
15 pitted Medjool dates, divided
1 1/2 cups coconut cream, canned and room temperature
1/2 cup carob or cocoa powder
1/4 cup melted coconut oil
1/4 teaspoon fine sea salt
---
Instructions
To make the ganache: place 7 of the dates in a small microwave-safe bowl and cover with water. Microwave for 1 minutes until very soft. Drain the water and place dates in a blender or food processor. If you can remove the skins easily, you'll get a smoother ganache.
Add the remaining ingredients to the blender and blend until very smooth, scraping down the sides as needed to ensure the dates break down completely.
Transfer the mixture to a small saucepan over medium heat. Stir continuously until sooth and shiny. Remove from the heat before the fudge comes to a boil. At this point, you can use this recipe as Hot Fudge.
Spoon about 1 1/2 teaspoons of the Hot Fudge into the center of the remaining 8 Medjool dates. Place in the refrigerator for 1 hour to allow the Hot Fudge to set into a hardened Ganache. Reserve any remaining slightly warm Hot Fudge to drizzle on the stuffed sates just before serving, for an even more decadent treat.
---