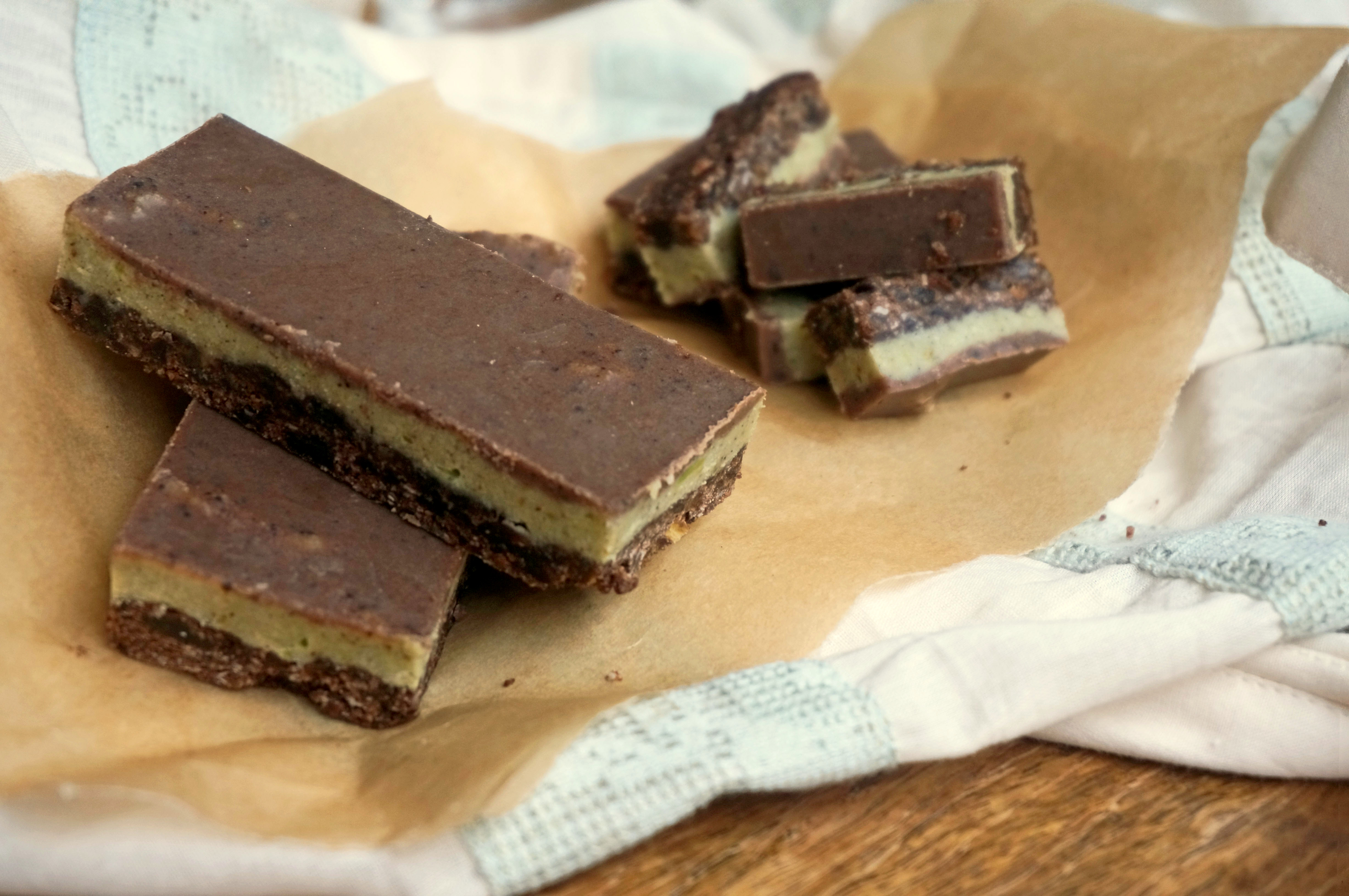 I'm obsessed with these. They fill a lot of craving voids on AIP… convenience snack, nighttime treat, on-the-go breakfast (there are worse things), and kid/husband-friendly. They taste exceptionally good the next day. The avocado comes through slightly but is balanced with the sweetness of the dates and coconut and more complex flavor of the carob. I don't think I need to sell you on AIP-compliant fudge bars so I'll change the subject.
My husband was out of town all week. I missed his companionship, but I stayed very busy with fieldwork, the dog, blog, and catching up on my reading. It reminded me that I'm not really good at staying on schedule when I live by myself for whatever reason. I ate maybe 2-3 actual meals, snacked all day on too many treats (like these bars. omg they are so good.), skipped the gym multiple times, and stayed up late reading about spinal cord injuries. Other than that last part, I sound like an irresponsible teenager who goes all free willy when her parents leave her home alone. God only knows what the heck he does when I go out of town. Frightening thoughts.
The honeymoon countdown has begun… 1 week until we will be in Arizona! I am being forced to not plan a thing, or be a freak and look up every hike, trail, horseback ride, restaurant, bar, tea shop, Whole Foods, and farmer's market in the near vicinity. I have been instructed to "just go with it". WHAT IS THAT? I'm gonna roll with the unstructured vacation though since it is our honeymoon after all, but I'm still packing snacks damn it. Did you see my post on AIP-Friendly Travel Snack & Meal Ideas? It got a ton of great response, even more than some of my recipes (let's be honest: the vegetable ones). I'm wondering if people want more useful AIP lifestyle information? Leave me your thoughts if you feel so inclined!
Avocado Carob Fudge Bars 
Makes 5 bars or 20 squares | Prep Time 10 minutes | Freeze Time 55 minutes
Carob Date Crust
10 Medjool dates, pitted
2/3 cup unsweetened shredded coconut
1 tsp cinnamon
2 T carob powder
½ tsp vanilla bean powder (For AIP: use pure vanilla powder)
Pinch sea salt
2 T melted coconut oil
Blend dates, coconut, cinnamon, carob, and sea salt in a food processor or blender until crumbly. Add coconut oil to blender and incorporate until wet.
Line a bread loaf pan with parchment paper, leaving overhang on at least 1 of the sides. Press date mixture firmly and evenly into the bottom of the loaf pan. Refrigerate for 20 minutes until hardened.
While the crust is in the fridge, make the Avocado Fudge
Avocado Fudge
¼ cup coconut butter, melted
¼ cup + 2 T palm shortening
¼ cup well-mashed ripe avocado
1 T honey
½ tsp vanilla bean powder (For AIP: use pure vanilla powder)
Pinch sea salt
Melt the coconut butter and palm shortening in a glass dish in the microwave. Stir avocado, honey, vanilla and sea salt until smooth.
Pour over the hardened crust and spoon evenly over the entire surface. Freeze for 25 minutes.
Carob Layer
¼ cup coconut butter
¼ cup palm shortening
2 T carob powder
½ tsp honey
Melt coconut butter and palm shortening in a microwaveable glass dish, about 30 seconds. Stir in the carob powder and honey until smooth. Pour evenly over the Avocado Fudge Layer. Let freeze for 10 minutes to harden. Slice bars or cut into squares and serve. Store in refrigerator.