Sweetener-free & no bake fudge made with almond butter & pumpkin then topped with flaked sea salt… fudgin' amazing.
Hi healthy treat lovers! This will be my last blog recipe before Christmas, and it's a gooooood one. I have 14 million fudge recipes on this website & I've thought long and hard about doing a healthy fudge ebook. Mostly for my own pleasure.
Real food fudge is just so much fun to make! You can combine fruits and vegetables, nuts and seeds, and always flaked sea salt into something healthy, satisfying & decadent enough to take to parties.
I dubbed this fudge "hoarder-worthy" because you may not want to share. I recommend hiding your fudge in the vegetable drawer under something like Brussels sprouts. No one will find it.
No one looks in the vegetable drawer but you. I developed this handy trick once I met my husband who has never met a tray of cookies he can't eat in one sitting.
This fudge is…
Sweetener-free – just a few softened Mejdool dates in this recipe!
Made with creamy, protein-rich almond butter. You can use any nut or seed butter though – even coconut butter!
Flavored with pumpkin, pumpkin pie spice, pistachios and flaked sea salt!
Extra addicting because it's drizzled with a sugar-free homemade chocolate made from cacao & coconut oil!
Almond Butter Pumpkin Pistachio Fudge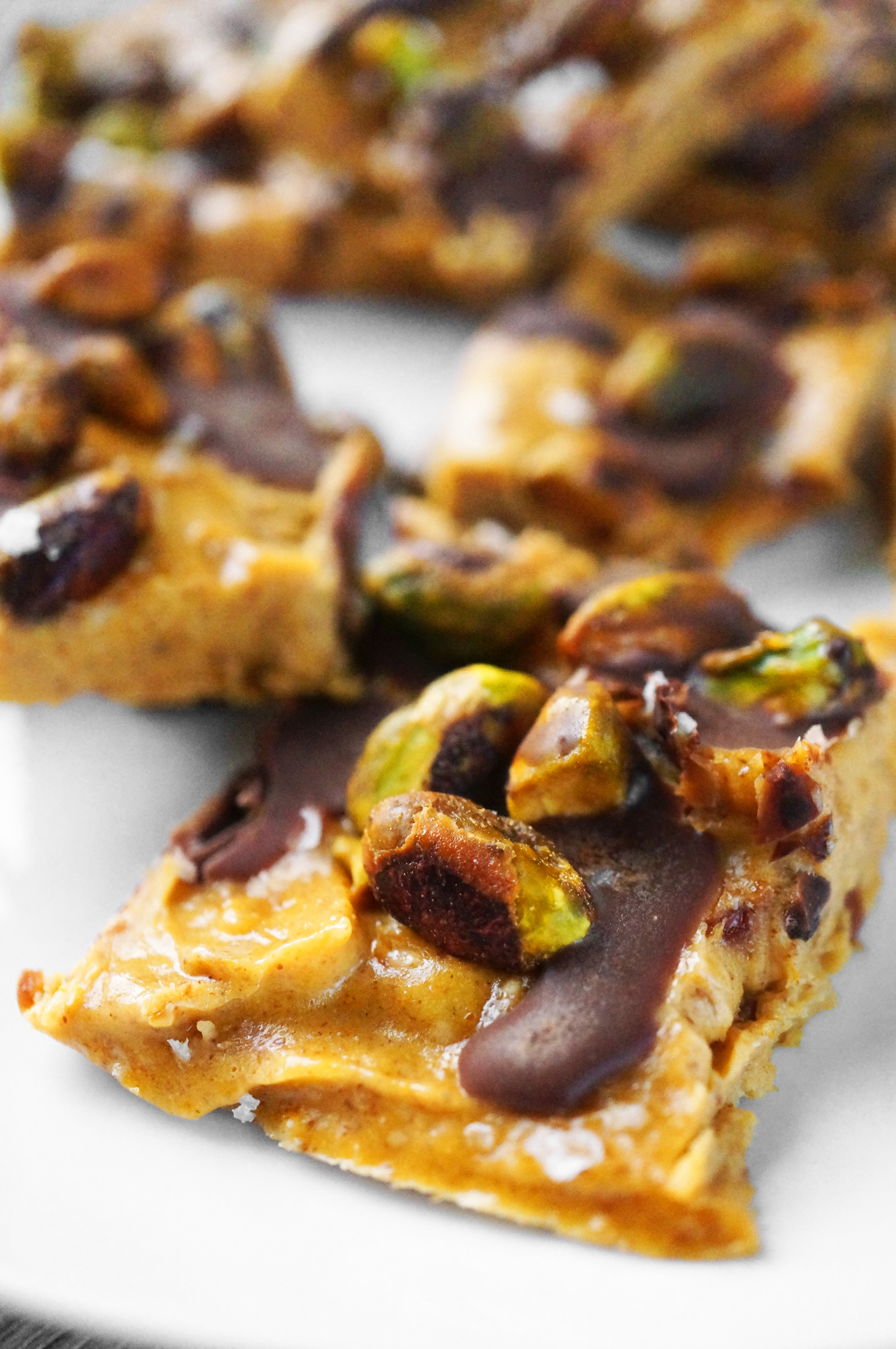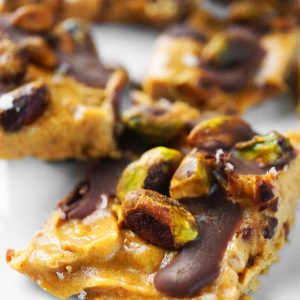 Ingredients
4 Medjool dates, pitted
1/2 cup creamy almond butter
1/2 cup pumpkin puree
3 tablespoons coconut oil, softened, divided
1 teaspoon Primal Palate Pumpkin Pie Spice or Cinnamon Sugar Cookie Spice
1/3 cup shelled pistachios
2 teaspoons cacao powder
flaked sea salt
Directions
Place dates in a small bowl covered with water. Microwave for 30 seconds then drain.
In a food processor, combine dates, almond butter, pumpkin, 2 tablespoons coconut oil and spices until smooth.
Spoon mixture out onto a parchment-lined plate. Smooth and spread mixture with a rubber spatula until 1/2-inch thick. Sprinkle with pistachios and a generous amount of flaked sea salt.
Transfer to freezer and freeze for 2 hours until very firm.
Melt remaining 1 tablespoon coconut oil in microwave. Stir in cacao powder. Drizzle over the fudge and watch it harden within a minute. Slice fudge into desired pieces. Store in freezer and let rest on countertop 10 minutes before serving. Fudge will be too soft if stored in fridge.
Recipe Notes
LOOKING FOR MORE HEALTHY PALEO FUDGE RECIPES?
TOLD YA I LIKE FUDGE!