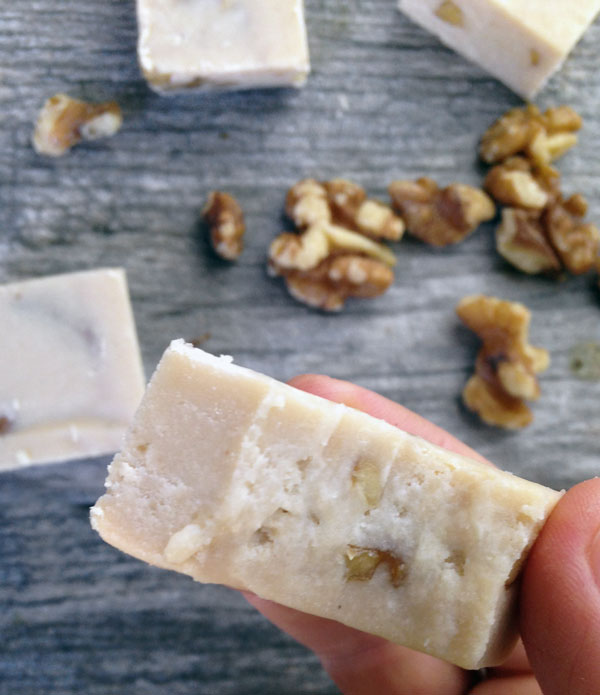 I have a fudge problem. Really, it's the perfect treat. You don't have to bake it. We all know I'm a terrible baker and 100% frightened of inserting expensive ingredients into the oven. It always tastes good even if you mess it up. You can make literally any flavor in the world. Lavendar-Rosemary-Clementine fudge? Probably a thing. Probably delicious.
This Maple Walnut Fudge is an ode to my Canadian heritage and also based off my beloved Maple Caramel Fudge from last year. I make at least 2 varieties of fudge every year for Christmas. The last 3 years I've made my Peppermint Fudge (guest post on PaleOMG) and my Avocado Carob Fudge (holy heaven).
Similar ingredients and simple process but I've decreased the sugar a bit and changed up the ratios of some of the ingredients to achieve a less chewy fudge and instead a more dense hard fudge. It's not quite as dense and flakey as my favorite classic Canadian fudge, but if you can figure that out for me without immense amounts of sugar and butter, I will love you forever. Then I added toasted walnuts in it because toasted walnuts are the Channing Tatum of nuts. Whatever that means. I guess it just means I like toasted walnuts & want to eat them/bite into Channing Tatum's right bicep if I ever had the chance.
Looking for another insanely good AIP fudge recipe? My lovely pal Martine at Eat Heal Thrive has this Sea Salt Carob Fudge that is legitttttt. I made it and devoured it with the help of only 2 other humans within 3 days. 
Thankfully I have walked all my fudge endeavors off. I walked 13 miles today just so I could get a smoothie at my favorite smoothie place in Austin before we move. We had to ship our cars, so we are car-less, live off an interstate system, and have to walk at least 3 miles to get anywhere. I decided walking a half-marathon was worth it. It was. To be fair, the first time I walked the 6 mile round trip, I forgot my wallet. So then I rested my feet for a few hours and trekked out again. A story I will tell my grandchildren when their smoothies are delivered to their bedrooms via drones in 2050. 
Poor Grace was stuck in her stroller for a solid 4 hours because I'm stubborn and needed my damn cherry-almond-spinach-blueberry-hemp-coconunt oil-vanilla-cinnamon smoothie. She slept the whole time, so I listened to my new favorite podcast by Stassi Schroeder, a legit crazy person who I appreciate. She makes me feel boring and sane, which I also appreciate. 
This fudge is equal parts decadent, creamy & dreamy!
For all my Canadians out there, you're welcome!
Print Maple Walnut Fudge
Author:

Prep Time:

10 minutes

Cook Time:

5 minutes

Total Time:

15 minutes

Yield:

16

pieces

1

x
---
Scale
Ingredients
2/3 cup

melted coconut butter

2/3 cup

coconut cream

1/3 cup

maple syrup

1/3 cup

palm shortening

2 tablespoons

coconut sugar

1 teaspoon

vanilla extract
pinch sea salt and ground cinnamon

1 tablespoon

coconut oil

1 tablespoon

coconut flour

2/3 cup

walnuts, chopped and lightly toasted
---
Instructions
In a medium saucepan, combine all ingredients except the coconut flour and walnuts over medium heat.

Bring to a low boil, then reduce the heat to medium-low.

Continuously stir for 5 minutes until you get a smooth, shiny candy. Stir in the coconut flour until well combined.

Remove from heat and stir in the toasted walnuts.

Spoon into a small glass dish lined with parchment paper. I used a small Pyrex container.

Refrigerate until set, at least 2 hours.

Slice into 16 pieces and store in refrigerator for up to 1 week.
---
---