These Twice Baked Sweet Potatoes are stuffed with ground beef tossed in a basil-spinach pesto for the perfect weeknight meal. Whole30 and AIP options!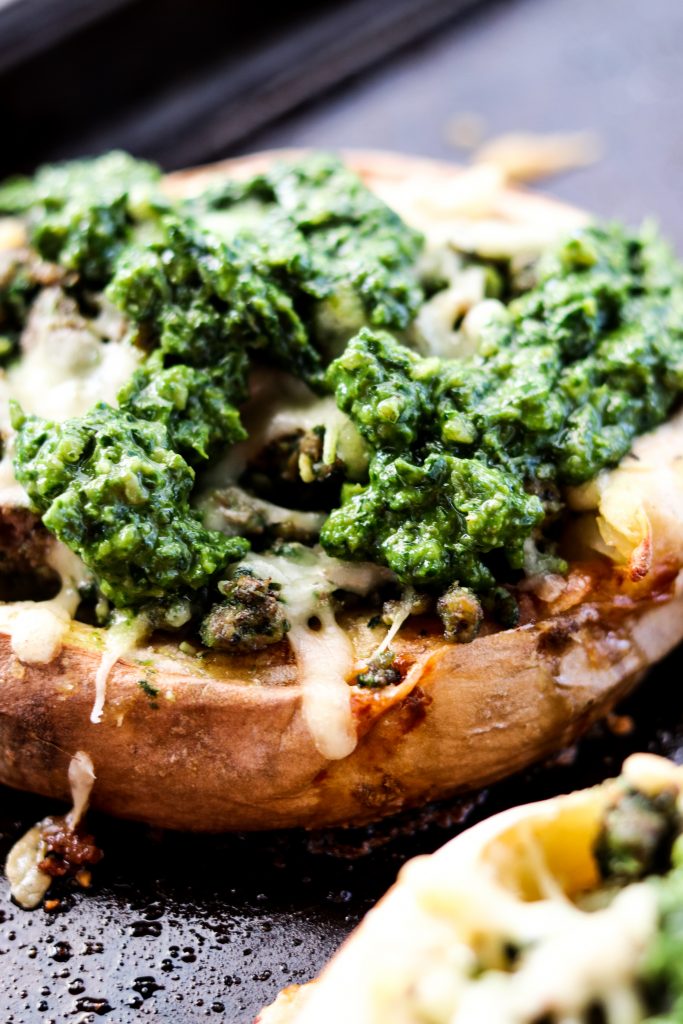 I'm always looking for dinner ideas at 4:48 pm on any given weekday. And by looking for dinner ideas, I mean the food blogger way. Opening up my fridge and deciding which 5 ingredients need to be used immediately. These Twice Baked Sweet Potatoes stuffed with pesto ground beef fit the bill!
These twice baked sweet potatoes are stuffed with ground beef tossed with a quick homemade basil-spinach pesto (for extra greens) and drizzled with more pesto after baking. Eat them straight out of the skins with a fork or spoon – we even eat the skins – they're so tender after baking twice.
What's in these Twice-Baked Sweet Potatoes? 
Large white sweet potatoes – the rounder and larger the better for good portion sizes.
Extra virgin olive oil
Salt and pepper
Dried chives or parsley
Ground beef
Fresh basil
Baby spinach
Raw pumpkin seeds
Garlic
Optional: shredded sharp cheddar or mozzarella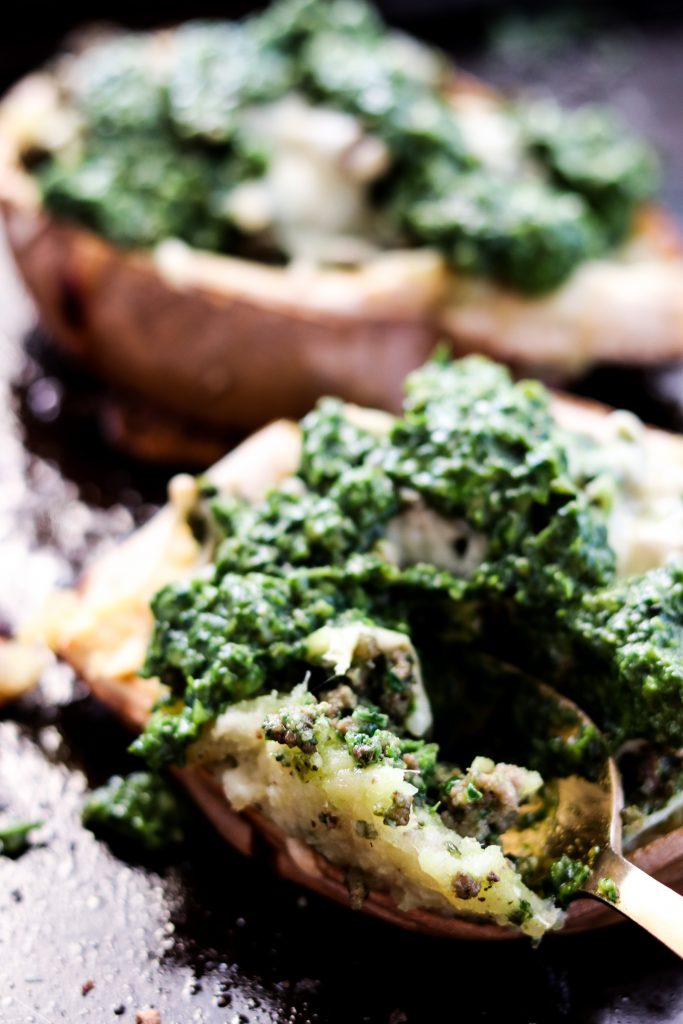 I am a major pesto lover – I love the brightness, acidity, saltiness and earthiness pesto adds to so many different dishes. You can also try my AIP-compliant Pesto Chicken Pizza (a reader fave), Kale Pesto Chicken Soup, and Butternut Rice with Beef and Nut-Free Pesto.
And these Pesto Beef Stuffed Twice Baked Sweet Potatoes are actually very easy to make! I wouldn't call it a "quick" recipe because potatoes take time to bake especially if you get the big honkin' ones like I do.
Why white sweet potatoes? Because they're much less sweet than regular sweet potatoes, nightshade-free (making them AIP-compliant) and are more widely available now. If you can't find them and tolerate regular white potatoes, you can use those instead!
How to Make Twice Baked Sweet Potatoes
1. Slice scrubbed large white sweet potatoes in half lengthwise. Place on a baking sheet and drizzle with olive oil, salt and pepper. Bake at 400 degrees for 40 minutes, or until easily pierced with a fork.
2. While the potatoes bake, make the spinach-basil pesto. In a food processor, combine the basil and spinach until finely chopped. Add in the pumpkin seeds, garlic, salt and pepper, and pulse until finely chopped. Slowly drizzle in 1/4 cup extra virgin olive oil until you achieve a fairly smooth paste.
3. Carefully remove the flesh of the potatoes, leaving the skin intact. Mash well and season with grated garlic, dried chives or parsley, salt and pepper. Reserve half the mashed potatoes for another use.
4. Spoon the remaining half of the mashed potatoes back into their skins and smooth with the back of a spoon.
5. Meanwhile, in a large skillet, cook the ground beef, breaking up with a wooden spoon until finely ground over medium-high heat. Season to taste with salt and pepper. Stir in 1/4 cup pesto. Spoon the ground beef evenly onto the sweet potatoes.
6. Sprinkle with shredded cheese (omit for Whole 30 and AIP) and return to oven to bake for 8 to 10 more minutes until cheese is melted and/or skin is slightly crispy.
7. Serve warm drizzled with remaining pesto.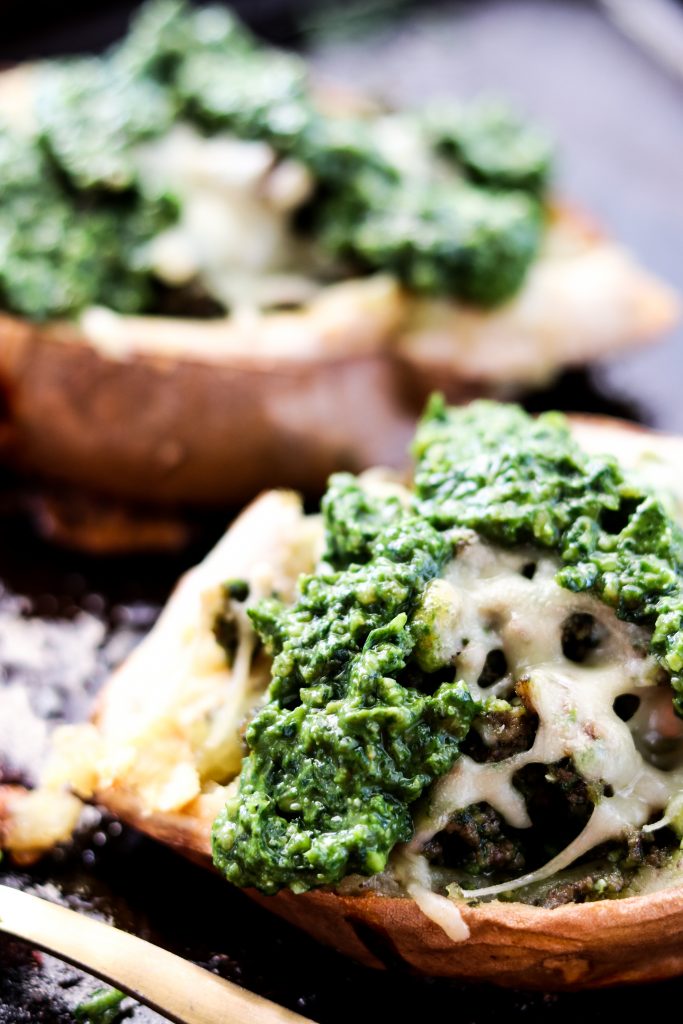 [simple-recipe:9910a]