I want to tell you about my on-again, off-again, on-again relationship with coffee.
You've heard it before: "I love the taste, but coffee doesn't love me back."
Blood sugar irregularities, anxiety, gastrointestinal cramping and urgency, and sleep interruptions are some of the most common coffee-gone-wrong side effects. I've been there (it's why I gave it up for so many years).
Many of those coffee side effects can be blamed on the common occurrence of mold and mycotoxins in your beans (up to 90% of coffee tests positive for them!) Just drinking organic may not be enough if you're extra sensitive to these inflammatory compounds.
I was also around during the bulletproof coffee phase which heavily revolved around fasting. No wonder we all felt great at first (hello, stress hormone high) and then like total crap within weeks (hello, stress hormone high that came crashing down on our female biological design).
The fact is there ARE significant health benefits in drinking a cup of joe or two daily. But we've been kinda doing it wrong, ya'll.
You may have experienced negative symptoms while drinking coffee if you…
drank it first thing in the morning before eating breakfast (screwing up your blood sugar and sending cortisol through the roof)
used mostly conventional coffee or the occasional lower quality organic variety
frequently drank more than your tolerated dose
had it later in the day (past 11 am – 12 pm)
were undernourished, fasting, or dieting intentionally or unintentionally in some way (aka running on adrenaline)
didn't have great sleep hygiene or the ability to protect your sleep
have histamine intolerance and weren't drinking a histamine-controlled coffee like Purity Coffee

Increase Your Metabolism By Drinking Purity Coffee
Get 20% off sitewide on your first order with code ALAENA
While there's no "right" way to drink coffee, there are some techniques you can use to include this joyful and antioxidant-packed plant in your diet without symptoms while increasing your metabolic rate.
Coffee has liver-protective, mood and thyroid-boosting, anti-cancer, and diabetic prevention benefits but not everyone needs to drink it. But if it brings you joy like it does for me, here are my tips for consuming it mindfully.
Drink your coffee AFTER you have finished eating an animal protein-rich breakfast. This stunts excessive cortisol release and helps regulate your blood sugar to avoid a crash. Coffee drinks who drink coffee while fasted and delay breakfast tend to experience blood sugar dysregulation for the remainder of the day. I love my Gluten-Free Breakfast Pizza since it's packed with protein!
Include a hearty dose of fat, protein and glucose in your coffee (three recipes below) for the reason above! I have found this drastically reduces sugar cravings later in the day since my body and mind are already satisfied.
Choose a certified organic coffee tested for mold, mycotoxins, heavy metals and pesticides (like Purity).
Use whole beans stored in an air-tight container in a cool and dark location to prevent microbial growth and oil rancidity. If buying in bulk, vacuum seal your beans before storing in a humidity-controlled freezer.
Grind them fresh daily or weekly and store the grinds in an air-tight container in a cool and dark location.
Use filtered water for the best taste and health benefits. We use our Atla under the sink water purifier or our Berkey.
Why I Only Drink Purity Coffee (it's the best of the best)
Get an extra 20% off subscriptions and free shipping on orders of $60+usd with code ALAENA at checkout
I had tried multiple organic "clean" coffee brands in the past few years but even with all my tips above, they would still leave me with an upset stomach, a jittery crash, and histamine symptoms.
Purity Coffee is the first certified organic brand of coffee I can drink and actually feel GOOD – no negative side effects, the most delicious smooth taste, and meets my safety standards for one of the world's moldiest crops.
I've had it daily for over a year and wanted to wait to share before I could be sure it's a brand I can support. Here are a few key points on what makes it so special:
100% Specialty Grade Certified USDA Organic arabica beans which accounts for less than 1% of coffee worldwide. It is quite literally the best of the best, and you can taste it, see it and smell it.
Free of mold, mycotoxins and pesticides. They test frequently to make sure you're getting the cleanest coffee possible. Coffee is a heavily sprayed crop prone to mold growth (and therefore mycotoxin accumulation). If you have a tendency towards histamine symptoms, Purity is your best bet for enjoying coffee again!
Shipped out to customers within 48 hours of roasting: super market brands can be on shelves for months withering, molding and losing their flavor and health benefits.
Lab tested for high levels of bioactive compounds with antioxidant, anti-inflammatory, anti-carcinogenic and cardio-protective benefits.
Swiss water processed decaf isn't overly acidic like most decafs and is made without the use of formaldehyde (unlike most decafs!)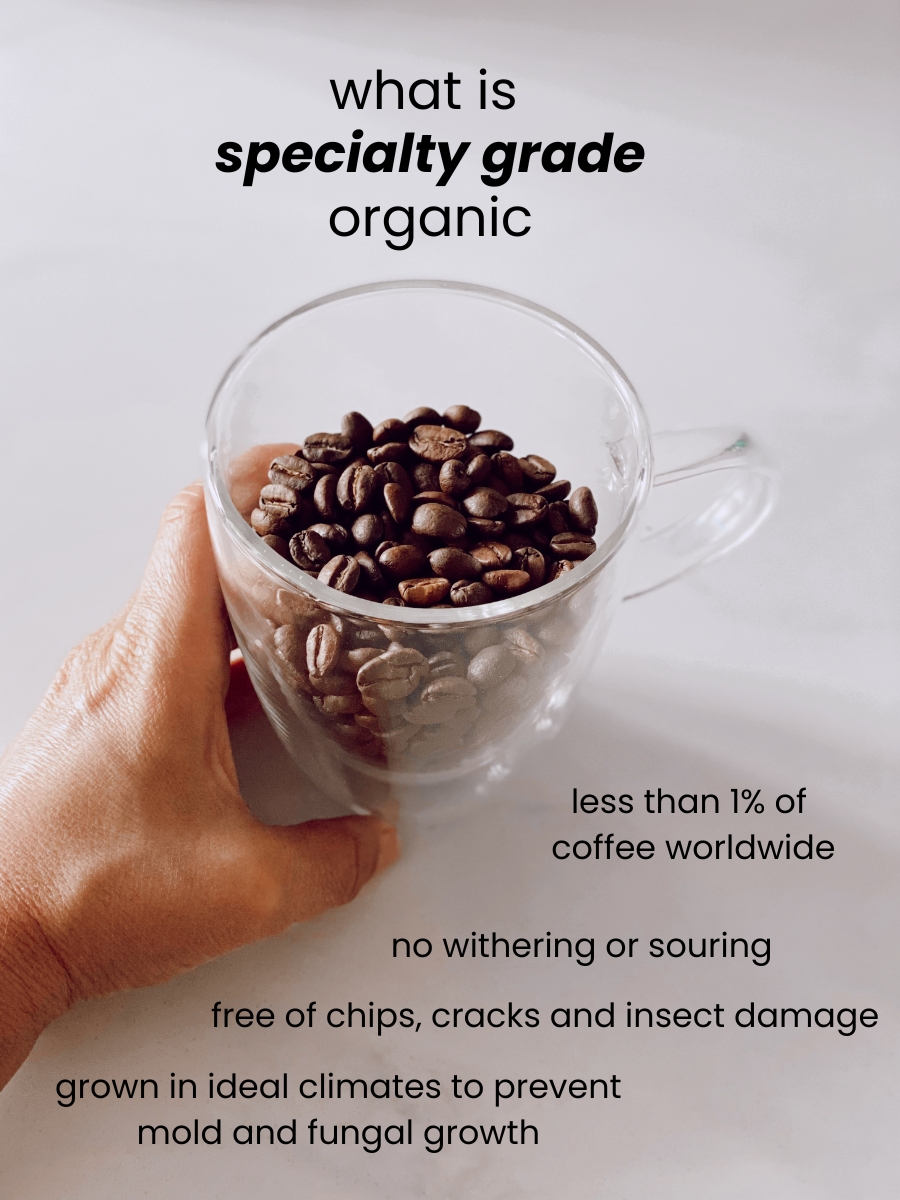 What's the best Purity Coffee bean?
Honestly they're ALL delicious and contain the same high-quality, safety tested beans but with varying levels of antioxidants and compounds for your specific needs.
Protect: Developed for liver support and metabolic vitality. Highest in antioxidants and ideal for coffee enemas.
Ease: With prebiotic benefits and lower acidity to help ease digestion, this blend is perfectly balanced to support gut health.
Flow: Formulated for improved physical and mental performance, decreased inflammation, and increased creativity and mental focus.
Calm: swiss-water processed decaf without any chemicals.
They also offer sachets (perfect for travel – just add hot water), 12 ounce bags (best for trial) and 5 pound bags (what I buy – lasts me 2 1/2 to 3 months easily).
Drink your coffee after breakfast with my No Jitters Coffee Recipe
Print
No Jitters Collagen Coffee
Author:

Prep Time:

2 min

Cook Time:

0 min

Total Time:

2 min

Yield:

1 cup

1

x

Category:

beverage
---
Description
This no-jitters creamy and naturally sweetened collagen coffee is made with pastured vanilla-flavored collagen, nutritious maple syrup, and mold-free Purity coffee beans.
---
Scale
Ingredients
8 oz just-brewed Purity Coffee
1 to 2 tablespoons organic coconut cream (I use 2 for the creamiest coffee)
2–3 teaspoons organic maple syrup
---
Instructions
In your coffee mug, whisk together the coconut cream, maple syrup and vanilla collagen until smooth. This prevents the collagen from clumping. Stir in your just-brewed Purity coffee and enjoy! For a special treat, I love topping mine with a dollop of homemade whipped cream and a sprinkle of cinnamon.
---
---
Keywords: coffee, collagen, purity coffee, maple syrup, coconut cream, breakfast