This veggie-filled Paleo Chicken Pot Pie has a buttery crust thanks to grass-fed ghee and is incredibly nourishing with savory bone broth, cauliflower "gravy" and pastured chicken.  Comfort food in a pie dish that my whole family gobbled up! It's free of gluten, grains and nuts as well!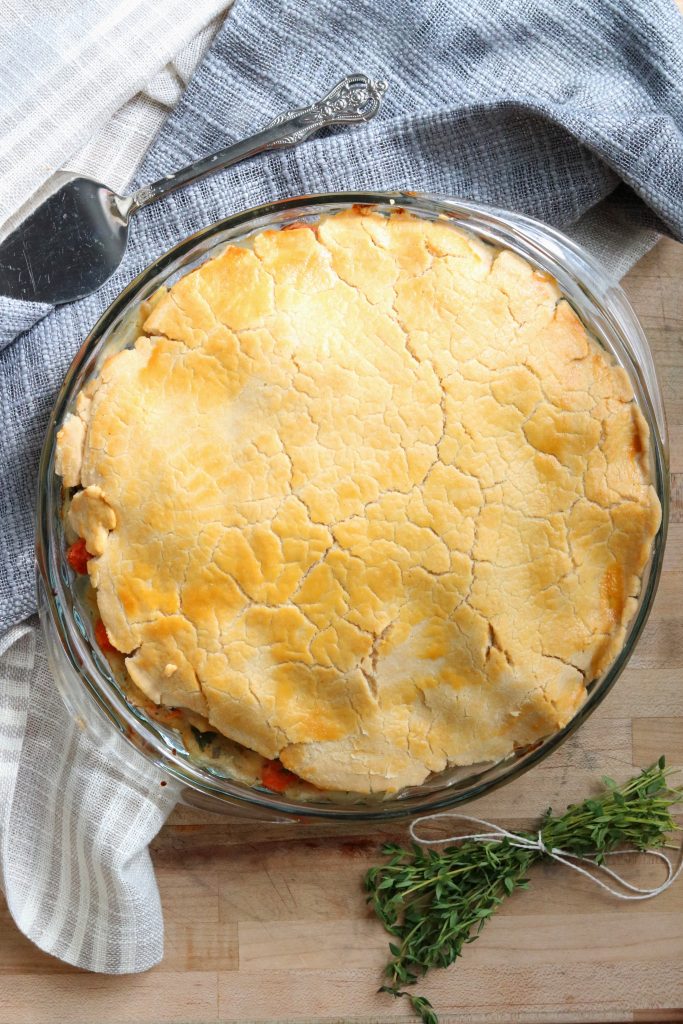 We finally got a "cold front" in Florida (when the temperature drops below 70 degrees), and I needed a comforting, belly-warming meal that my husband, 3-year-old AND 8-month-old would all enjoy! We got our monthly Butcherbox subscription full of pastured chicken breast and thighs, and I wanted a more exciting way of putting them to use rather than our usual Instant Pot Shredded Chicken.
What makes it different than traditional chicken pot pie?
– This Paleo and Grain-Free Chicken Pot Pie is full of veggies and bone broth to make it extra nutrient dense. I made the "gravy" out of steamed cauliflower blended with the broth and a bay leaf for a vitamin C-packed addition to the meal.
– The buttery, flaky crust is made with grain-free cassava flour, grass-fed ghee and extra-virgin olive oil which keeps it from being too dense or dry.
– I left out the peas since they bother my stomach (and many other people following a Paleo diet don't handle them well either) as well as onions and garlic to keep my 3-year-old happy. The flavor boost comes from an array of delicious herbs including parsley, marjoram, thyme, rosemary and bay leaf. All pantry staples that make up a comforting winter meal!
Can I make any substitutions? 
– I haven't tried the crust with any other flours, so I can't make a recommendation there, but you can replace the ghee with another solid fat like lard or tallow to keep it completely dairy free.
– Of course you can add any veggies that you would like such as broccoli, peas, asparagus, onions and garlic.
– If you don't tolerate eggs, try brushing the crust generously with extra virgin olive oil instead!
If you love Paleo Chicken Pot Pie, try these recipes too: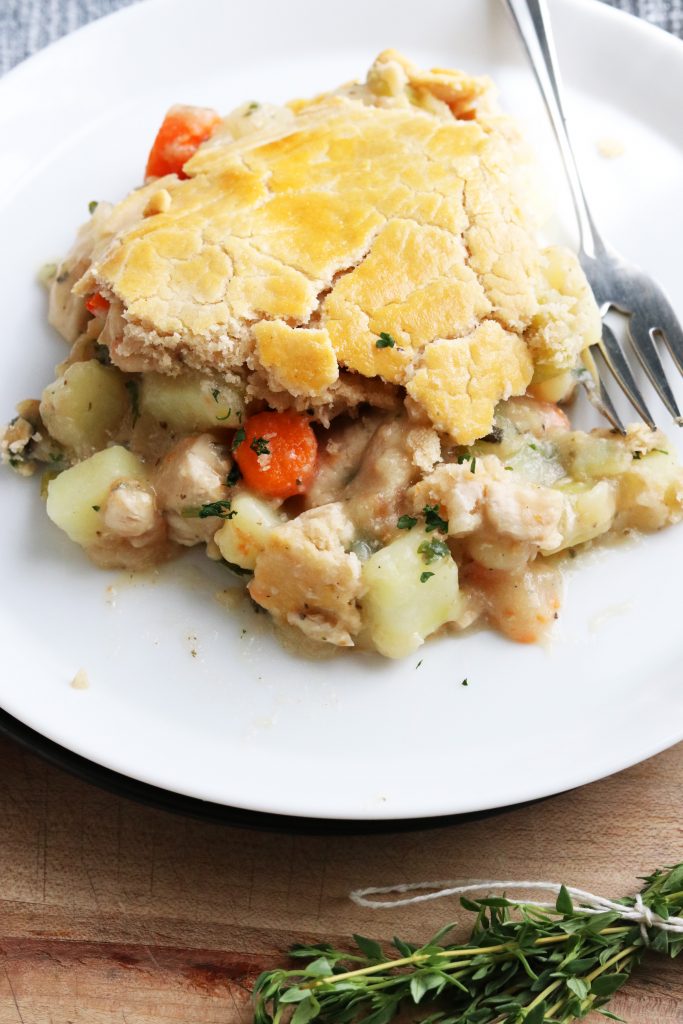 Print Paleo Chicken & Veggie Pot Pie
Author:

Prep Time:

20 min

Cook Time:

50 min

Total Time:

1 hour 10 minutes
---
Scale
Ingredients
Chicken & Veggie Pie Filling
1 tablespoon salted ghee
1 cup diced celery
1 ½ cups diced carrots
3 cups uncooked chicken, diced into bite-size pieces
1 teaspoon each minced fresh rosemary and thyme
½ teaspoon dried marjoram
1 bay leaf
1 teaspoon sea salt
½ teaspoon cracked pepper
3 cups white sweet potato, peeled and diced
12 ounce bag frozen cauliflower, steamed
2 cups chicken broth
3 tablespoons cassava flour
Cassava Pie Crust
1 cup cassava flour
¼ cup salted ghee, solid at room temperature
1/4 cup cold water
2 tablespoon olive oil
1 egg, whisked
---
Instructions
In a large pot, heat ghee over medium heat. Saute celery and carrots for 5 minutes until fragrant.
Stir in chicken, rosemary, thyme, sea salt, marjoram, pepper and bay leaf. Cook for 5 minutes, stirring often, until the chicken is cooked through. Remove pot from heat to make cauliflower "gravy". Set aside the bay leaf.
Steam cauliflower until very tender. In a high-speed blender, blend cauliflower with the chicken broth and the bay leaf until very smooth.
Transfer cauliflower "gravy" to the pot with the vegetables and chicken and bring to a low boil.
Stir in white sweet potato and cook until just fork tender – about 8 to 10 minutes depending on the size of your dice. Stir in the 3 tablespoons of cassava flour, 1 tablespoon at a time, to thicken the mixture. You may only need 2 tablespoons if you like a thinner chicken pot pie filling. Stir in parsley.
Transfer filling to a deep glass pie dish.
Make the crust: Stir cassava flour and salted ghee together in a mixing bowl until combined. Stir in the olive oil (I find using clean hands easiest). Stir in the cold water and knead the pie dough until well mixed.
On a parchment lined cutting board, use your hands (dipping fingertips in cool water) to press the dough into a thin round crust the same diameter as your pie dish (eyeball or measure it). The water helps the dough from sticking to your hands.
Pick up the parchment paper and flip it carefully onto the casserole. Brush generously with whisked egg. Place in fridge while you preheat the oven to 375.
Once oven is preheated, bake for about 30 minutes uncovered on the center oven rack. Crust should be golden and baked through. Remove from oven and let rest 15 minutes before slicing and serving.
---