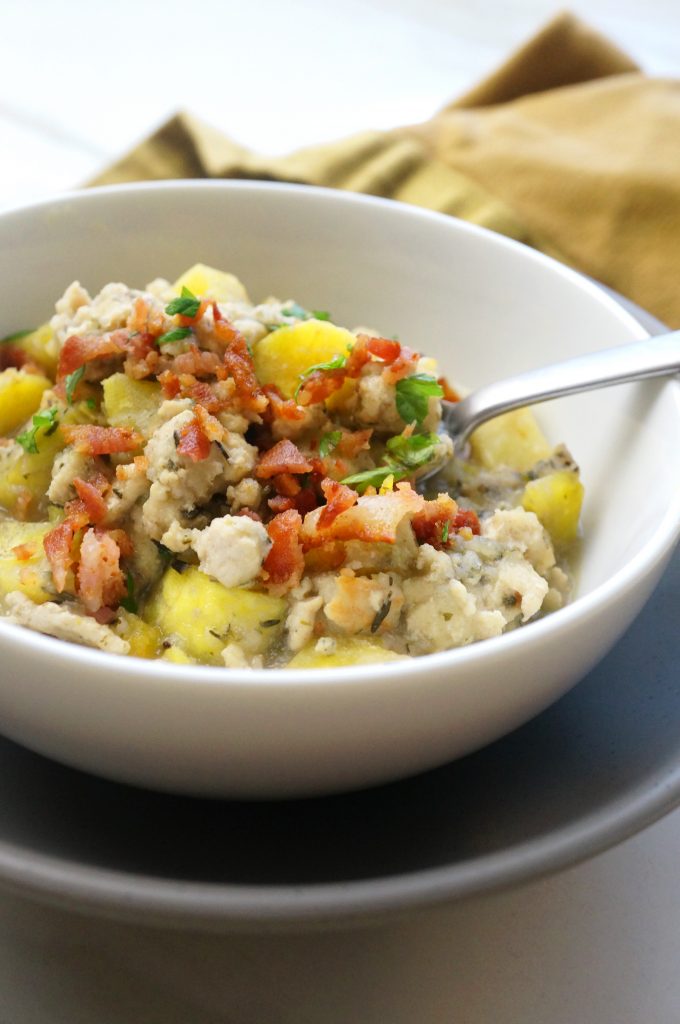 I have just been craving Thanksgiving stuffing like it's the 3rd week of November or something. There's just no better flavor profile to me than all the savory herbs + take-on-all-those-flavors turkey + sweetness o' accompanying fruit. And then there's those tasty, soak up all the goodness cubes of bread. Well since it's been over half a decade since I ate traditional bread-based stuffing, there's just got to be a little starchy something-something when I make the AIP thang.
This recipe was inspired by the Hamburger Stew in The Healing Kitchen, which is 100% comfort food in a bowl! I wanted to make a version that's a bit lighter and includes more delicious herbs inspired by my favorite side dish.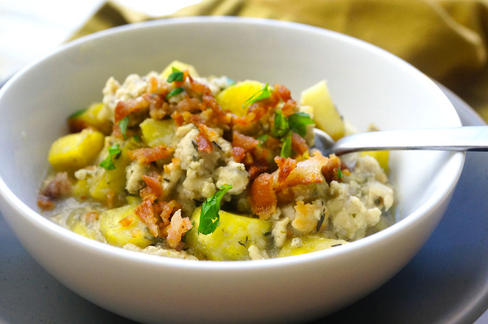 This stew is everything you know Thanksgiving to be: savory,  comforting and filling! Just not AS filling as Turkey Day fare.
Savory Turkey & Plantain Stew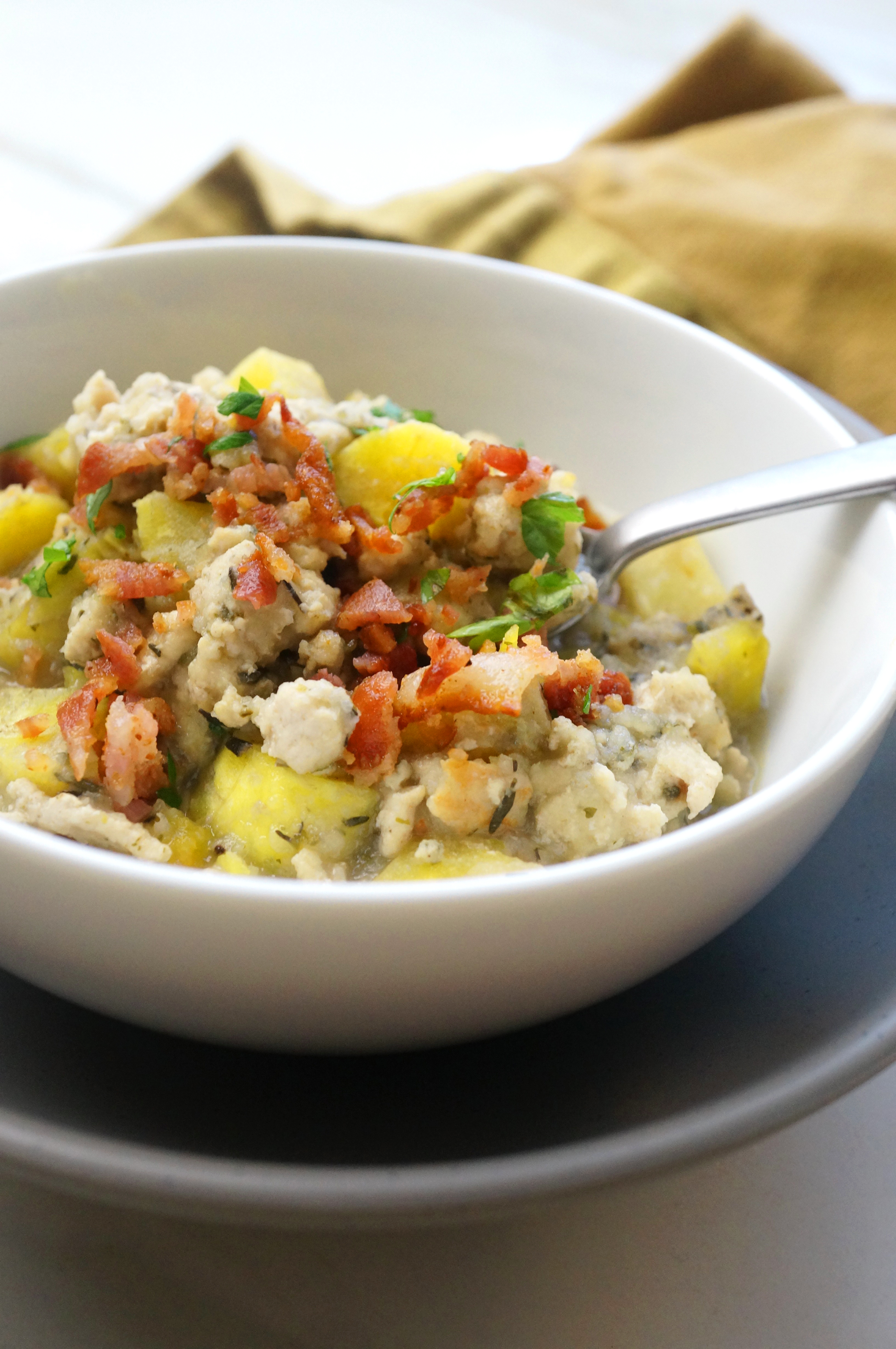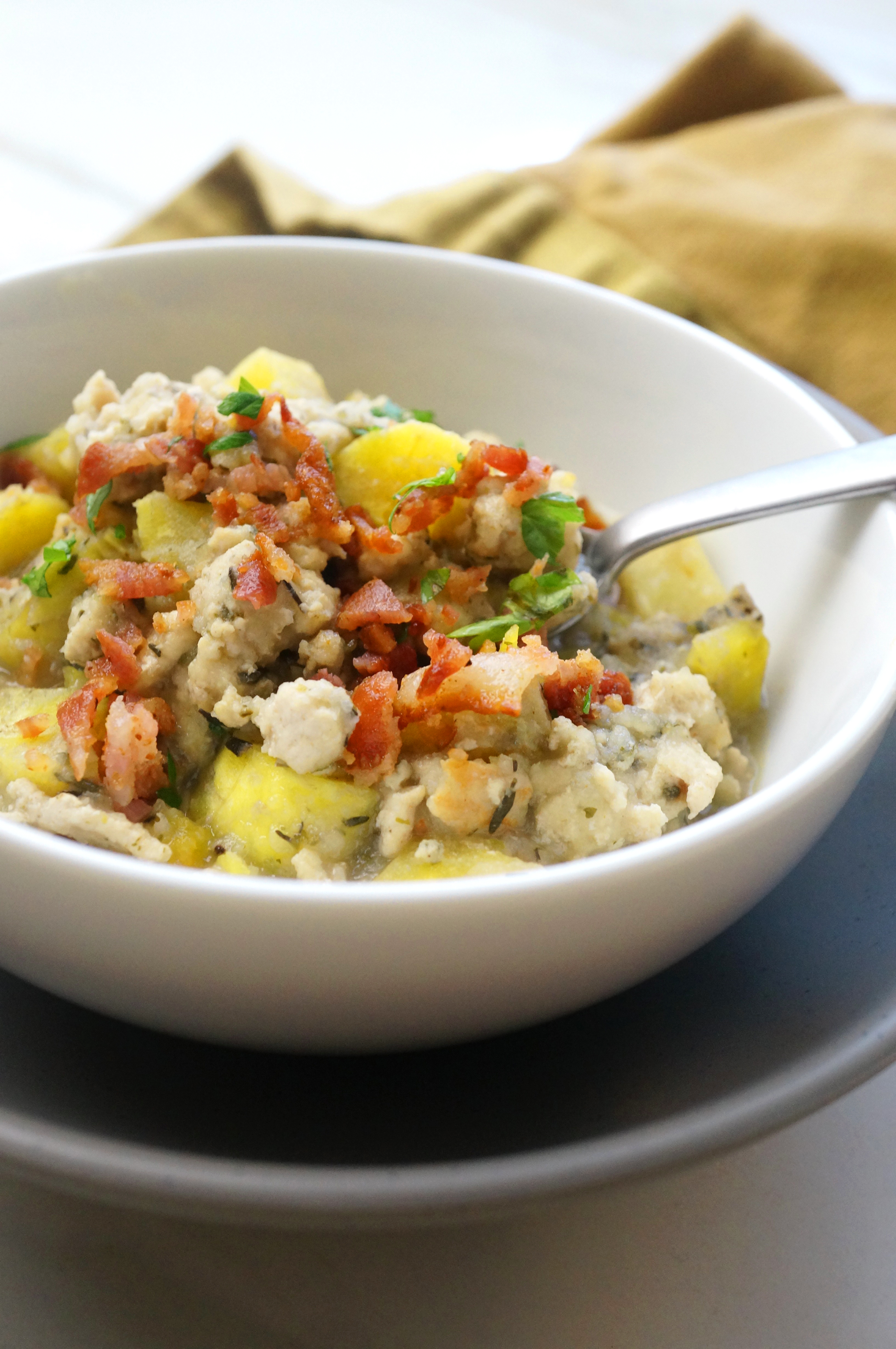 Ingredients
2 tablespoons olive oil
1 large yellow onion, diced
2 large parsnips, peeled and diced
2 ribs celery, diced
1 teaspoon sea salt, divided
1 bay leaf
3 cups homemade beef or poultry bone broth
1 pound ground turkey breast
1 tablespoon dried thyme leaves
2 teaspoons minced fresh rosemary leaves
2 teaspoons dried parsley
1/4 teaspoon dried rubbed sage
pinch cinnamon
2 green plantains, peeled and diced (1/2-inch pieces)
4 slices cooked and crumbled bacon, for serving
for serving: chopped parsley (optional)
Directions
Heat

olive oil in a large pot over medium heat. Saute onions, parsnips and celery with ½ teaspoon sea salt and the

bay leaf

for 10 to 12 minutes until softened and lightly caramelized.

Transfer contents of pot to a blender with the broth. Puree until smooth and set aside.

Crumble

turkey into the pot. Sprinkle with remaining ½ teaspoon sea salt, thyme, rosemary, parsley, sage, and

cinnamon

. Cook until no longer pink then add the plantains to the pot.

Cook turkey and plantains together for 3 minutes and then add the pureed broth/veggies to the pot. Bring to a boil, uncovered, over medium heat for 15 to 20 minutes until the plantains and the stew is creamy and thickened.

Meanwhile cook the bacon in a separate skillet until crisp. Transfer to a cutting board to cool and then crumble.

Taste stew and adjust seasoning if desired. Top bowls of stew with crumbled bacon and minced parsley to serve.
Recipe Notes
To make recipe in Instant Pot, "Saute" bacon until crispy and set aside, "Saute" veggies and turkey with seasonings in bacon fat until golden, add broth and plantains, seal the lid and pressure cook on "Manual" for 8 minutes. Top with crumbled bacon.