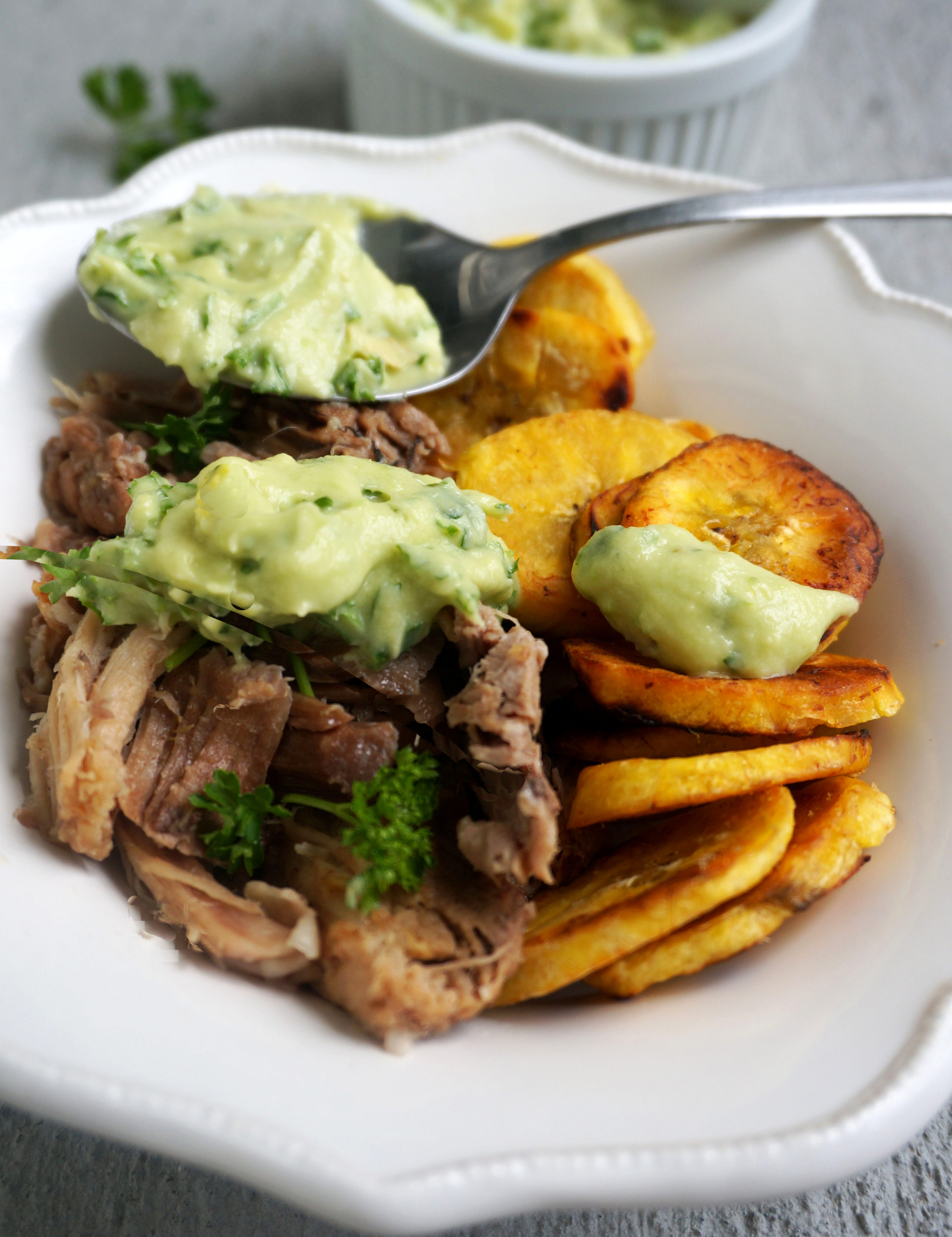 I was deadset on some pseudo-Mexican food tonight, so I combined all remotely Mexican-y ingredients in my kitchen for this bomb meal. The shredded pork is Nom Nom Paleo's famous recipe for Kalua Pig made in my Instant Pot. Best investment I have ever made for my kitchen by the way. It makes batch cooking so dang easy and delicious. I layered plantain chips dipped in Avocado Dip with pork on top, sat on the floor of my balcony, and watched the sun go down. It was a fantabulous way to spend a Monday night.
Good news from the "Great Hashi's Flare of 2015" front. General Fatigue has retreated, and I am now able to pick up my exercise again! Considering I may be one of the most kinesthetic, hyperactive people you have ever met, my lethargy of the past several months was more depressing than my heinous bloodwork. I was walking home from work tonight and not feeling completely wiped, anxious, depressed, and foggy like I have been almost every day at 5pm since the beginning of January. I can't explain to you how pumped that made me feel. I was starting to think this flare would be my forever (irrational thoughts & Hashi's go well together). I still have a long ways to go to get my hormones back on track, but since I realize that is a long-term goal, it doesn't bother me as much. For the meantime, I am still confined to my stretchiest yoga pants and lots of "No, I can't go out tonight. My adrenals will hate me tomorrow."'s.
But at least I'm on the up & up (as far as I know!). I will be getting more follow up labs done in a week, and I'm really looking forward to getting my numbers. Thyroid dork. It feels like winning the lottery when your T3 increases. If you've got Hashi's, ya feel me.
Avocado Dip [AIP/Whole30/Paleo/Vegan]
Makes 1 cup
1 Avocado, ripe
¼ cup Coconut butter, melted
¼ cup Water, filtered
1 T Apple cider vinegar
1 T lemon juice or lime juice
½ cup Parsley or cilantro, finely chopped
3 Garlic cloves, chopped
½ tsp Sea salt or truffle salt
1. Place all ingredients in a high-powered blender or food processor and puree until mostly smooth. Parsley and lemon go well together or you can do cilantro and lime juice! Truffle salt takes this dip to a new level!
Plantain Chips [AIP/Whole30/Paleo/Vegan]
1 Plantain, green, peeled, sliced ¼ inch thick
1 T Coconut oil or choice solid cooking fat
Sea salt
1. Heat coconut oil or solid far in large skillet over medium-high heat until hot. Place plantains in oil and fry 2-3 minutes each side until golden brown on both sides. Sprinkle with sea salt to taste. Serve with Avocado Dip and Kalua Pig.