These baked lemon coconut macaroons have a light lemon-y flavor, a crisp golden exterior and a chewy inside. They are the perfect simple treat to bring to Easter brunch or have on hand for a healthy treat.
In my cookbook The Healing Kitchen, I have a recipe for no-bake lemon macaroons made with shredded coconut, lemon zest, coconut oil and a few other ingredients. They are delicious but because the cookbook recipes are egg-free, the macaroons are missing their traditional baked chewiness.
I am not hosting Easter brunch this year, but I am in charge of bringing the desserts. I'll be making these Sunbutter Twix Bars (for the kids) and Lemon Coconut Macaroons (a more delicate springtime treat for adults).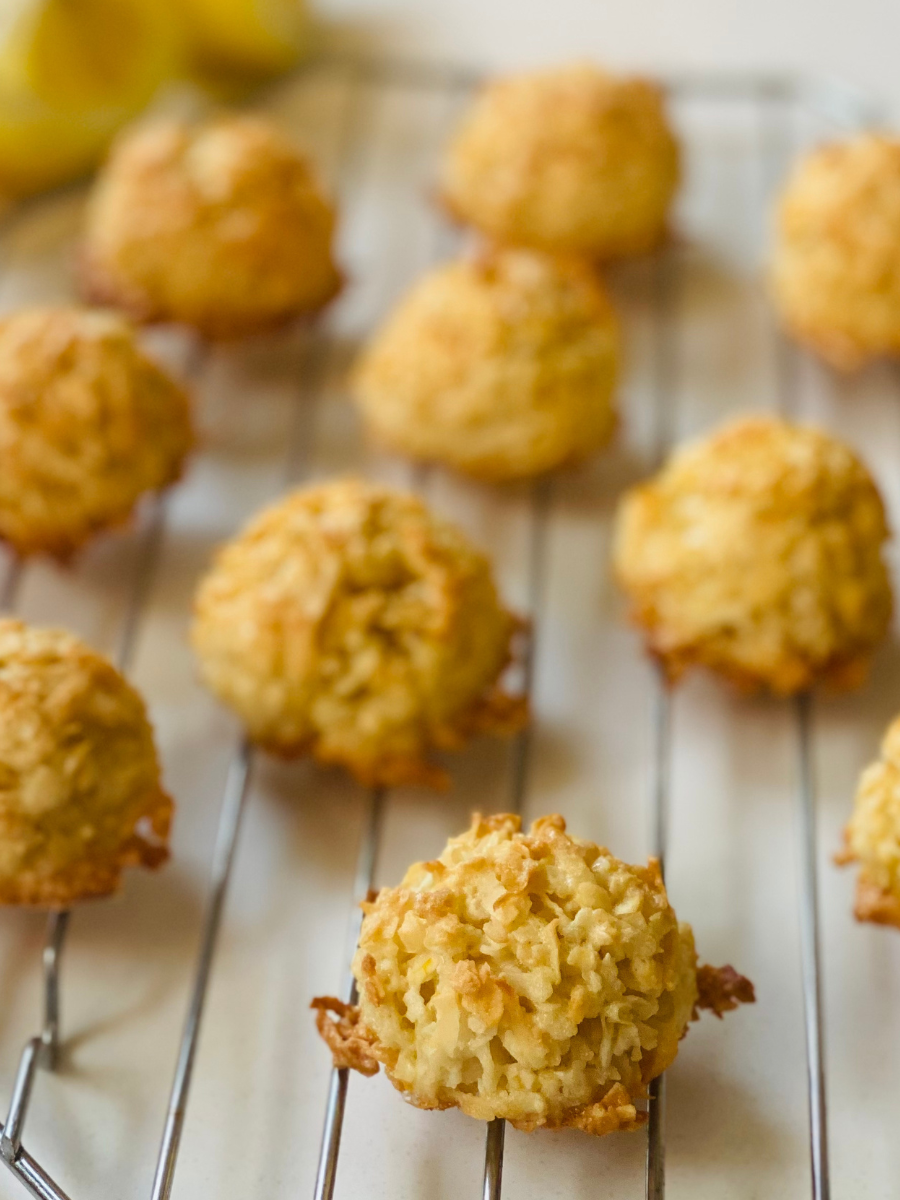 These lemon coconut macaroons are gluten-free and made with:
shredded coconut: I like to use organic unsweetened shredded coconut. Be sure you don't buy fine shredded coconut.
egg whites: My recipe whips the egg whites first and then folds them into the macaroon mixture for the ultimate chewy cookie.
vanilla extract: A touch of vanilla warms up the lemon flavor.
lemon zest: grate organic lemon peel with a microplane grater for an authentic light lemon flavor
organic cane sugar: some macaroon recipes used condensed sweetened milk but this recipe uses simple organic cane sugar to keep them dairy-free and for a firmer chewier cookie
a little gluten-free flour: this helps bind the macaroon together. I use King Arthur 1:1 gluten free flour.
sea salt
The trick to baked coconut macaroons that hold their shape: don't add too much liquid! Liquid causes the cookies to fall and flatten which is why this recipe only uses egg whites. Macaroons bake up quickly in just 18 minutes. You know they're finished when the exterior has some golden crispy edges.
What other coconut macaroon flavors can you make?
Almond macaroon: leave out the lemon zest and replace 1/4 teaspoon of the vanilla extract with almond extract
Extra coconut-y macaroon: replace 1/4 teaspoon of the vanilla extract with coconut extract
Chocolate dipped macaroon: once the macaroons are cool, dip the bottoms in melted dark chocolate. Let harden on a parchment-lined baking sheet.
Orange zest macaroons: replace the lemon zest with orange zest
If you need additional gluten-free and dairy-free dessert ideas, check out my Glazed Chocolate Donuts and Dairy-Free Strawberry Cheesecake Bars.
Print
Lemon Coconut Macaroons (Gluten-Free, Dairy-Free, Egg-Free)
---
Scale
Ingredients
1 1/3 cup unsweetened shredded coconut
1/3 cup organic cane sugar
2 tablespoons measure for measure gluten free flour 
1/8 teaspoon sea salt 
1 teaspoon grated lemon zest, packed
2 egg whites 
1/2 teaspoon vanilla extract
---
Instructions
Preheat the oven to 325 degrees. Line a baking sheet with parchment paper.
In a medium-size bowl, mix together the coconut, cane sugar, flour, sea salt and lemon zest until well combined.
In a smaller bowl, combine the egg whites with the vanilla extract. Beat using a hand mixer until stiff peaks form (3-4 minutes).
Gently fold in the whipped egg whites into the coconut mixture until just combined.
Firmly pack the macaroon mixture into a tablespoon. Transfer the macaroon to the prepared baking sheet. Repeat until you have used up all the mixture. You should get about 10 cookies.
Bake on the middle oven rack for 18 minutes – rotating the pan 180 degrees halfway through the bake time – until the outside is lightly golden.
Let cool for 5 minutes on the baking sheet. Transfer to a cookie rack to finish cooling. Serve at room temperature.
---