Gluten-free sunbutter twix bars made nut-free, dairy-free and Paleo! You'll love the salted sunbutter caramel, grain-free shortbread crust and simple dark chocolate coating.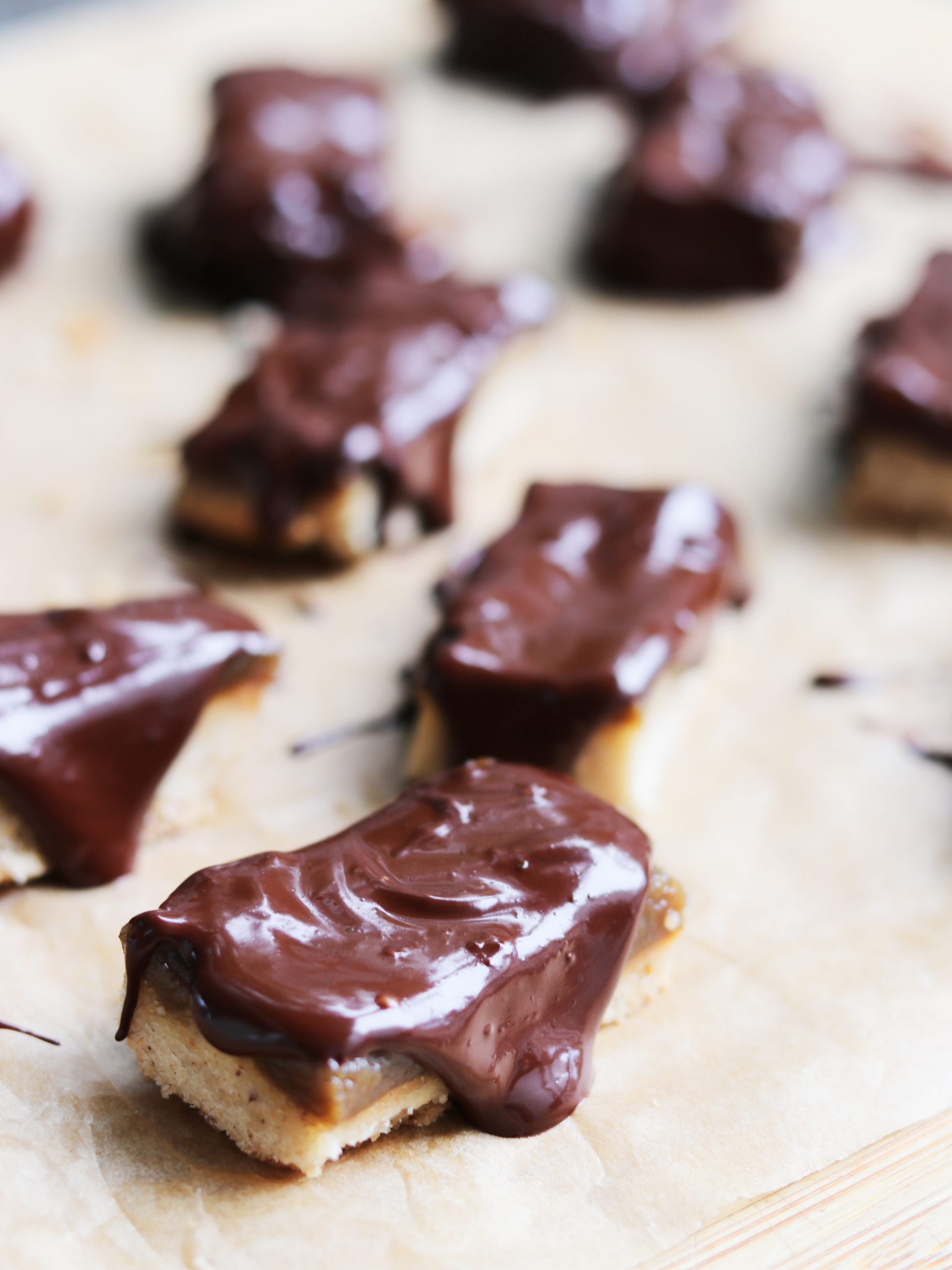 My stubborn personality is serving us all well today because it took me four tries to get these seriously-close-to-the-real-thing (my husband says BETTER) gluten-free twix bars down pat. I wanted the crispiness of a traditional shortbread cookie (which was not easy to recreate grain-free and dairy-free) along with the perfect texture of caramel (not too gooey, also dairy-free) and the correct ratio of dark chocolate:caramel filling.
AND I SUCCEEDED! Trust me – I have a lot of recipe fails you never see. I need to celebrate my few wins 😉 Even though there are three different components, it's really a simple recipe with minimal ingredients and all that can be found at most grocery stores.
Okay let's chat ingredients for these healthy Twix bars:
Grain-Free Cookie Crust:

Organic Gemini Tigernut Flour: this keeps the recipe nut-free. You can sub almond flour, if needed, but they don't have an exact 1:1 ratio in every recipe.

Organic Bob's Red Mill Coconut Flour: a highly absorbent grain-free flour that gives the cookie crust it's drier texture.

Coconut Oil: a dairy-free plant-based oil to replace butter. You can use grassfed ghee as well.

Maple Syrup: a lovely neutral-flavor sweetener that I prefer to honey for this recipe

Salted Sunbutter Caramel

Organic Sunbutter: use an unsalted and unsweetened sunbutter

Coconut Cream: skim the cream off the top of a can of coconut milk to keep this caramel dairy-free

Maple Syrup: a vegan, nutrient-dense sweetener

Sea Salt: to create a salty rich sunflower seed butter caramel

Dark Chocolate Coating

Enjoy Life Dark Chocolate Chips: these melt down beautifully to a creamy dark chocolate coating

Coconut Oil: just half a teaspoon prevents the hardened chocolate from cracking when you bite into it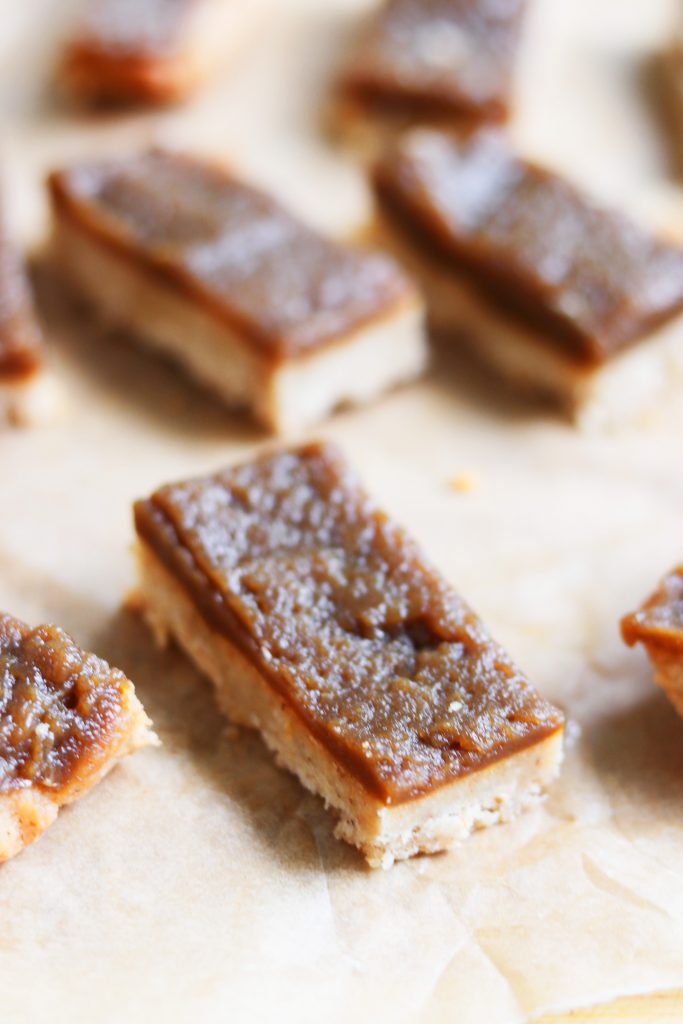 How to make these Paleo Sunbutter Twix Bars:
Make the cookie crust: Combine the tigernut and coconut flours, softened (but not melted) coconut oil, vanilla and maple syrup. Press into a parchment-lined 7×5″ glass baking dish. Bake for 17 to 20 minutes until a light golden brown.

Meanwhile, make the salted sunbutter caramel: In a small saucepan, bring the coconut cream and maple to a low boil. Simmer, stirring constantly, for 3 to 5 minutes until golden and syrupy. Stir in the sunbutter and let cook on low, stirring continuously with a rubber spatula, for a couple more minutes until you get a thick caramel.

Allow the cookie crust to cool for 10 minutes and then carefully spread the caramel on top. Refrigerate until very firm, at least 2 hours or overnight. Slice into 5 to 6  slices widthwise and then in half to create 10 to 12 mini Twix bars. Place in freezer for 10 minutes to harden before coating in melted dark chocolate. This will allow the chocolate to harden more quickly and the bars won't be as delicate while dipping.

Make the chocolate coating by melting the dark chocolate chips in the microwave or in a double boiler. Stir in the coconut oil. Using two large spoons, lower the mini twix bars into the melted chocolate, carefully coating on all sides. Return to the parchment paper and repeat. Refrigerate to harden. Enjoy!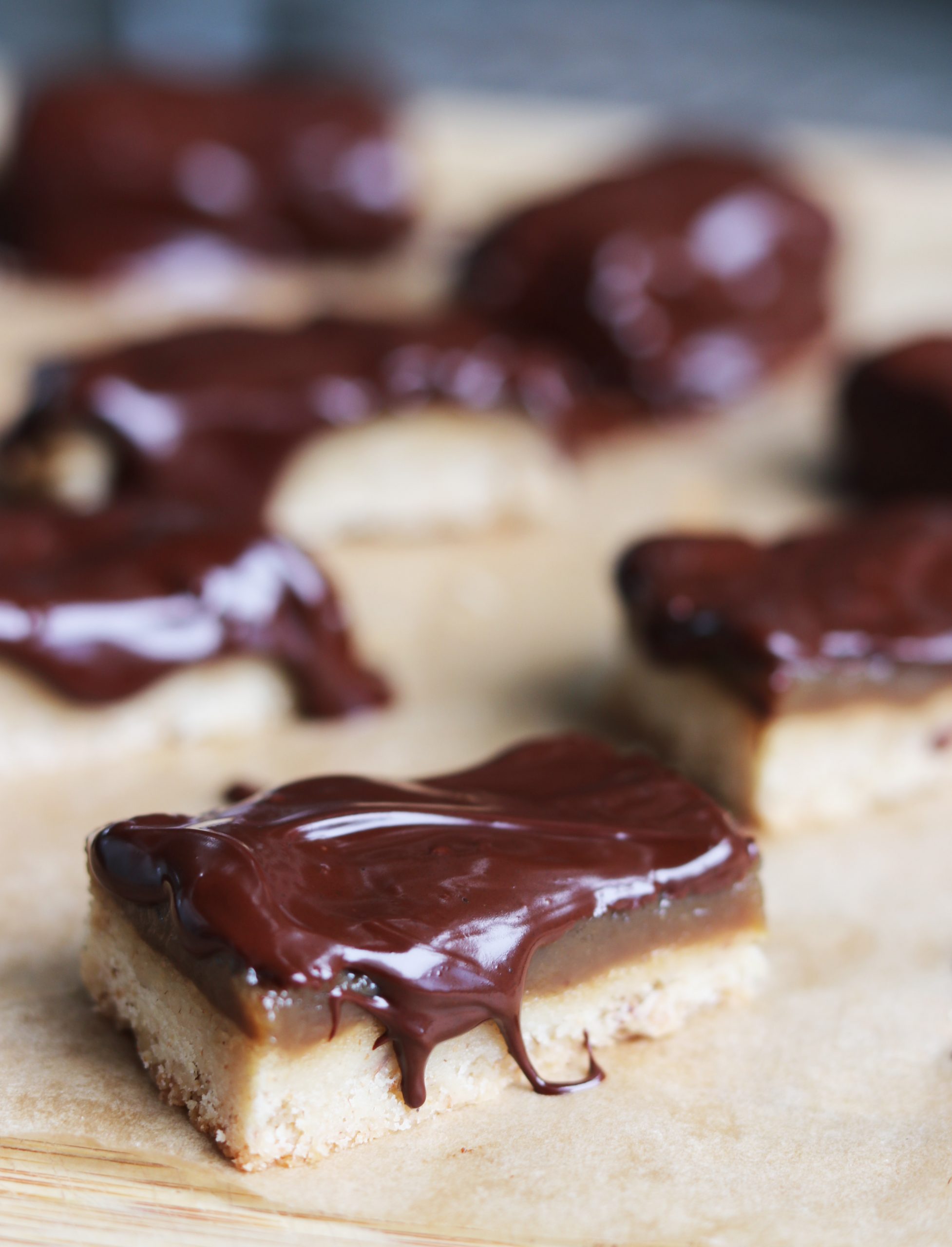 FAQS on Gluten-Free Twix Bars
1. Do I need to use the same size baking dish?
Yes, ideally you should use a small glass baking dish like the 3-cup Pyrex dish I used in this recipe. Anything bigger and your cookie crust could be too thin and delicate. When pressed into the baking dish, the crust should be about 1/3-inch high. You could certainly double the recipe ingredients and bake in a larger dish, but you'll need to adjust the bake time and watch closely.
2. Can I swap out the flours?
I don't recommend swapping out the coconut flour. It gives the bars the heft and density they need to hold up to dipping. You could try subbing out the tigernut with almond flour but of course they will no longer be nut-free. I also find tigernut absorbs a bit more liquid than almond flour. The texture of the crust should be slightly drier than cookie dough
3. Can I use a different seed or nut butter?
Yes! Choose a creamy, unsweetened and unsalted nut butter like cashew or almond. You could even try coconut butter to make these seed-free too, but it's not quite as creamy.
4. Do I have to fully coat the bars in chocolate?
No, you do not – I actually coated half of them in dark chocolate and the other half I just spread the melted chocolate on top as the top layer, allowing it to drip down the sides. This is a good option if you want a lower sugar treat or if you're short on chocolate chips.
Lastly, if you love sunbutter and chocolate together, you need to try my no-cook Healthy Rice Krispie Treats!
Any other questions? Ask them below in the comments! Have fun with these!
Print Gluten-Free Sunbutter Twix Bars
Author:

Prep Time:

10 min

Cook Time:

30 min

Total Time:

40 minutes
---
Scale
Ingredients
1/3 cup softened coconut oil (not melted)
2 tablespoons maple syrup
1/2 teaspoon vanilla extract
1 teaspoon vanilla extract
1/4 cup sunbutter (unsweetened, unsalted)
2/3 to 3/4 cup dark chocolate chips
---
Instructions
For the Cookie Crust
Preheat oven to 350 degrees. Line a rectangle 3-cup glass Pyrex dish (or similar sized 7.5″x5.5″ inch glass dish) with parchment paper.
In a medium bowl, whisk together tigernut and coconut flour. Stir in coconut oil, maple and vanilla until well combined. Press evenly into parchment lined dish.
Bake for 17 to 20 minutes until lightly golden brown. Let cool for 10 minutes. Meanwhile, make the caramel.
For the Sunbutter Caramel
In a small saucepan, bring coconut cream, maple syrup and vanilla to a low boil over medium-low heat. Let boil for 5 minutes while stirring constantly.
Turn off the heat, stir in sunbutter and allow to bubble and thicken, stirring constantly with a rubber spatula, for 3 to 5 more minutes. Let cool 10 minutes before spreading evenly on cookie crust.
Refrigerate in baking dish for at least 2 hours until hardened, or overnight.
For Chocolate Coating:
In a microwave-safe bowl, melt the chocolate chips in 30 second increments, stirring with a rubber spatula, until smooth and fully melted. Stir in the coconut oil.
Assemble the twix bars:
Slice the refrigerated and hardened cookie crust with caramel into 5 to 6 slices widthwise. Slice those in half to make mini twix bars.
Using two spoons, individually dip the bars in the melted chocolate, ensuring they're well coated. Return to a parchment lined plate. Repeat with remaining bars and chocolate.
Return to refrigerator to harden for another 3o to 60 minutes (you can speed this up in the freezer). Enjoy! I like these best when they've been allowed to sit at room temperature for a few minutes.
---