These Chicken and Rice Meatballs are tender, delicious and a great freeze-ahead meal. They're gluten-free and can be made dairy-free too! Serve over organic hummus, pesto or your favorite dip for an easy on-the-go lunch or dinner.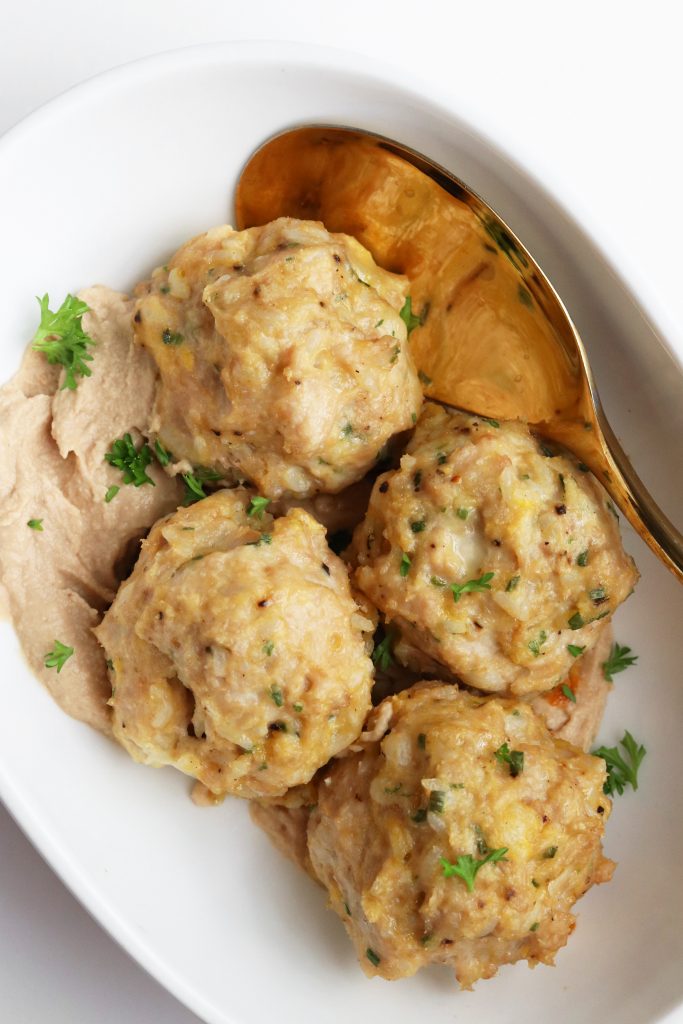 This recipe is inspired by my love for my Lebanese grandmother's roast chicken, rice and hummus platters. Teta would serve juicy roast chicken stuffed with lemon and garlic over a plate of steaming white rice. We would spoon a big dollop of "labneh" (strained yogurt) on top of the rice and pass warm pita bread around the table.
I'll admit I've had twenty dozen too many dried out meatballs since going gluten-free. The lack of bread crumbs makes it difficult to achieve a truly tender, moist recipe. This recipe uses three gluten-free ingredients to mimic the moisture soaked bread crumbs provide: egg, almond flour and cooked and cooled white rice.
DIPS TO SERVE WITH CHICKEN & RICE MEATBALLS:
Hummus: If you want to keep dinner simple, I like Cedar's Organic Hummus that you can find at many grocers. If you're looking for a bean-free hummus, try Meatified's Garlic & Artichoke Hummus. It's AIP-friendly and made without sesame!

Baba ghanoush: Prefer the smokier flavor of grilled eggplant in baba ghanoush? These would be delicious served/smothered in the dip.

Pesto: You can make my homemade Herb Pesto recipe, if a brighter, garlicky meal is more your style.
You'll find these Gluten-Free Chicken and Rice Meatballs make for the perfect grab-and-go lunch leftovers! I recommend doubling the recipe and baking in two batches (since you bake in the cast iron skillet for browning and even heating). Here are a couple vegetable side dishes that will pair and travel well with the meatballs.
SIDES THAT PAIR WELL WITH THESE MEATBALLS:
Lastly, this recipe is up to your interpretation! It's pretty much a blank canvas for your culinary quests.
HERE ARE A FEW OTHER FLAVOR VARIETIES TO TRY:
GREEK MEATBALLS: Add 1/3 cup crumbled feta and 1/4 cup chopped kalamata olives to the meatballs for a Greek inspired take.

BACON & CHEESE MEATBALLS: Add 1/2 cup diced cheddar and 1/3 cup cooked and cooled chopped bacon for a "bacon and cheese" meatball.

GUACAMOLE MEATBALLS: Add 2 tablespoons minced garlic, 1/4 cup finely chopped cilantro and 1 teaspoon cumin. Serve with homemade guacamole.
A FEW TIPS FOR YOUR CHICKEN & RICE MEATBALLS:
1. If you can't find pre-ground chicken at your grocery store, simply place a pound of chicken thighs and/or chicken breast in your food processor and blend. Chicken thighs will yield juicier, more flavorful meatballs.
2. I use my Instant Pot to make perfect rice every time! For this recipe, add 1 cup organic jasmine rice to your Instant Pot with 1 cup filtered water. Cook using the "Rice" setting (about 12 minutes). Transfer to a plate or bowl and let cool completely before using in this recipe.
3. If you eat dairy, I like mixing 1/2 cup shredded parmesan cheese into the rice while it's warm. It adds a delicious salty, umami flavor to these meatballs.
Print Chicken and Rice Meatballs
Author:

Prep Time:

15 min

Cook Time:

17 min

Total Time:

32 minutes
---
Scale
Ingredients
1 pound ground chicken
1 egg, whisked
1/3 cup fine almond flour
1 ½ teaspoons sea salt
1 tablespoon dried parsley
1 teaspoon each garlic and onion powder
1/2 teaspoon cracked pepper
¼ teaspoon dried sage
1 1/3 cup cooked and cooled jasmine rice
---
Instructions
Preheat the oven to 400 degrees. Arrange an oven rack in the top third of the oven. Grease a 12-inch cast iron skillet with fat of choice.
In a large bowl, combine the ground chicken with the egg. Stir in the almond flour and seasonings. Finally, mix in the cooked and cooled rice until well combined.
Add any of the bonus additions listed above in the article, if choosing to use.
Using a 1/3-cup measuring cup, form 8 to 9 meatballs and place in cast iron skillet.
Bake for 15 minutes. Turn the broiler on high and broil for 1 to 2 minutes to lightly brown the top of the meatballs.
Serve with hummus, pesto, baba ghanoush, guacamole or your favorite dip!
---