Grain-free and dairy-free banana bread muffins are so moist, flavorful and make a delicious snack for both kids and adults.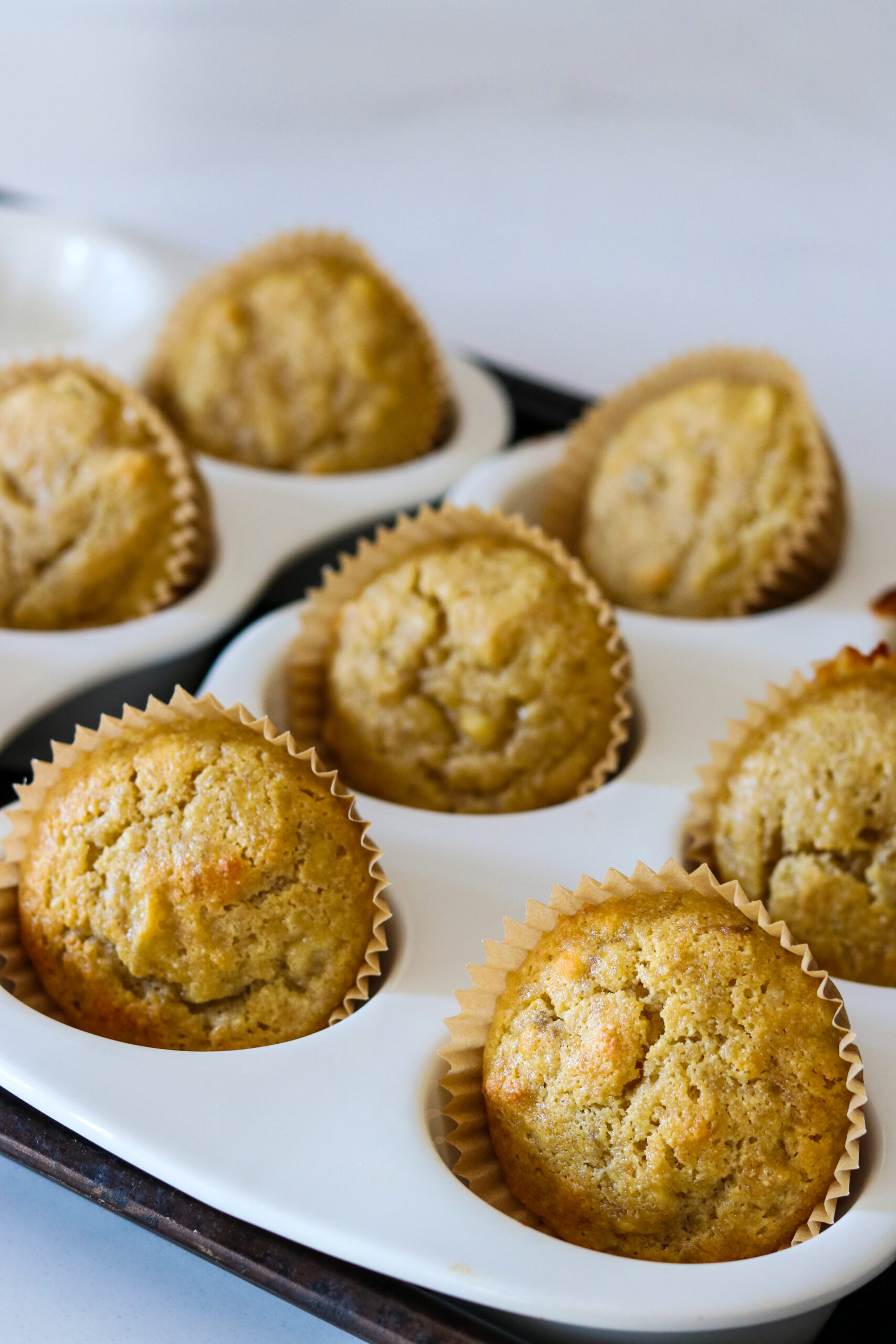 Now that we're homeschooling, the amount of snacks I am making per day has quadrupled. We rely heavily on grassfed beef sticks, raw cheese, cut-up fruits and veggies, smoothies and grain-free crackers but it's nice to have a little mid-day treat thrown in there too.
While I don't do a ton of baking these days, I can't deny these gluten-free, dairy-free banana bread muffins are delicious, easy and fast to bake up! They include real food ingredients like:
Healthy Banana Bread Muffins
ripe organic bananas
pastured organic eggs
local raw honey
organic coconut oil
almond flour
baking powder
sea salt
cinnamon
That's it! The texture is like a moist, dense banana bread with delicate nutty flavor from the almond flour and without an overpowering cinnamon taste. The recipe makes about 10 adult-sized muffins, so I often cut them in half for my kids and pair with a beef stick for a more well-rounded snack in between meals.
Kids' blood sugar is prone to highs and lows just like us! Ensuring each meal and snack contains protein, fat and carbohydrate keeps my kids' moods and energy levels stable.
These healthy gluten-free banana bread muffins would be a great choice for school snacks, a playdate treat, or a day of car/plane travel. To make it an easy clean up recipe, I use these parchment paper muffin liners and a ceramic muffin tin (healthier than using a non-stick muffin tin).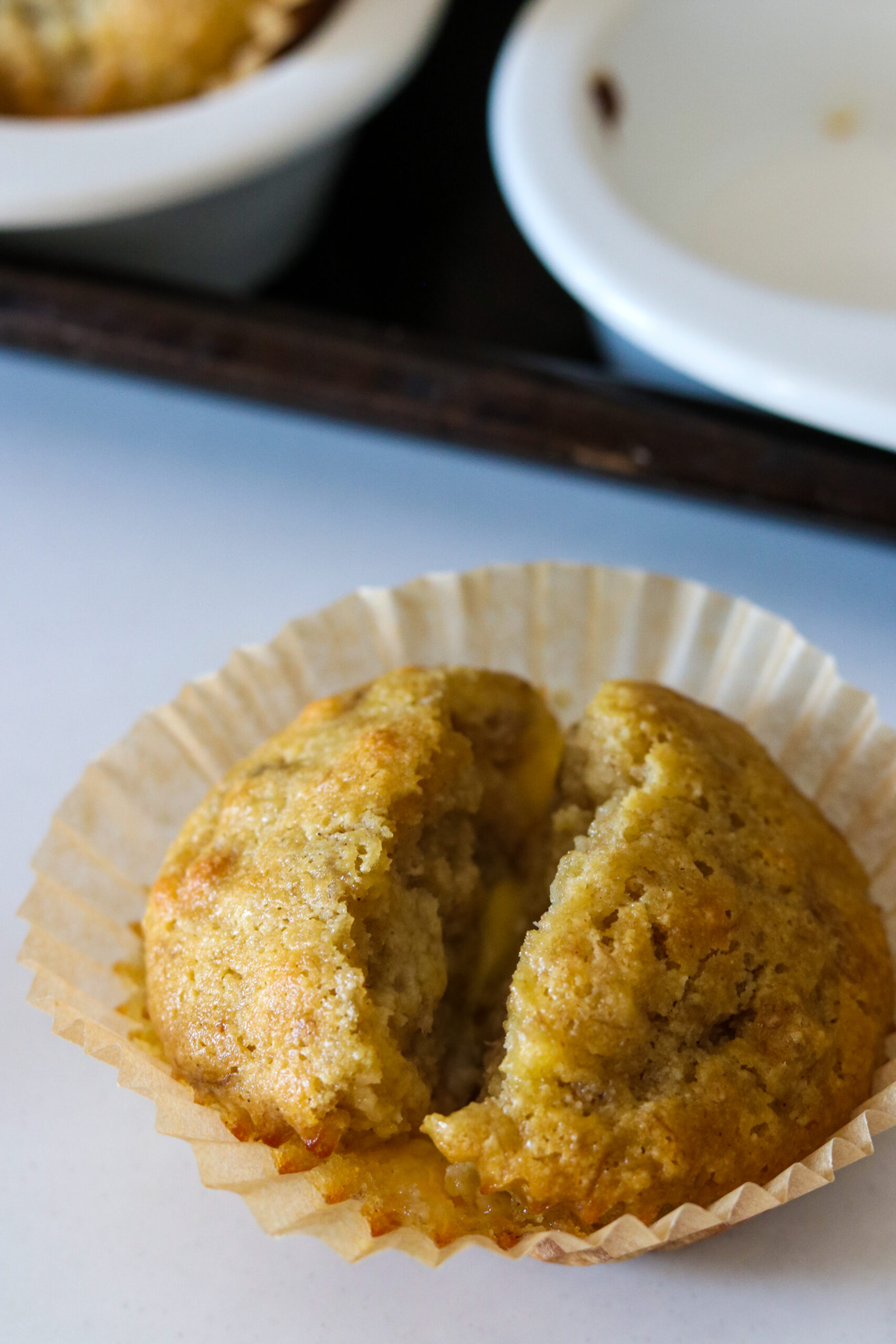 I hope your family enjoys this simple recipe for Banana Bread Muffins that you can keep in your snack time back pocket for years to come!
Looking for more gluten-free muffins?
Print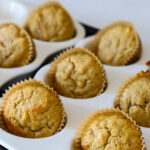 Banana Bread Muffins (gluten-free, dairy-free)
---
Scale
Ingredients
3 ripe bananas, mashed (about 1 cup)
3 eggs, whisked
1/4 cup melted coconut oil
1/4 cup raw honey (liquid is best)
2 cups fine almond flour
1 teaspoon baking powder
1/2 teaspoon sea salt
1/4 teaspoon ground cinnamon
---
Instructions
Preheat the oven to 350 degrees and arrange an oven rack in the center of the oven.
In a bowl, combine the mashed bananas, eggs, coconut oil and honey until well mixed (a few lumps are okay).
In a separate bowl, whisk together the almond flour, baking powder, salt and cinnamon until well combined. Stir the wet ingredients into the dry until everything is well mixed.
Line two regular muffin pans with parchment liners. Scoop 1/3 cup batter into each muffin tin until all batter is used up.
Bake for 28 minutes or until the top is set. Let cool and store in refrigerator for up to 5 days or in the freezer for up to 6 months.
---