This Paleo White Chocolate Energy Bar is made with coconut butter, ghee, four different seeds, spices and orange blossom water!
I had a half-empty jar of coconut butter sitting in my cabinet and for some reason it was bothering me. Coconut butter is such a multi-purpose ingredient, and I find myself getting very creative with it. I just had to come up with something nwI used it to make a Garlic Aioli with Truffle Fries this weekend too – that recipe will be in my upcoming ebook!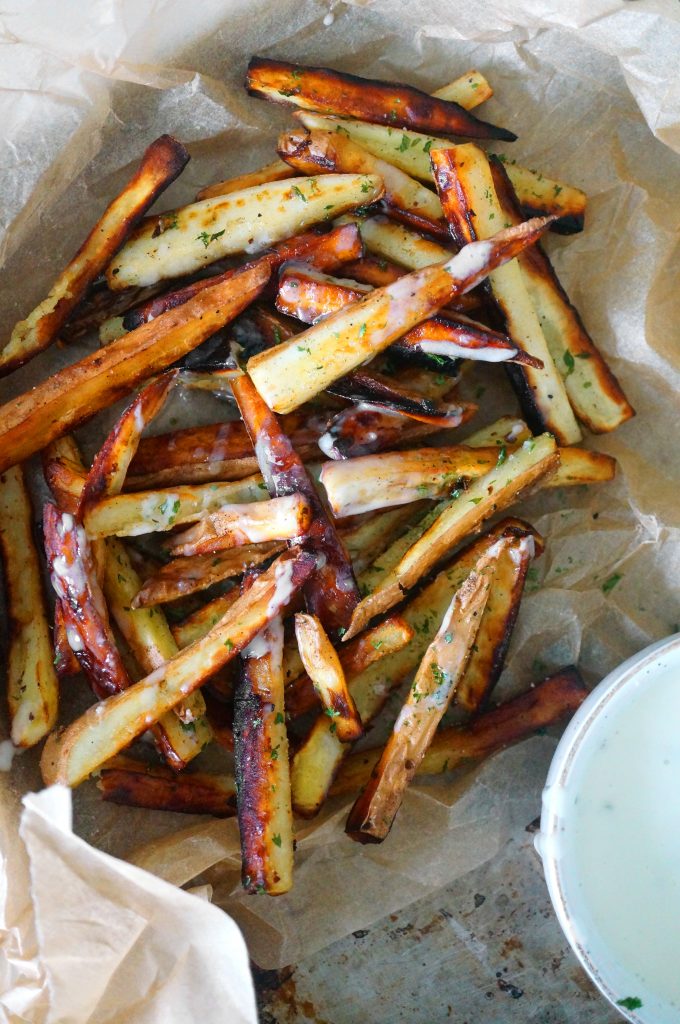 How freakin' good do these look? I can't wait to share them with you!
Ghee is a lactose and casein-free clarified butter with many health benefits. It's popular in Ayurvedic cooking and has a buttery, silky smooth mouthfeel and a sweet taste. For the longest time, I didn't do well with ghee. Only in the last 6 months have I been able to consume it without getting a headache. Now that I'm able to eat ghee again, it's my main cooking fat for me and my 16-month-old.
I recommend 4th & Heart Ghee which is the best-tasting and most affordable ghee I've found. You can find it at some health food stores but I prefer to buy it discounted on Amazon. It comes in several delicious flavors including Vanilla Bean (heavenly in baked goods or on roasted root veggies), Himalayan Salt (what I used for this recipe), Truffle (not truffle-y enough for me), California Garlic (I have yet to try) and Original (just a good ol' plain ghee).
PS Just discovered on 4th & Heart's website they will be releasing 3 cacao & ghee flavored spreads called Chocti at the end of this month (October 2017)! I'm going to get my little mitts on that as soon as it releases! I can't believe they're teasing me like this but I took a few marketing classes in university so I get it.
Well I hope I've convinced you to include ghee in your diet now! I didn't even discuss all the health benefits but you can read up on them here. Noticeable improvements in my digestion & satiation since I started eating it again!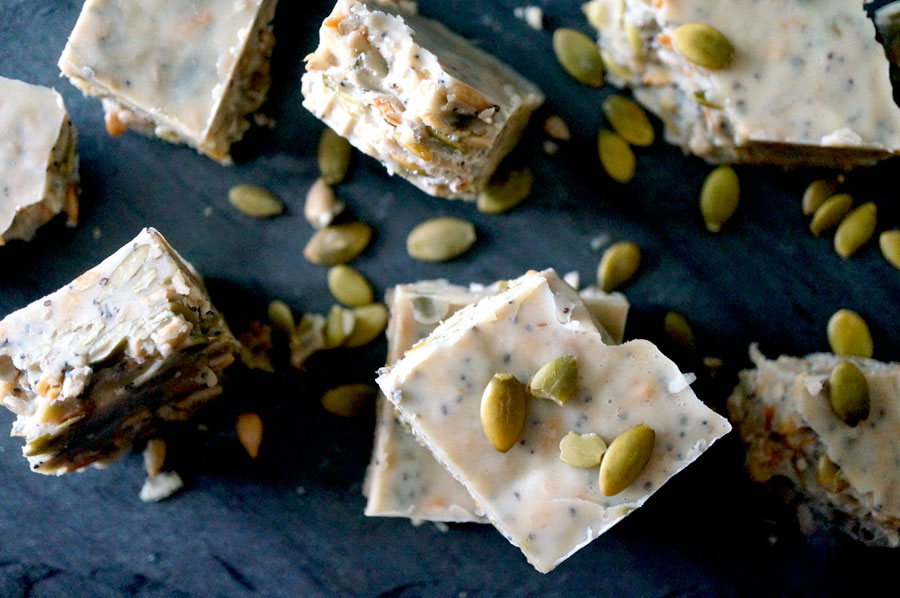 Okay so these bars are a new-to-me type of energy bar! Dense in texture, oh-so-crunchy, and full of my beloved Mediterranean flavors like cardamom, orange blossom and cinnamon. Imagine those warming tastes combined with creamy coconut butter, salted ghee and crunchy pepitas and sunflower seeds. It's pretty heavenly. Oh and did I mention they contain absolutely no sweetener?!
These Paleo White Chocolate Seed Energy Bars are best served cold straight from the fridge since coconut melts at room temperature. They're very satiating thanks to all the fat, fiber and minerals. You can slice them into large bars for a real hearty snack or into little squares just like fudge!
If you're a fan of Lebanese, Turkish or Indian flavors – you will definitely love these seedy, crunchy, grain-free, nut-free energy bars! You can get creative with the flavors – add some vanilla bean powder, grated orange zest + ground ginger for even more flavor. I kept them fairly simple so that YOU can get creative & learn how to mix and match flavors to your liking.
Enjoy these sugar-free Paleo white chocolate energy bars full of gut-healing, skin-loving ghee! Have them with a cup of your favorite tea or even better: my White Tea Rose Latte!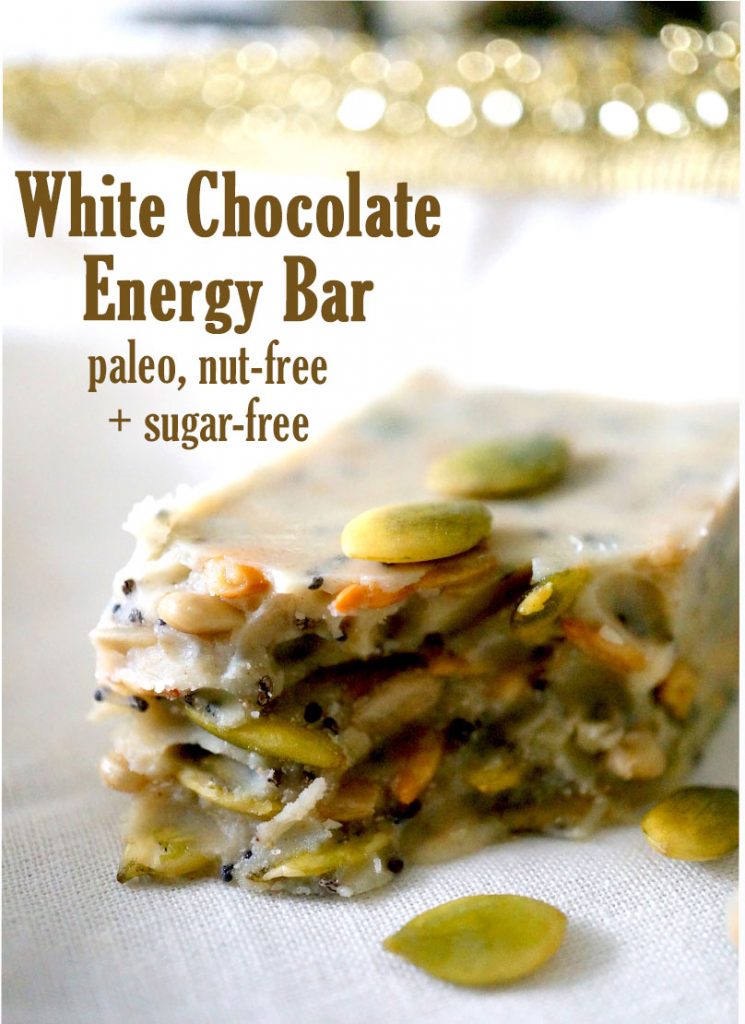 Print White Chocolate Seed Bar with cardamom and orange blossom
Author:

Prep Time:

15 minutes

Total Time:

15 minutes

Yield:

12

1

x

Cuisine:

snack, dessert
---
---
Scale
Ingredients
2/3 cup

softened coconut butter

1/3 cup

ghee (I love this one)

2/3 cup

raw pepitas (pumpkin seeds)

1/2 cup

sunflower seeds

1 tablespoons

poppy seeds

1 tablespoon

chia seeds

1 teaspoon

orange blossom water

1/2 teaspoon

ground cardamom

1/4 teaspoon

ground cinnamon

1/4 teaspoon

sea salt
---
Instructions
In a small saucepan, melt the coconut butter and ghee together over medium-low heat and stir to combine.
Remove from the heat and stir in the remaining ingredients until well combined. The mixture will be very thick and seedy. Taste and add more spices or orange blossom water, if you desire.
Line a small rectangular glass dish or loaf pan with parchment paper. Spread the mixture evenly into the dish. The smaller the dish, the thicker the bars will be.
Refrigerate until solid (about 1 hour) and slice into squares using a sharp non-serrated knife. Store in the refrigerator and serve cold to prevent melting.
---