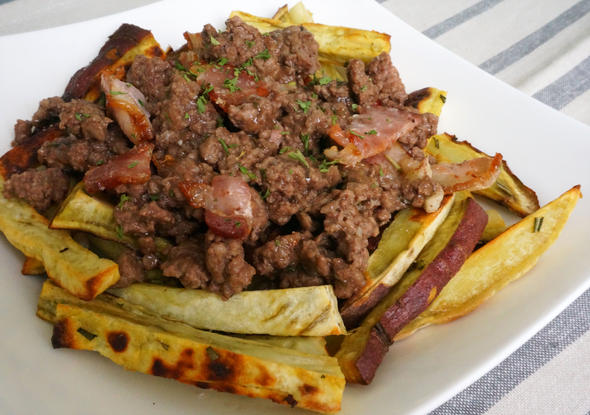 Okay, so between this recipe and my one for Beaver Tails/"Queues de castor", I am taking you all on a Paleo journey of my birth city, Montreal. Now these are no replacement for the real thing. Traditional poutine is fairly soggy, salty, and drenched in MSG-laden gravy and cheese curds, but we can all imagine how good that tastes despite being absolutely terrible for our insides. THIS version won't make you feel like a bag of donkey poo though. It's high in zinc, vitamin A, and deliciosuness. Try to find the Japanese sweet potatoes for the best rendition of white potato fries. That's some good Canadian bar food right thur. If you want the most accurate poutine experience, consume this at 4 a.m. inside a grungy diner occupied by a man wearing a flea collar. *Knowing wink*I am about to throw my cell phone out the window. I don't recall people contacting me 4 million times a day prior to its invention. I can't get any work done because the damn thing won't stop dinging. And I have a terrible notification noise.. the Samsung Whistle. I don't know how to change it/I haven't attempted to figure out how to do anything besides take pictures of my doodle, text grocery lists to my fiance, and ignore incoming phone calls. Just kidding, mom. I was totally brushing my teeth the last time you called xoxoHow am I supposed to procrastinate school and house work if I'm too busy responding to text messages like "Hey, did you leave a black sock in my apartment when you visited 4 months ago?"On a separate topic, it's Farmer's Market season in Chicago and you know what that means. Lavendar Blueberry Gelato for Saturday morning breakfast. My apologies for this picture. I took it on a rainy day, indoors, when I was really hungry, so yeah.Triple Meat PoutineServes 2 1 lb Japanese sweet potato, washed and dried1 tsp coconut oil½ tsp each rosemary, thyme, and marjoram, finely chopped (divided)1 T shallot, finely diced1 clove garlic, minced2 slices thick-cut bacon, chopped into ½ inch pieces8 oz ground beef1 to 2 tsp arrowroot powder¼ cup hot water1 oz prosciutto, thinly sliveredRosemary Fries
Preheat oven to 425 degrees. Line baking sheet with parchment paper.
Slice sweet potato into fries 2 inches long and 1/3 inch wide.
Toss fries in coconut oil, rosemary, and salt to taste. Heads up: while the fries are baking, you can make the gravy on the stoptop!
Bake fries for 15 minutes on one side. Then flip and bake for another 10-15 minutes until browned in some spots.
Herb Beef & Bacon Gravy
Fry bacon in skillet over medium heat. Once crispy, remove from pan to paper tower lined plate. Keep fat in skillet!
Add shallot and garlic to pan. Sautee for 1 minute until fragrant.
Add ground beef, thyme, and marjoram. Cook until no pink in meat remains.
Whisk the hot water & 1 tsp arrowroot powder together. Pour into pan and bring to a simmer while constantly stirring.
Simmer the beef gravy until most of the water is absorbed. Use the leftover 1 tsp arrowroot powder to thicken it up, if too much water remains after 3-4 minutes of simmering.
Stir in chopped prosciutto and bacon. Top fries with gravy and eat with a fork!