This one pot dish hits all the right notes: heavy on the flavor, easy to throw together on a weeknight, and makes for an excellent meal prep go-to! You just need a few basic ingredients to wow your family without any artificial flavors or sketchy seasoning packets.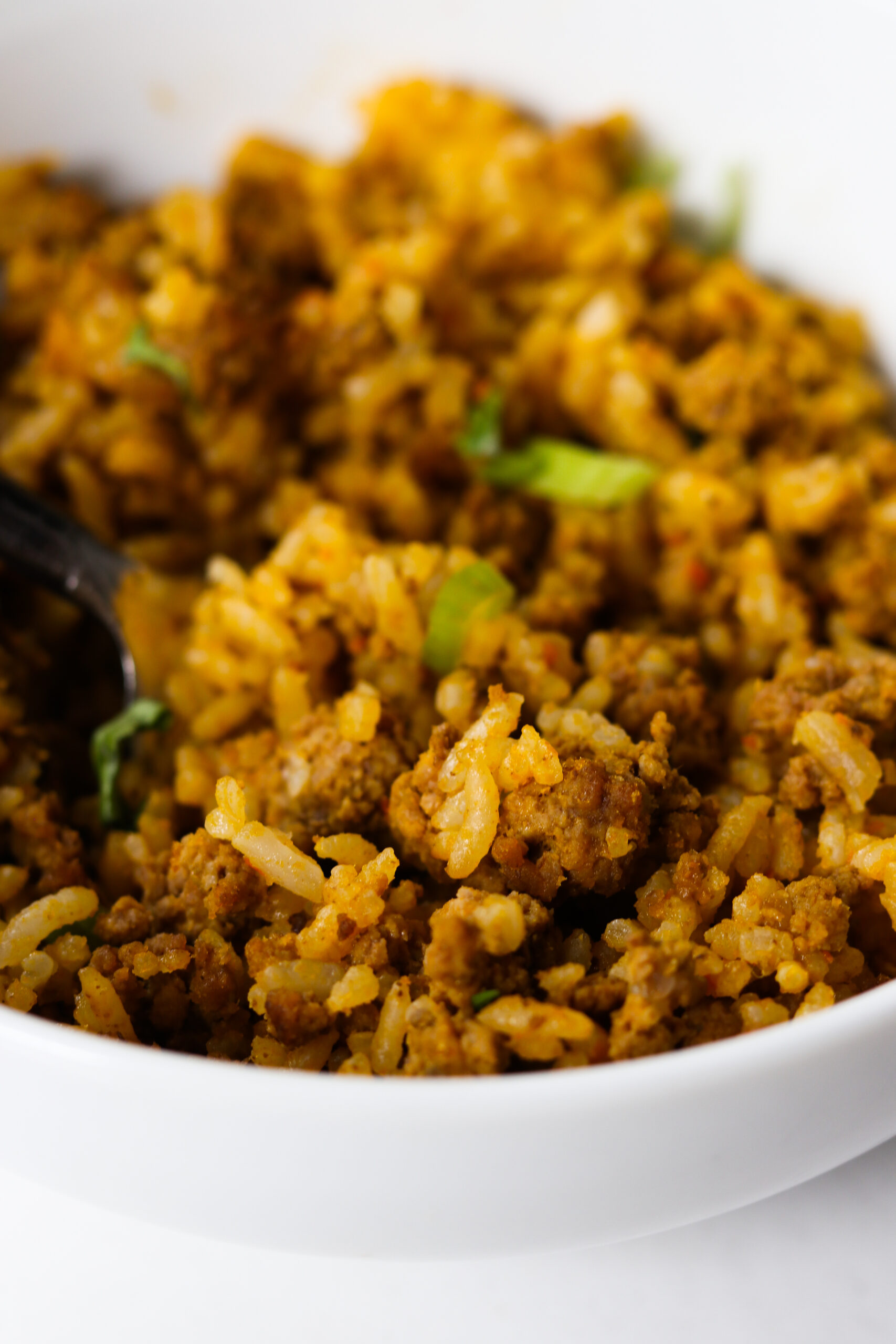 I made this dish no less than four times in the last month. Should it be the first recipe in my make believe cookbook "Oh Sh*t, It's 5!"? Because it would be PERFECT!
You'll just need a few pantry staples to create this flavorful Spanish Beef and Rice that has all the veggies "built in" (aka hidden) in the simmering sauce.
I mean just look at the ingredient list below. No sketchy Rice a Roni Spanish Rice seasoning packets that are basically just MSG and garlic. We're cooking with the REAL thing here, friends.
What you'll need for this gluten free Spanish Beef and Rice
organic jasmine rice
85% lean ground beef
red bell pepper
carrot
yellow onion
cilantro
garlic
salt
pepper
olive oil
bone broth
How delicious does this sound!? You and your family are getting micronutrients, antioxidants and polyphenols with all those veggies, gut healing amino acids with the bone broth, an organic starch to fill our plates and tummies, and satiating thyroid-loving grass-fed ground beef.
You're going to want to make this part of your weekly, or at least monthly, rotation. And moms, this is an excellent choice for a Sunday meal prep just for you. You'll have enough to last you for four days of lunches during the week. Lunch seems to be the meal where my kids and I diverge, and I'd rather eat my own thing.
Now this could certainly be made in the Instant Pot. I haven't tried it myself but you'll use the Rice Setting. Just ensure the liquid is absorbed and the rice is perfectly tender and fluffy (not mushy).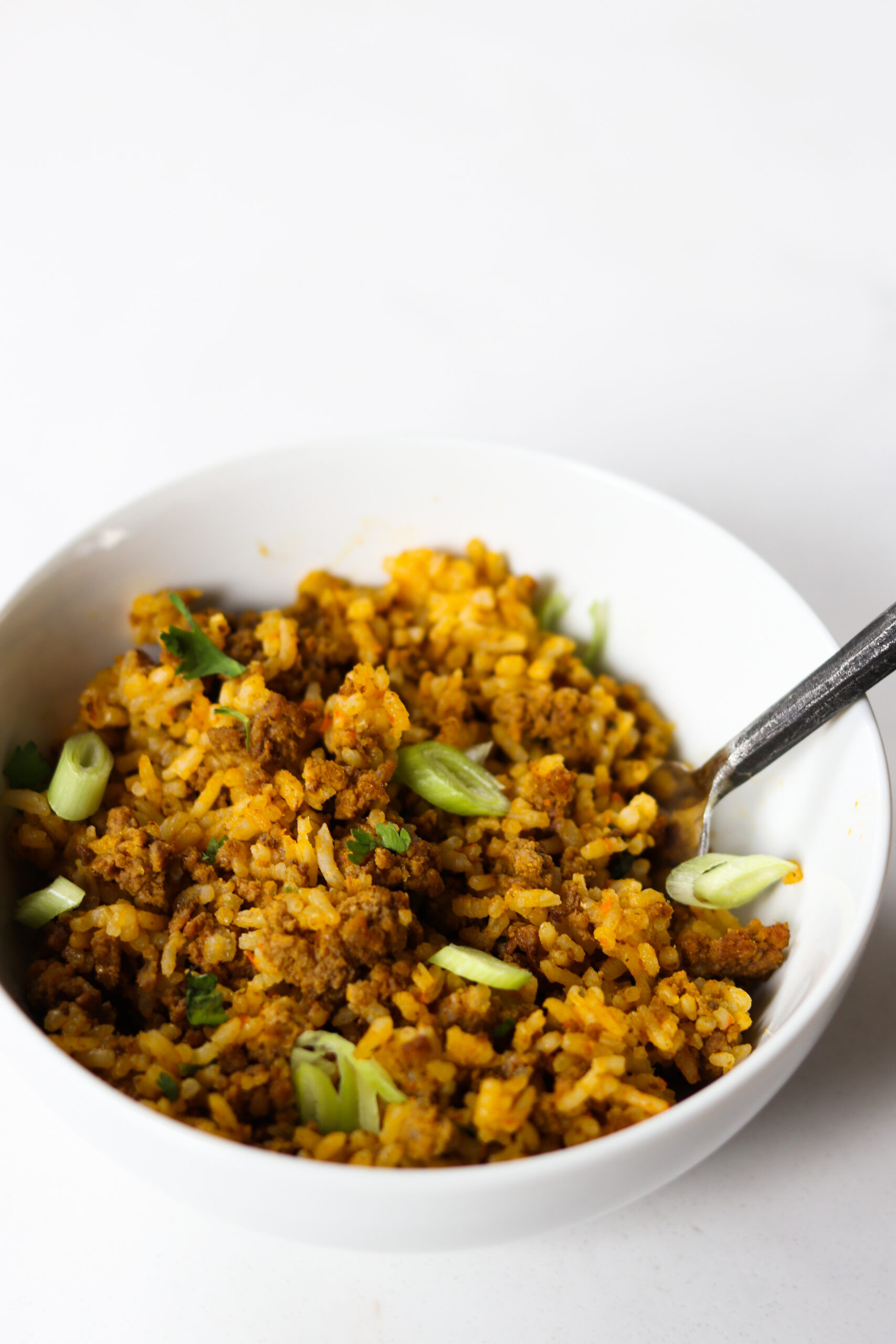 Why should I rinse my rice?
Rinsing your rice prior to cooking until the water runs clear has multiple benefits. You're rinsing away excess starch that creates a sticky, mushy end product. This Spanish Beef and Rice is a similar texture to "Dirty Rice" – you don't want sticky gelatinous rice for this dish.
Second, rinsing rice helps remove dust, debris, bugs, and even pesticides from the grain. Yes, even organic rice can be contaminated with pesticides from airborne spray from nearby farms.
How to rinse white rice
It's simple – you will pour your rice into a fine mesh strainer and run it under cold (ideally filtered) tap water until the water runs clear. I like to give it a few tosses with clean hands to ensure all the grains are getting properly rinsed.
This process should take no more than two to three minutes. Now your rice is ready for cooking! For clean tap water, we use the under the sink Atla water system. I love being able to clean my produce, grains and meat without chemical-heavy unfiltered tap water. I also use this under the sink filter for drinking water, coffee, tea, and pasta! Much easier and faster than the Berkey too.
Looking for other one pot gluten free weeknight dinners?
Print Spanish Ground Beef and Rice
---
Scale
Ingredients
1/3 cup loosely packed cilantro leaves
1 medium carrot, peeled and roughly chopped
1 medium red bell pepper, seeded and chopped
1/3 cup chopped yellow onion
2 garlic cloves, peeled
1 tablespoon extra virgin olive oil
1 teaspoon sea salt
Fresh cracked pepper, to taste
1 pound 85% lean ground beef
1 cup organic white rice, rinsed well 
1 cup bone broth (beef or chicken)
1/2 teaspoon sea salt
---
Instructions
In a high powered blender or Nutribullet, blend the cilantro, carrots, bell pepper, onion, garlic, olive oil, 1 teaspoon sea salt and black pepper until smooth. The color should be a vibrant orange and silky smooth without too many obvious chunks.
In a large deep skillet (with a fitted lid we'll use later), saute the ground beef, breaking up with a wooden spoon. Season with remaining 1/2 teaspoon salt.
Once the beef is just cooked through, stir in the sauce and simmer for 1-2 minutes.
Stir in rice. Pour in the bone broth and bring to a simmer.
Cover with a fitted lid, turn heat to low, and let rice cook for 12 minutes. Remove lid and stir the beef and rice. Cover with a lid again and cook another 2 to 3 minutes until all liquid is absorbed.
Remove pan from heat, leave lid on, and let it sit for 5 minutes before serving.
Serving suggestions: green onions, cilantro, or avocado
---