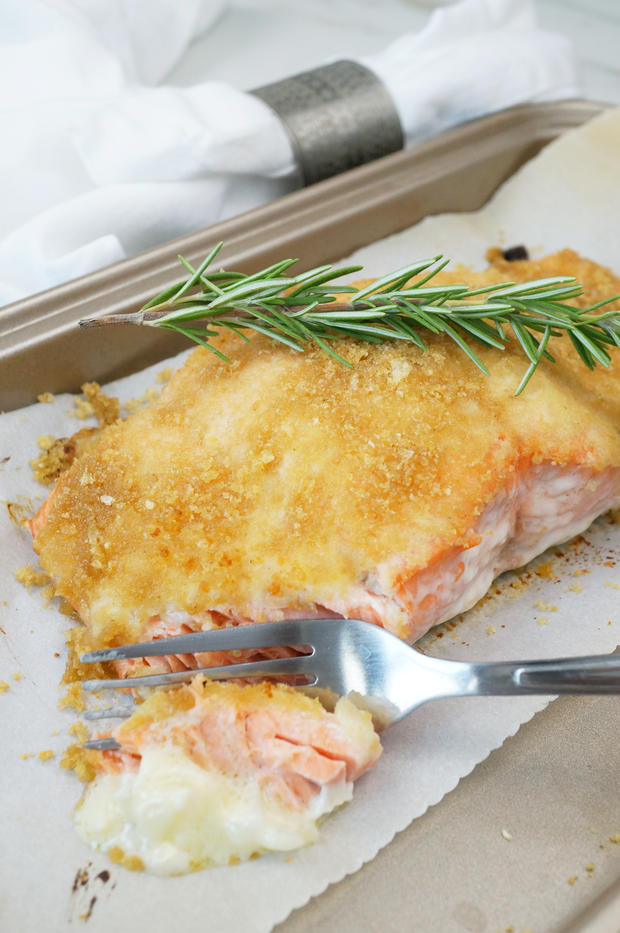 This Paleo salmon entree is crusted in crushed rosemary pork rinds and baked to buttery perfection and then served with dairy-free lemon cream sauce for dipping!
I never thought I would be a person who enjoys eating fried pig's skin. In fact, pork rinds freaked me out when I was a kid, and I believed they were only for truck drivers and men at truck stops. Anything to do with trucks = crunchy porcine dermis. Then I had them at Publican in Chicago, and I was like "I am a long lost trucker. My heart is made for the road." Not really, but now I get super excited when I see them on menus or at farmer's markets these days! Well when Bacon's Heir came out with an AIP-friendly flavor last year, I ordered a big case of them. I recall going through them rather quickly. So quickly that we thought someone broke into the apartment and stole half the lot. I'd never heard of that company prior to them making a bit of a name for themselves in the Paleo community. I remembered seeing a couple bloggers use their "Pork Dust" to crust different cuts of meat and for tempura style vegetables. 
Since I'm traveling a good bit for the next 2 weeks, I wanted to bring along a few hearty AIP staples so I didn't blow up into smithereens out of hangriness. I double checked my spelling of smithereens on Google and was pleased to find out I spelled it correctly on the first go. Brings me back to 5th grade spelling bee (2nd place). Lost on "government". Little did I know that word would continue to be the bain to my Millenial existence for years to come. 
On Friday, I'll be posting a delicious side dish recipe that would wonderful with this salmon that also uses the Lemon Cream Sauce. You'll just need carrots and olive oil for it, if you want to plan your shopping list before then!
Rosemary Pork Dusted Salmon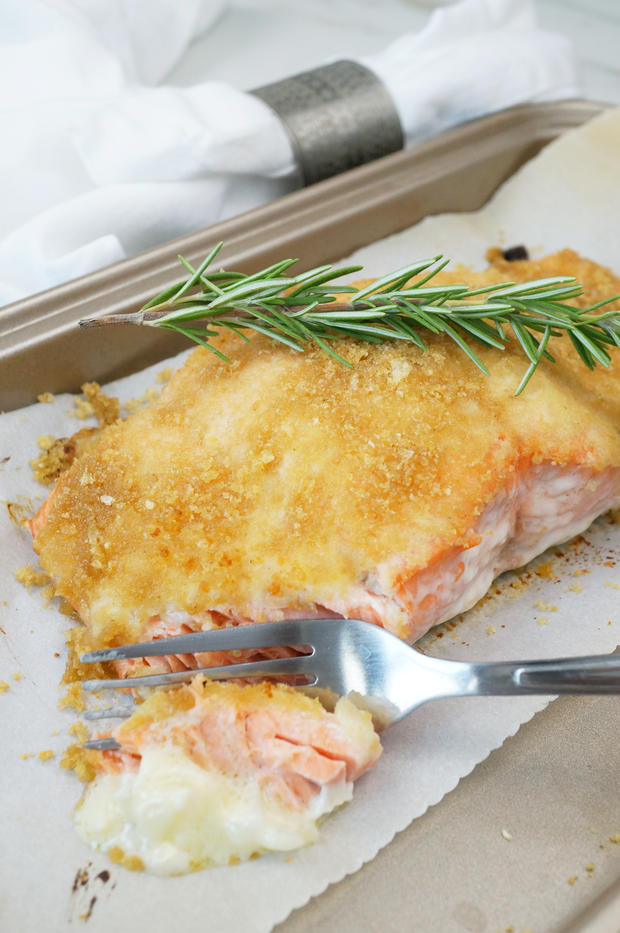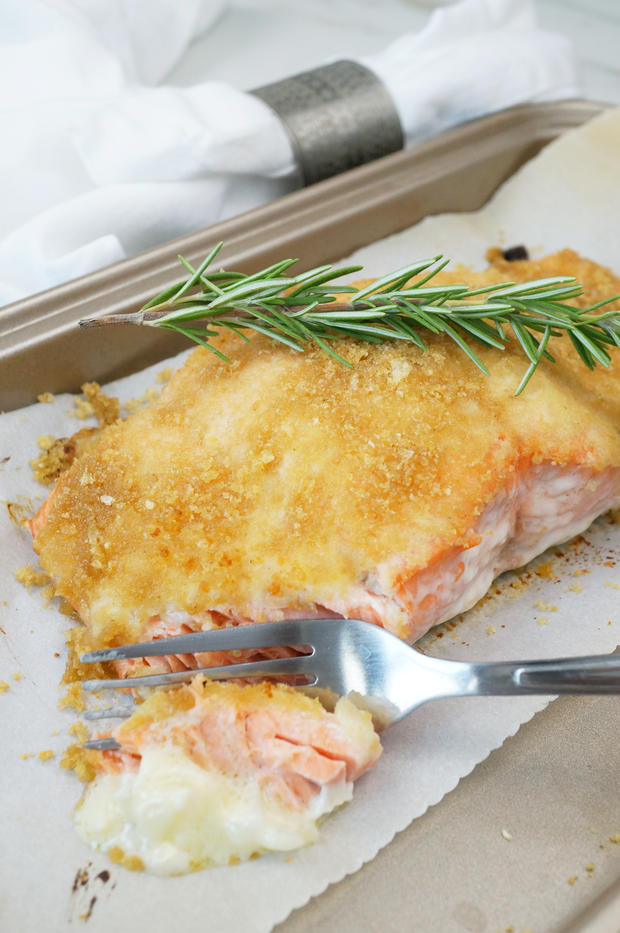 Ingredients
1 lb wild salmon filets, pins removed
2 to 3 tbsp Lemon Cream Sauce
1 cup Bacon's Heir Rosemary Sea Salt Pork Clouds*, finely crushed in a blender
1/2 tsp sea salt
Lemon slices for serving
Directions
Preheat oven to 400 degrees. Line a baking sheet with parchment paper. 
Coat tops and sides of salmon with cream sauce which will help pork dust adhere. 
Mix Pork Clouds with sea salt and press into the top and sides of salmon to make a medium-thickness coating. 
Bake for 12-15 minutes depending on thickness of salmon for fully cooked salmon. For medium cooked salmon, bake for 10 minutes or until the center remains a deep pink color. 
Broil on high for 2 minutes until the top is crispy and golden. 
Serve with lemon slices and leftover Lemon Cream Sauce. 
*If using plain pork rinds (or "chicarrones"), add 1 tsp finely minced fresh rosemary to blender with pork rinds and sea salt. 
Make it a meal by adding these Blistered Carrots with Lemon Cream Sauce as your side dish!
Blistered Carrots with Lemon Cream Sauce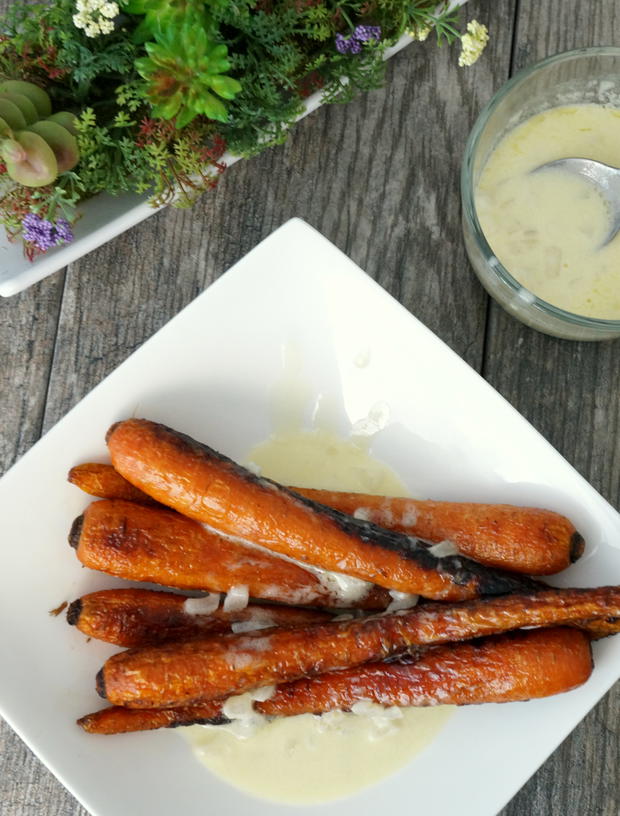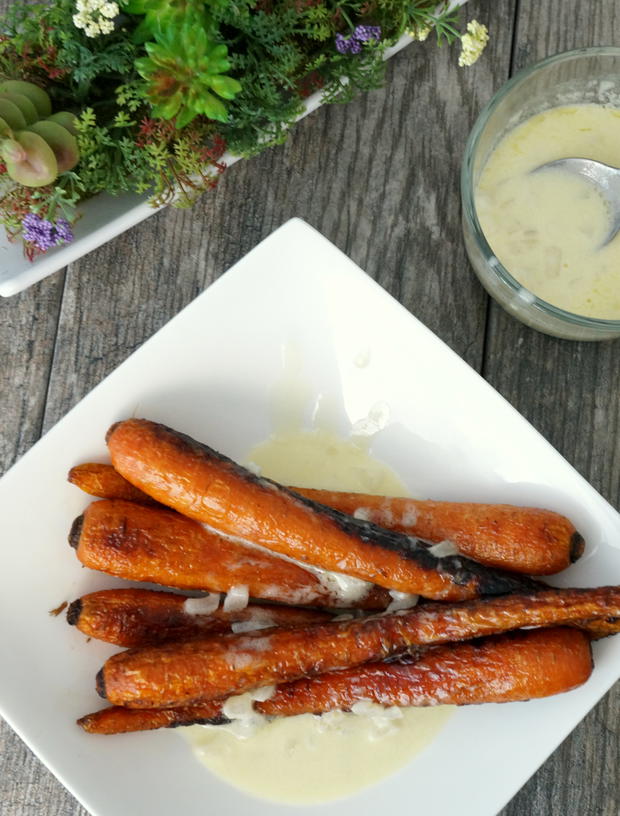 Ingredients
1 tbsp olive oil
8 large carrots, rinsed and dried
1/4 tsp sea salt
Lemon Cream Sauce, for serving
Directions
1. Preheat oven to 400 degrees. 
2. Heat olive oil in a large oven-proof skillet over medium-high heat. 
3. Blister carrots by sprinkling with sea salt and searing for 2 to 3 minutes per side for about 6 to 8 minutes total. Watch as the carrot goes from a golden yellow in spots to a blistered and charred look (only in spots). Remove from heat at this time. 
4. Finish cooking ovens in the oven by roasting for 15-20 minutes until fork tender. Be sure to flip carrots over halfway through cooking time. 
5. Pour desired amount of Lemon Cream Sauce in the bottom of a serving dish. Lay carrots on top and serve warm. 
Make It A Meal! Serve with broiled or pan-cooked salmon or cod with extra Lemon Cream Sauce ladled on top!