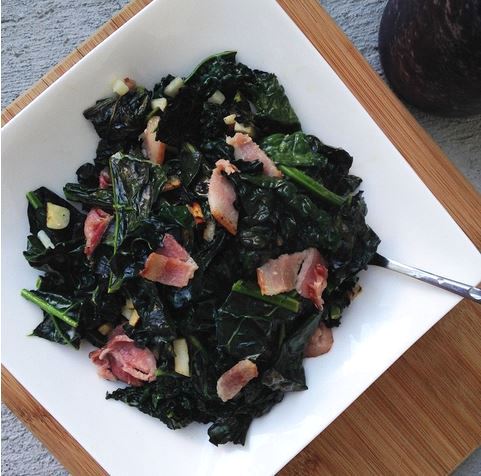 I know I joke about being an 85 year old stuck in a 26 year old body,  but I think I've taken it too far. We are home on a Friday night surrounded in pillows watching Dateline reruns with ice water. Party.
You know what's more fun than watching TV on Friday night!? Breakfast. I've been eating this quick and simple sautee regularly for breakfast since throwing it together a couple months ago on a cold winter morning. I have another recipe that I want to post before the end of the weekend for Skillet Apple Crumble. It is sweetener-free and SO delicious and uses Anti-Grain Apple Flour. So get on that if you don't already own it because you won't want to miss out on this recipe!
Bacon & Kale Breakfast Skillet
Serves 1 | Prep Time 5 minutes | Cook Time 12 minutes
2 slices Bacon, chopped
1 bunch Lacinato kale, 2-inch pieces
2 tbsp Coconut milk
1 tsp Minced garlic
1/4-1/2 tsp Truffle Salt
1. Cook chopped bacon in a skillet until crispy. Set aside the bacon but leave bacon fat in the skillet.
2. Cook kale in the bacon fat until wilted. Stir in the coconut milk, minced garlic, and truffle salt. Reduce heat to low and simmer until the coconut milk has thickened and the garlic flavor has mellowed, 1-2 minutes.
3. Serve warm as either a side dish or a light meal.