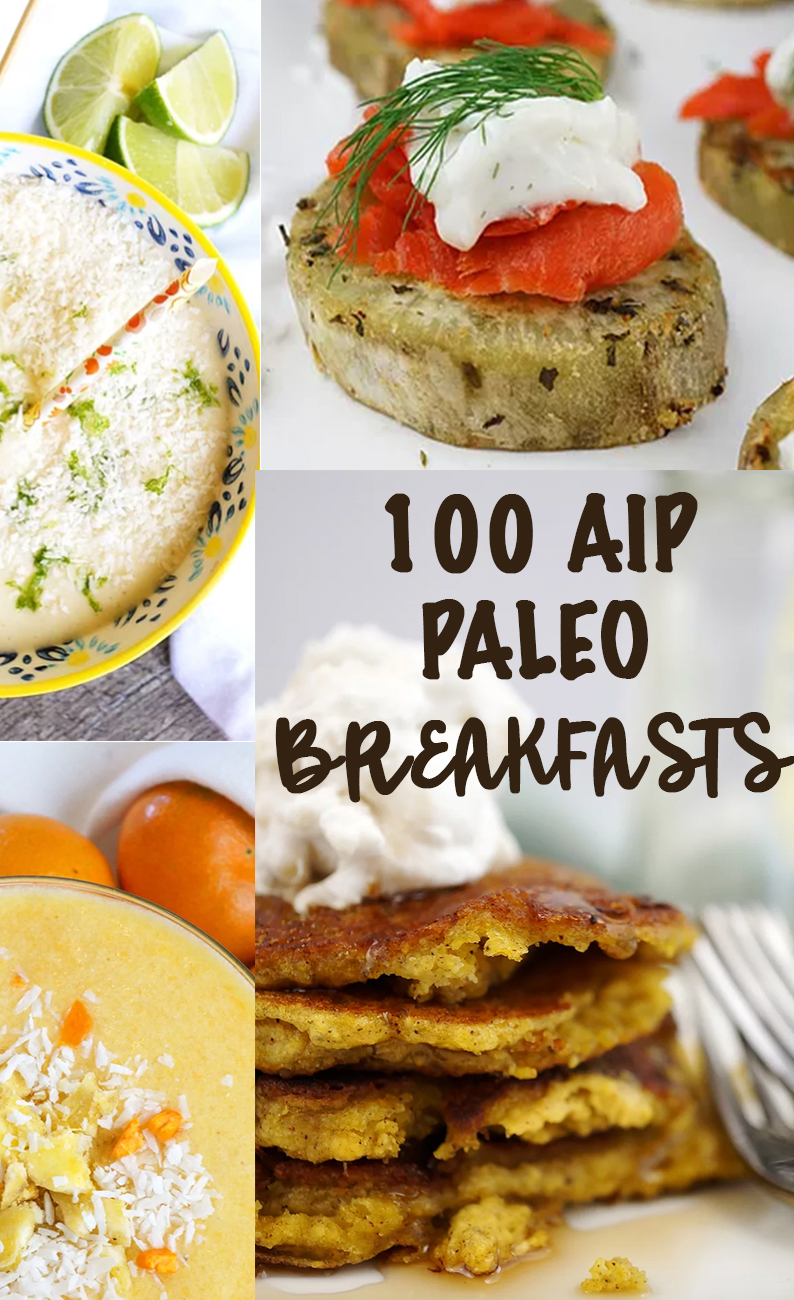 Out of all three meals we eat, breakfast while following the autoimmune protocol seems to stump many! I rarely make something special for breakfast unless my husband requests waffles or pancakes, but I've been doing this Paleo thing for almost 4 years now.
Dinner leftovers are frequently breakfast or a big smoothie full of veggies, fruits, fats, and my favorite breakfast companion Vital Proteins Collagen Peptides. I add 1 to 2 scoops to any smoothie recipe or even in bowls of broth-based soup for extra nutrients on mornings I don't have time to do anything but a simple soup puree. In this round-up, I've included 30 of the most delicious AIP-compliant smoothie recipes so you don't reach smoothie boredom. Adding "supplements" like collagen, turmeric, coconut oil/MCT oil, or matcha powder turn your smoothie into a beautifying morning treatment.
Now if you're the type that likes to make one big skillet each week so you can grab and reheat a small portion every morning, you will love the hash & skillet section! My new Five Spice Beef Skillet is included below and has some really flavorful and lovely North African flavors. And my Crispy Salmon Hash from The Healing Kitchen is one of the tastiest, nutritious, omega-3 packed breakfasts you can have on the AIP!
We all have those special Sunday mornings that call for a traditional breakfast/brunch treat – especially if we're feeding our family AIP foods as well! That's why I've included a lengthy section of waffles, pancakes, and baked goods from the greater AIP blogger community (which is where most of these recipes will direct you to!) My Flourless Waffles are pretty magical and I've been told they make great pancakes too!I don't often share my breakfasts on social media because they're usually a mish-mash of leftover soup and salad from the day before. I love starting my day with a broth and veggie-heavy soup because it sets a perfect foundation for a day of nutritionally-minded food choices. The breakfast soup collection below contains easy to digest soups, mostly purees, that you can make Sunday night to feed you every morning before work.
ON THE RUN BREAKFAST IDEA: MISSION HEIRLOOM YUCAN CRUNCH SPREAD WITH AVOCADO, LIME AND SEA SALT!
If this list isn't enough and you want a whole e-book of 100% AIP Breakfasts including "coffees and lattes", biscuits & gravy, over a dozen other hashes, and my ebook-exclusive recipe for Silver Dollar Carob Pancakes!
Hashes & Skillets
Sage Plantain & Butternut Hash by Don't Eat the Spatula
Moroccan-Inspired Breakfast Skillet by Mickey Trescott for Autoimmune Paleo
Kedgeree by Kate Jay for Autoimmune Paleo
Breakfast Risotto with Greens by Angie Alt for Autoimmune Paleo
Chicken Breakfast Skillet by Joy Filled Nourishment
Sweet Potato, Apple & Pancetta Hash by Gutsy by Nature
Turmeric Pork Skillet by Sweet Treats
Oh Mama, Umami Kale by Grazed & Enthused
Nightshade-Free Buffalo Chicken Skillet by Grazed & Enthused
Five Spice Beef Skillet with Fennel & Currants by Grazed & Enthused
Greens n' Dines Hidden Hash by Grazed & Enthused
Potato-Free Breakfast Potatoes by Meatified
Crispy Salmon Hash by Alaena Haber (me!) from The Healing Kitchen
Epic Bar AIP Paleo Breakfast Hash by Clean Eating Veggie Girl
Sweet n' Savory Hash by Beyond the Bite
Chicken Hash Brown Patties by Alaena Haber from The Healing Kitchen
Celeriac-Parsnip Hash Browns by Eat Heal Thrive
Chicken Breakfast Skillet by Joy-Filled Nourishment
Bison, Kabocha & Cabbage Skillet by Don't Eat the Spatula
Pancakes, Waffles & Muffins
Allergy Friendly Waffles by Don't Eat the Spatula
No-Egg Waffles by Don't Eat the Spatula
Banana Muffins by Eat Heal Thrive
Banana Bread by He Won't Know It's Paleo
Maple Sugar Waffles by Marissa Franklin for He Won't Know It's Paleo
Oven-Baked Pumpkin Spice Pancakes by Gutsy by Nature featured in 85 Amazing AIP Breakfasts
Plantain Bacon Pancake by Castaway Kitchen
Cinnamon Raisin Rolls by Sweet Potatoes and Social Change
Banana Bread Cookies by Beyond the Bite
Carob Bread with Date Caramel by Heart Beet Kitchen
Sweet Plantain Waffles by Hold the Grain
Baked Breakfast Casserole with Apples & Raisins by Provincial Paleo
Grain-free Banana Mug Bread by Provincial Paleo
Bacon Herb Biscuits by Grazed & Enthused
Cinnamon Plantain Fritters by Grazed & Enthused
Rustic Apple Cinnamon Rolls by Grazed & Enthused
Flourless Lemon Poppy Waffles (omit poppy seeds) by Grazed & Enthused
Bacon Maple Cinnamon Pancakes by Comfort Bites
Breakfast Soups
Creamy Mushroom Soup with Bacon & Fried Sage by Mickey Trescott for Autoimmune Paleo
Roasted Chicken & Vegetable Soup by He Won't Know It's Paleo
Spring Breakfast Chicken Soup by A Squirrel in the Kitchen
Fennel & Spinach Soup by Healing Family Eats
Lamb Stew with Butternut, Apples & Ginger by Healing Family Eats
Beef and Plantain Curry by Provincial Paleo
Triple Seafood Chowder by Grazed & Enthused
Roasted Cauliflower & Garlic Bisque by Grazed & Enthused
Nightshade-Free "Potato" & Leek Soup by Grazed & Enthused
3-Step Root Vegetable & Leek Soup by Grazed & Enthused
Mushroom & Fennel Soup by Comfort Bites
Sweet Potato & Broccoli Soup by Meatified
Creamy Leek & Salmon Soup by Meatified
Creamy Leek Soup (omit ghee) by Stupid Easy Paleo
Comforting Creamy Broccoli Soup (omit ghee) by Stupid Easy Paleo
Cream of Mushroom Soup by Primal Palate
Porridge & N'Oatmeal
Warm Porridge with Berries & Lemon by Kate Jay for Autoimmune Paleo
Chai Spice & Pear N'Oatmeal by Eat Heal Thrive
Carrot Cake Breakfast Cereal by Eat Heal Thrive
Apple Cinnamon N'Orridge by Eat Heal Thrive
Cinnamon Coconut Crisp Cereal by Sweet Potatoes and Social Change
Cauli-Porridge with Rosemary Plum Compote by Healing Family Eats
Sweet Cinnamon Tigernut Granola by Beyond the Bite
Instant Oatmeal by Grazed & Enthused
Sausages & Bites
Fennel-Herbes de Provence Sausage by Eat Heal Thrive
Blueberry Bacon Breakfast Burgers by Adventures in Partaking
No-Fuss Sweet Potato & Apple Sausages by The Unskilled Cavewoman
Homemade "Bangers" (omit nutmeg) by The Paleo Mom
Lox & "Everything" Sweet Potatoes by Grazed & Enthused
Bacon-Wrapped Cinnamon Apples by Grazed & Enthused
Cranberry Fig Collagen Protein Bars by Grazed & Enthused
Breakfast Tostones with Fried Garlic Guacamole by Grazed & Enthused
Prosciutto Meatloaf Muffins with Fig Jam by Grazed & Enthused
AIP Breakfast Stack by Comfort Bites
Chicken & Bacon Bites with Green Onion and Sage by Meatified
Breakfast Sausage by Gutsy by Nature
Beef Breakfast Sausage by The Paleo Mom
American Style Breakfast Sausage by The Paleo Mom
Smoothies & Beverages
Pina Colada Smoothie Bowl by Grazed & Enthused for Autoimmune Paleo
Green Detox Smoothie by Kate Jay for Autoimmune Paleo
Collagen Berry Green Smoothie by Mickey Trescott for Autoimmune Paleo
Creamy Coconut Milk by Mickey Trescott for Autoimmune Paleo
Anti-inflammatory Turmeric Tea by Mickey Trescott for Autoimmune Paleo
Carrot Cake Shake by Eat Heal Thrive
"Chocolate" Protein Smoothie by He Won't Know It's Paleo
Creamy Carob Banana Smoothie by Joy Filled Nourishment
Strawberry-Banana Protein Smoothie by Joy Filled Nourishment
Raspberry Sunrise Breakfast Shake (replace almond milk with coconut milk) by PaleOMG
Matcha Jasmine Tea Latte by Sweet Treats
Spiced Apple Kombucha by Sweet Potatoes and Social Change
Blueberry Kale Collagen Shake by Healing Family Eats
Maple Pumpkin Collagen Shake by Healing Family Eats
Raspberry Turmeric Collagen Shake by Healing Family Eats
Turmeric Papaya and Orange Smoothie by Biohackers Recipes
Strawberry Peaches n' Cream Smoothie by Grazed & Enthused
Orange Cream Healing Smoothie by Grazed & Enthused
Matcha Smoothie Bowl by Comfort Bites
Apple Pie Smoothie (use coconut milk) by PaleOMG
Mango Ginger Kale Green Smoothie by Minimalist Baker
Coconut Papaya Smoothie by Minimalist Baker
Creamy Pineapple Cucumber Smoothie by Minimalist Baker
Blood Orange Green Smoothie by Minimalist Baker
Carrot Ginger Turmeric Smoothie (use coconut milk) by Minimalist Baker
Coconut Clementine Green Smoothie by Minimalist Baker
Cherry Limeade Smoothie (use coconut milk) by Minimalist Baker
Super Thick Coconut Yogurt by Oh She Glows
Island Blast Green Smoothie by Lexi's Clean Kitchen
Cool Paleo Melon Mint Smoothie by Stupid Easy Paleo
Offal in the Morning
Pork and Chicken Liver Terrine with Spiced Apple Compote by Kate Jay for Autoimmune Paleo
Bacon Beef Liver Pate by Mickey Trescott for Autoimmune Paleo
Beef & Offal Burgers by Castaway Kitchen
Loaded Toast with Pate by Castaway Kitchen
Easy Pan-Fried Chicken Hearts by Comfort BitesSuperfood Sausages by Primal Palate