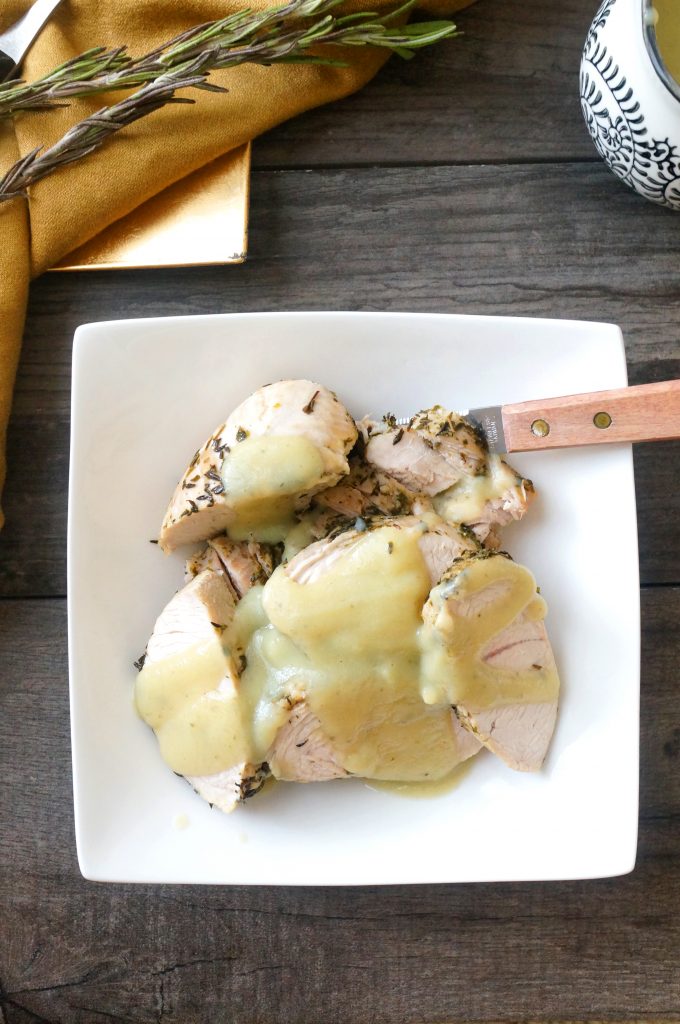 Well, well, well. The Instant Pot to the rescue again. Is there anything this thing can't do? The day I can make ice cream in my Instant Pot is the day I give away every other appliance I own. 
To celebrate the release of The Paleo AIP Instant Pot Cookbook, which is a collection of over 140 recipes from 37 of the best AIP bloggers (including 5 recipes from myself), I am releasing an early holiday-inspired IP recipe! Does anyone else start craving Thanksgiving food early in the season? I don't see why we only eat such a nourishing meal one time a year. Pastured turkey, bone broth and vegetable-based gravy, roasted root vegetables, and beautiful fall salads.. hello!?
I think EVERY week should be Thanksgiving. Some say it wouldn't be as special, but I'd rather have my turkey & gravy multiple times a year and wean the special out of the main event. It's not like I'd be eating pumpkin pie every week, but wouldn't that be fun?I don't know about you guys but I'm already planning my Thanksgiving menu. We are celebrating a couple weeks early in Omaha, so on true Thanksgiving it'll just be our little 4-person household. Rafael counts as a person, and he gets his own plate too. I don't want to spend all day in the kitchen for just us 4, so I'll be making a lot of food in the Instant Pot.
This turkey and gravy has all the classic flavors of our favorite holiday staple, except instead of 3 or 4 hours, it only cooks for 20 minutes! The gravy is based off my AIP Chicken n' Gravy but thinner and has a bit of a different flavor profile (bay leaf, onion) and made from sweet potato. It thickens as it cools, so even if it looks a little thin right in the blender, let it cool just a bit for the perfect consistency.
I used skinless, boneless turkey breast, which is the driest part of the turkey. When covered in gravy, it's nice and moist and tender. By itself, it is drier than turkey thighs. You COULD brine the turkey for 24 hours in a salt-water brine before cooking in your Instant Pot. I'll be doing that for Thanksgiving, but even without the brine, it's still moist enough.
No time for a full-on turkey dinner?!
This 20-minute Turkey & Gravy is a perfect fix!
InstantPot Turkey & Gravy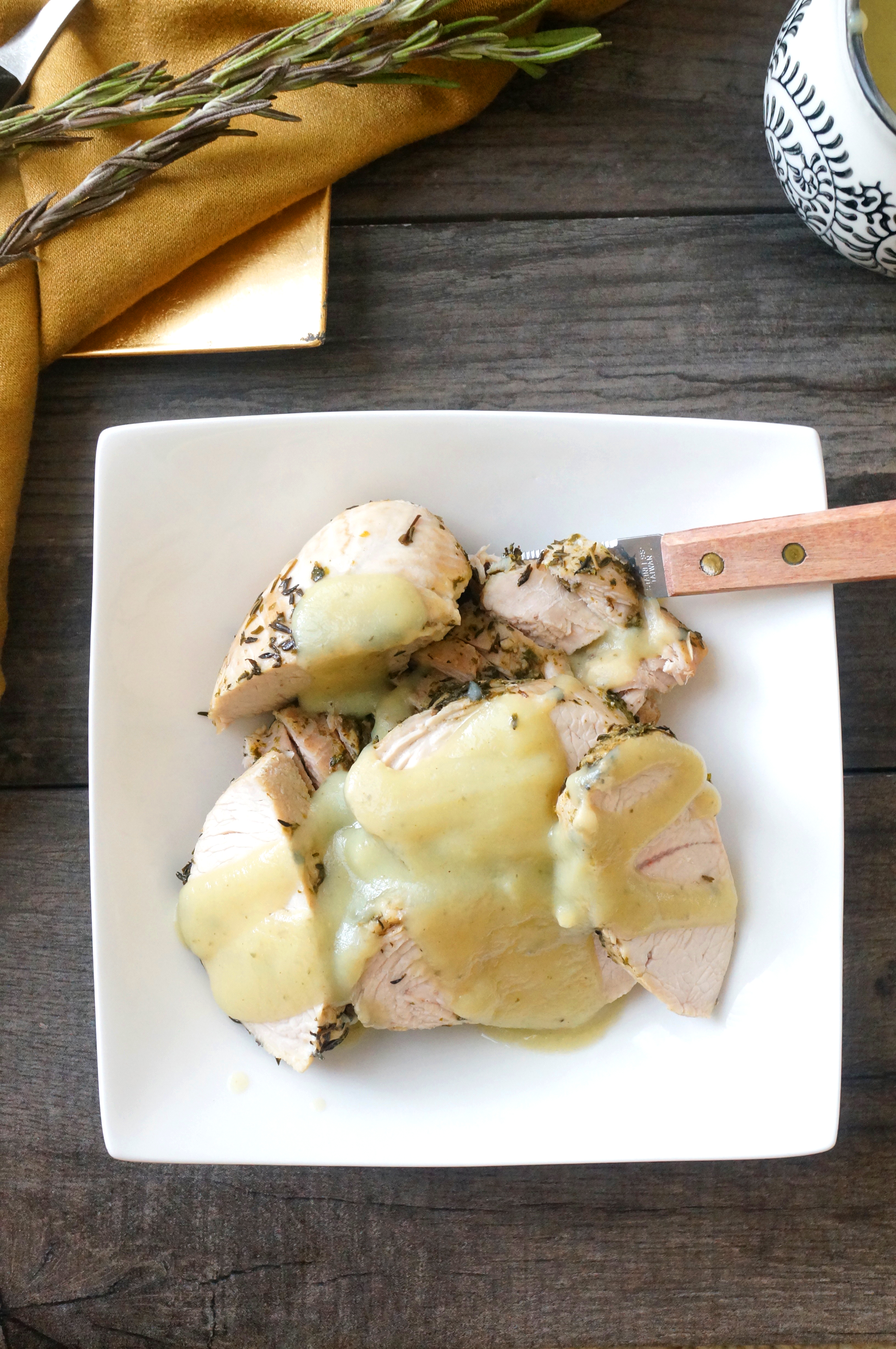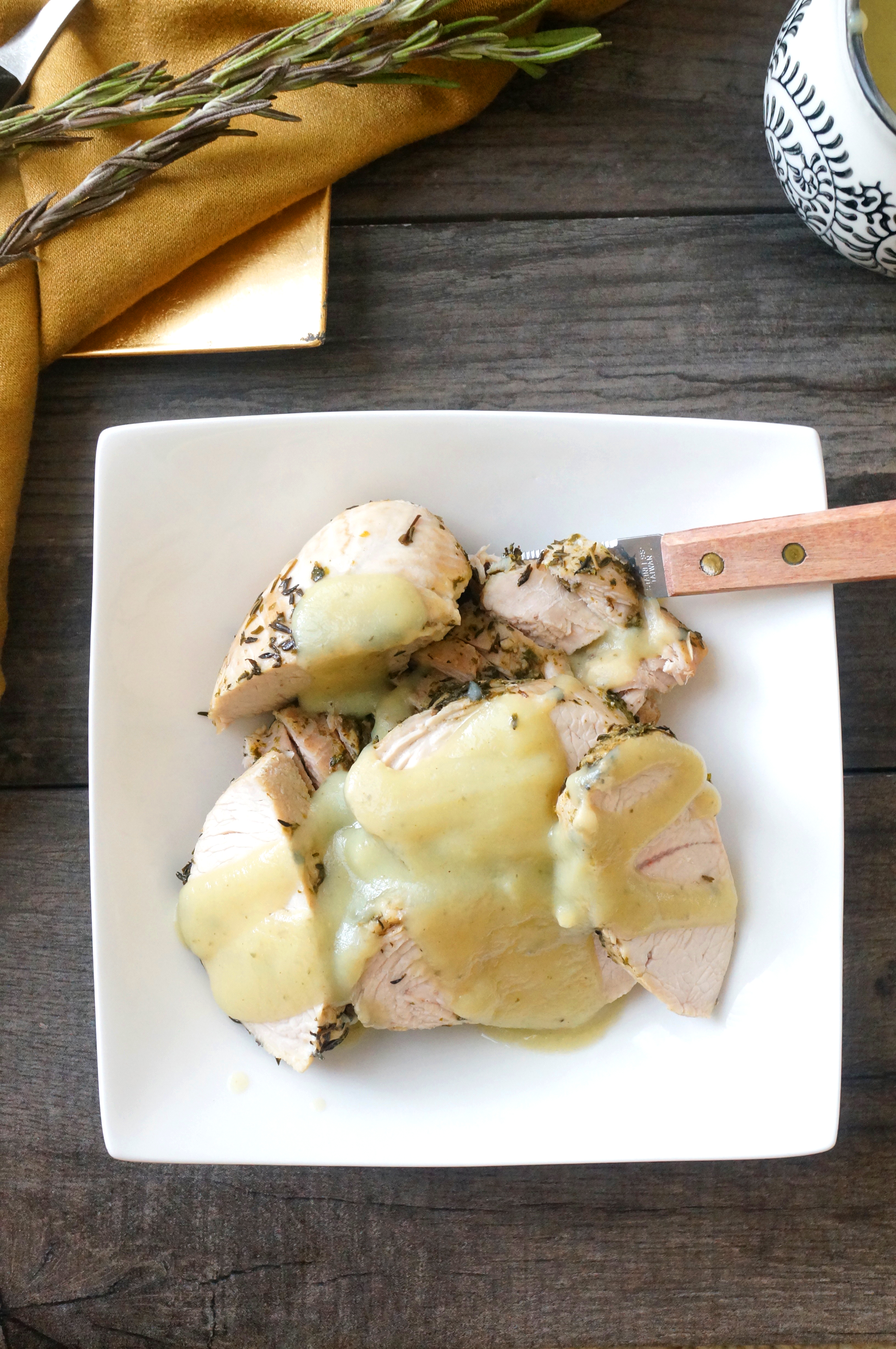 Ingredients
Gravy:
2 cups diced yellow onion
1 1/4 cup diced peeled white sweet potato
1 cup homemade bone broth
1 bay leaf
1/2 sprig rosemary
1/2 teaspoon sea salt
Turkey:
2 pounds skinless, boneless turkey breast (or breast and thigh combo)
2 teaspoons dried thyme
1 teaspoon dried parsley
1 teaspoon sea salt
1/2 teaspoon dried rubbed sage
1/2 cup homemade bone broth
1 bay leaf
Directions
Make the gravy: 

Add all ingredients for gravy to

Instant Pot

insert and seal the lid. Set the manual cook time for 5 minutes. When the timer is up, manually release the pressure. Using oven mitts or a thick towel, pour all of the contents of the pot into your

blender

. Puree on high speed until smooth. Set aside. It will thicken slightly as it cools a bit while you make the turkey.

Make the turkey: 

Season the turkey on all sides with thyme, parsley,

sea salt

, and sage. Place in

Instant Pot

insert in a single layer, if possible. Pour broth around turkey and lay bay leaf on top. Set to cook using Poultry setting (15 minutes).

Serve: When timer is up, manually release the pressure. Slice into 1/2-inch to 1-inch thick slices and serve with gravy.