Gelatin gummies are a wonderful source of gut-healing protein and amino acids while making a great portable snack for both kids and adults.
It's hard to find a snack that fits the bill: protein and mineral-rich, travels well, tasty, filling, and made affordably and quickly at home. Gelatin Gummies are IT.
I started making these many years ago during my AIP days and they've continued to be a weekly staple in our home and how my kids and I get the gut-healing, protein-rich goodness of gelatin into our bellies.
One of the most FAQ I get here is how I make our weekly gummies, and I've been promising y'all a post to easily reference back!
Honestly once you get these simple ratios down, the flavor possibilities are bountiful!
What kind of gelatin should I use for gummies?
The best gelatin to use for gummies, egg-free baking or other uses is grass-fed gelatin. I like Great Lakes brand glyphosate-free grass-fed gelatin as well as Further Foods gelatin. You can use code ALAENA to save on Further Foods. We love their plain and vanilla collagen too!
You want to avoid using Knox and other conventional gelatin brands which do not come from high quality sourcing.
How do I make gelatin gummies?
Making gelatin gummies couldn't be easier or quicker! You simply whisk together a similar ratio of organic juice, grass-fed gelatin and a little honey in a small saucepan. Heat over medium heat until simmering then transfer to a glass dish or cute silicone molds to set in the fridge or freezer. If you want your gummies to firm up quickly, place them in the freezer! In the fridge they will come to complete firmness in about 3 hours versus 1 hour in the freezer.
What are the health benefits of gelatin?
Grassfed gelatin has a plethora of health benefits thanks to its unique amino acid profile that is ideal for repairing the gut and joints. It is also a rich source of animal protein while being incredibly affordable too! It can be used to replace eggs in egg-free recipes – just search "gelatin egg" for a quick recipe.
If you have autoimmune disease or any concerns with your gut health, grassfed gelatin is a wonderful daily addition to your diet particularly if you don't do a lot of nose to tail eating. Our ancestors uses to eat the whole animal including simmering the bones and sinew for stock! They received the full profile of amino acids by eating both muscle meat and organ meat which most of us do not do today.
Gelatin has gut-protective benefits and is a common supplement to treat leaky gut syndrome. It helps repair the intestinal barrier so that food proteins are less likely to 'leak' into the bloodstream and cause an immune response.
Here's an article I wrote on The Benefits of Collagen for Women.
Is gelatin good for me?
Yes! Gelatin is an excellent source of protein, amino acids, and gut-healing nutrients. It also is high in glycine which can promote restful sleep and relaxation.
Do I need to bloom gelatin before using?
Not always! If you whisk gelatin into cold liquids like juice and then heat immediately while whisking you can skip the blooming step. If you find you still get clumps of gelatin, you can sprinkle the gelatin over the cold or room temperature liquid and let it "bloom" (rehydrate with the liquid) for 5 minutes then heat over the stovetop to make gummies.
What's the difference between gelatin and collagen?
Gelatin is the slow-cooked and dehydrated form of collagen. This cooking and dehydrating process gives it the ability to become gelatinous when heated – hence the name gelatin! They both have a similar amino acid profile including high percentages of glycine and proline.
Glycine is a building block of glutathione, the body's major antioxidant detoxifier. Glycine is also a building block to creatine which is useful in athletic performance and recovery.
Tips for making gelatin gummies
For easy clean-up, pour the heated gelatin gummy mixture into a glass dish or silicone molds placed on a cutting board (so you don't spill them when placing in fridge/freezer). Once firm, the gummies can be easily sliced out of the glass container or popped out of the silicone molds.
For extra firm gummies like gummy bears, add an extra 1 to 2 tablespoons of gelatin per 1 cup of juice.
Use organic juice ideally out of a glass jar instead of plastic. You can use fresh squeezed juice but you may want to strain out any pulp for a smoother gummy.
To travel with gummies, I like to keep them in a small cooler bag if we'll be eating them beyond 1 to 2 hours out of the fridge. They will maintain their most firm texture which I prefer.
A few enzyme-rich juices may not gel well especially when made fresh including pineapple, mango, kiwi and papaya. These tropical fruits include enzymes that break down the protein structure of gelatin so it is less likely to firm up.
For Key Lime Pie Gummies, check out of my reel on how to make them.
Print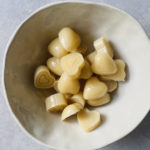 Gelatin Gummies
Author:

Prep Time:

5 min

Cook Time:

5 min

Total Time:

10 minutes

Yield:

16

gummies

1

x

Category:

snacks

Method:

stovetop
---
Description
A protein-rich easy to make and affordable snack for kids and adults!
---
Scale
Ingredients
1 cup organic juice (ex: orange juice, tart cherry juice, concord grape juice, pomegranate juice, watermelom juice, grapefruit juice)
2 tablespoons honey (can be left out when using sweeter juices)
1/4 cup powdered grassfed gelatin*
---
Instructions
In a small saucepan, whisk together the juice and honey until smooth.
Whisk in the gelatin until smooth. It may start to "bloom" during this process (rehydrate into a thickened mixture. It will thin out when heated.
Heat mixture over medium heat until you have maintained a simmer for 1 minutes.
Without cooling, pour into a small rectangular glass dish (like a 6×10 pyrex) or cute silicone molds you can source from Amazon or craft stores.
Firm in the fridge for a few hours or in the freezer for 1 to 2 hours. Pop out once firm and store in the fridge for up to 1 week!
Notes
Note that some enzyme-rich fruits like pineapple, mango, kiwi, and papaya may not firm up as well as other fruit juices.
For jigglier gummies, use 3 tablespoons of powdered gelatin instead. I prefer the texture of firm gummies!
To make Key Lime Pie gummies, use the same method but 1/2 cup coconut cream, 1/2 cup organic lime juice, 2 tablespoons honey and 1/4 cup powdered gelatin.
Keywords: gummies, gelatin, aip, snacks, kids