This Gluten Free Seed Bread is made with a variety of healthy seeds, tigernut flour and coconut oil. It makes for a delicious family-friendly snacking bread or avocado toast!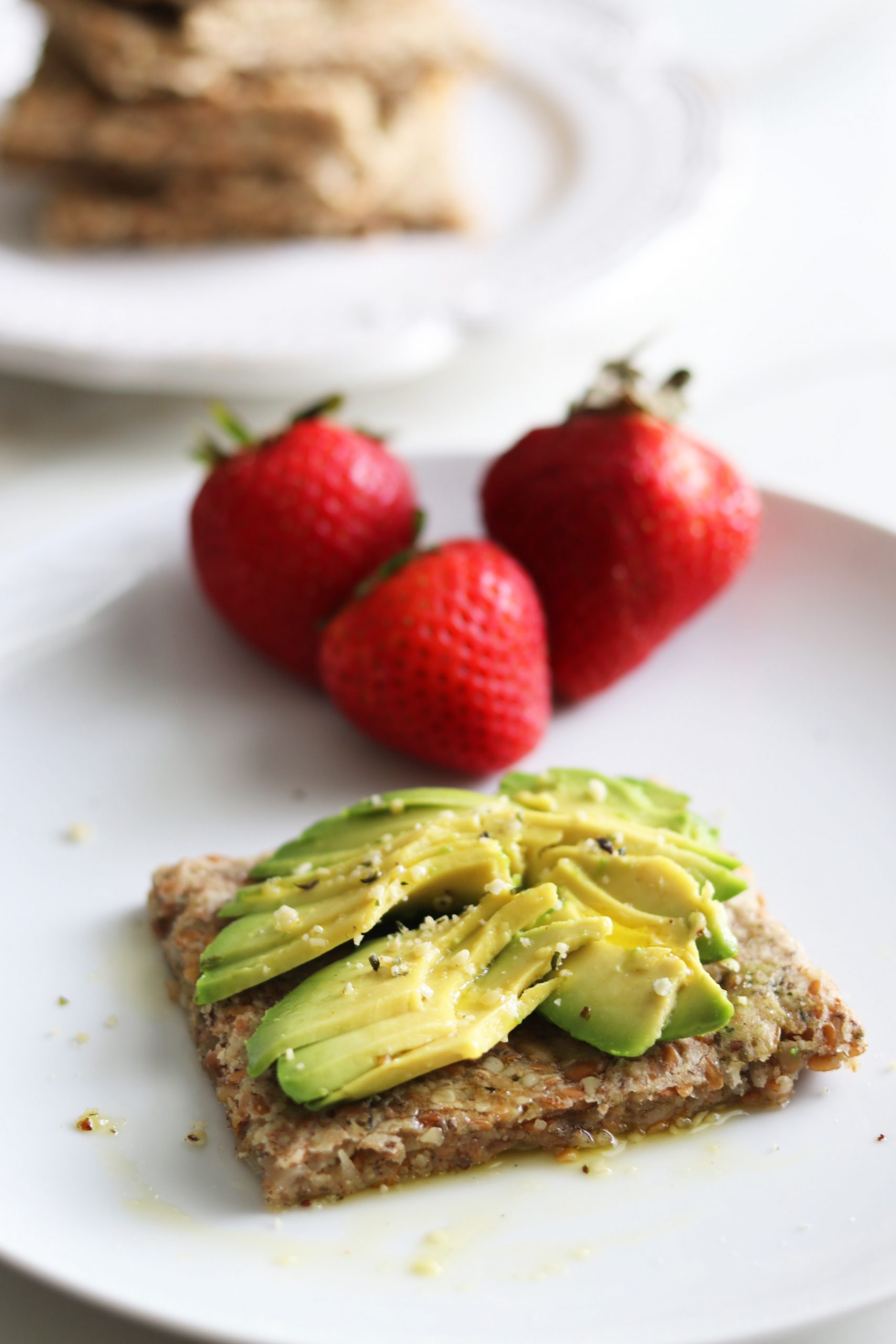 Today I'm sharing my Gluten Free Seed
Bread

. It is Paleo, Nut-Free, Grain-Free and Vegan and actually made on a baking sheet instead of a loaf pan!
This recipe was born out of my need to find a more nutrient-dense option for the avocado toast obsession that has taken over my house. My 15-month-old is on the choosier side of the eating spectrum, and I found she is really drawn to all things
bread

, crackers, and the like.
We had been choosing gluten-free 
bread

 (Canyon and Food for Life brands), but I knew I could make a more nutritious option at home that would expand her palate more. Enter this 

seed

-based gluten-free "snacking" bread.
I'm calling it snacking 
bread

 because it's not a traditional 

bread

– it's a flatbread baked on a baking sheet and cut into slices versus a rising loaf of fluffy sandwich

bread

.

I find it really satiating with a nice seedy texture and much healthier than the gluten-free 
breads

 on the market filled with conventional grains, isolated fibers, rancid canola oil and who knows what kind of quality eggs.
This One Bowl Paleo and Vegan 

Seed

 

Bread

 is:
grain and gluten-free

dairy-free

egg-free

nut-free

yeast-free
Try and find a 
bread

 like that in the grocery store – it's probably not going to happen (or it might cost you $10+ a loaf and actually be more like a thinly sliced brick). For sandwiches, I'll have to work some magic to create a nutritious and nut-free recipe for you all!
Gluten Free Seed Bread Serving Ideas: 
Topping it with thinly sliced avocado, sea salt, a drizzle of olive oil, a squeeze of lime juice and some microgreen sprouts

Smearing on organic sunbutter and unfiltered raw organic honey and topping with sliced banana and hemp 

seeds

Layered with homemade blueberry jam and granola crumbles (for the jam, I simmer fresh organic blueberries with a splash of lemon juice and maple syrup until they break open and thicken).

Spread with dairy-free cream cheese, drizzled with honey, sliced figs and a bit of flaked salt.
If you're looking for more gluten-free, dairy-free snacks, try my:
Print ---
Scale
Ingredients
1/3 cup golden flaxseeds

1/3 cup

finely shredded unsweetened coconut

1 tablespoon

chia

seeds

3/4 cup

hot water

1 tablespoon

maple syrup

1/4 cup

coconut oil, softened

3/4 cup

tigernut flour

1/4 teaspoon

sea salt

1/2 cup

sunflower

seeds

, raw and unsalted

1/4 cup

hemp

seeds
---
Instructions
1. Preheat your oven to 350 degrees. Line a baking sheet with parchment paper.
2. In a large mixing bowl, combine the flaxseeds, shredded coconut, chia, hot water and maple syrup. Allow the mixture to soak up the water for about 5 minutes until you achieve a thick slurry.
3. Stir in the coconut oil until well combined. Now stir in the tigernut flour and sea salt followed by the sunflower and hemp seeds.
4. Spread the mixture into a 1/3-inch thick rectangle on your prepared baking sheet, using another piece of parchment paper on top to smooth it evenly. Take your time as you want it to be an even thickness throughout.
5. Bake on your center oven rack for 28 to 30 minutes until the edges are a light golden brown. Transfer to a cutting board, let cool 10 minutes. Slice in half lengthwise and then make 4 slices widthwise to create 8 total slices.
6. Top with whatever you desire and enjoy! No need to toast this bread – I find it's best at room temperature!
---