This gluten-free Crispy Chicken Salad is topped with a Creamy Mango Dressing!
Today I asked a very stupid question on Instagram, "Do you want this recipe now or should I save it for my ebook?" Who in their right mind would be like, "Well, that's nice of you to ask, but I'll wait a few months." If you don't follow me on social media, I have announced I'm working on an AIP-friendly recipe ebook that will hopefully be finished late fall! I've stated this several times but the timing is dependent on the amount and length of the naps Grace takes.
My ebook is a solution to some problems I've found with AIP recipes. Firstly, there's a lack of a wide variety of ethnic recipes that truly taste like the real deal. Just because something looks like an empanada doesn't mean it tastes like one. Second, I want to bring creative and unique recipes that get you excited to eat no matter if you're Paleo or not!
While I consider this a Paleo blog, I really do try to make recipes that anyone would love. Lastly, I want to recreate comfort food favorites you had no idea could be made without grains, dairy, nuts or nightshades! I have a recipe for Chicken & Waffles, Cheesy Gratin, Shawarma, Arepa & some really delicious dairy-free ice creams!
I hope my ebook fills a void in the autoimmune community that both adults and children will enjoy! My main goal is for you to love everything you eat and prevent any "meh" meals from entering your mouth. I think I did that with The Healing Kitchen but these recipes are more creative for sure!
This gluten-free Crispy Chicken Salad with Creamy Mango Dressing fits that bill too!
— The larger pieces that don't get finely crushed in your food processor also make the most delicious little croutons when fried with the chicken.
— I topped this salad with fresh and crunchy romaine, cucumber and sliced water chestnuts for tons of TEXTURE.
— You're going to love this CREAMY MANGO DRESSING too! It has a bit of an Asian flare thanks to the garlic, ginger and fish sauce but the sweet, ripe mango balances it out so kids will enjoy it too!
— Make sure you use a ripe mango for the smoothest dressing and most balanced taste! If your mango isn't ripe, you may find the dressing needs some added sweetness from honey.
Someone on Instagram asked if they can use peach in place of the mango. I don't see a problem with that (although it'll be more peach-flavored) but make sure your peach is sweet, ripe and fleshy. I hate the word fleshy. I apologize for using it here. I don't want to leave you on a fleshy note but I've run out of word vomit. Great, I'll leave you with vomit. Bye!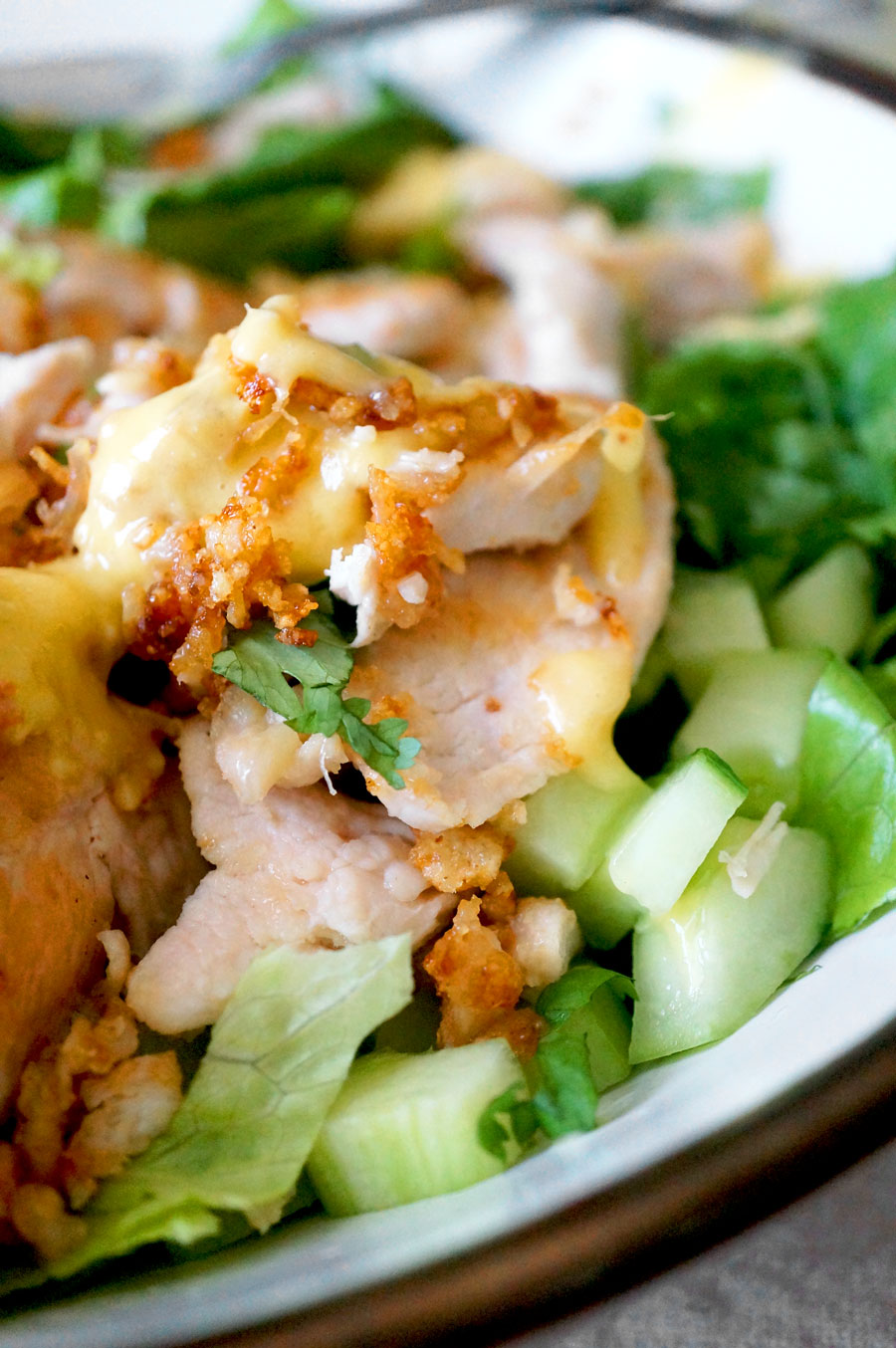 Print Crispy Chicken Salad with Creamy Mango Dressing
Author:

Prep Time:

15 minutes

Cook Time:

6 minutes

Total Time:

21 minutes

Yield:

4

1

x

Cuisine:

salad, main
---
---
Scale
Ingredients
1

pound boneless, skinless chicken breast, thinly sliced

1/4 cup

crushed Yucan Crunch (see note)

1/2 teaspoon

sea salt

1/4 cup

avocado oil

1

large head romaine lettuce, thinly sliced

1/2

English cucumber, peeled, seeded and diced

1

8-ounce can sliced water chestnuts

1/4 cup

chopped cilantro
Optional: 1 cup shredded carrots and 1 diced avocado
Creamy Mango Dressing:
1 cup

peeled and cubed ripe mango

2 tablespoons

avocado oil

2 tablespoons

coconut cream
Juice of

1

lime

2

garlic cloves

1 tablespoons

coconut vinegar

1 tablespoon

minced ginger

1 teaspoon

fish sauce

1 teaspoon

ground ginger

1/2 teaspoon

sea salt
---
Instructions
Make the dressing: Puree all Creamy Mango Dressing ingredients together in a food processor until smooth. Set aside to allow flavors to marry while you prepare salad.
In a shallow bowl, toss crushed Yucan Crunch and sea salt with chicken until evenly coated. Please read note below on how to prepare the Yucan Crunch and what to sub it for if needed.
In a medium skillet, heat the avocado oil over medium-high heat. Add the chicken in a single layer and fry in oil on each side for 2 to 3 minutes until golden brown and cooked through. Scrape up any browned pieces that fall off the chicken. They make excellent "croutons". Set aside while you prepare salad.
In a large serving bowl, layer the romaine, water chestnuts, cucumber, cilantro and optional carrots and avocado. Drizzle with Creamy Mango Dressing and top with Crispy Chicken. Serve immediately.
---
Notes
Break one large Yucan Crunch cracker into small pieces. Pulse in a food processor until finely crushed. It is okay if some larger pieces remain. They make excellent "croutons" when fried as directed in the recipe. You will use 1/4 cup of this crushed mixture to coat the chicken in this recipe.
Substitution: Use 1/4 cup cassava flour
Yucan Crunch is a Paleo, AIP-Friendly, gluten-free cracker made from dried yuca. Each package comes with 4 humongous crackers that you break up into pieces. You can buy it on Amazon.