You'll never make spaghetti squash any other way after trying this Air Fryer Parmesan Garlic Spaghetti Squash. You can easily make it dairy-free too, and it'll be ready in less than 25 minutes!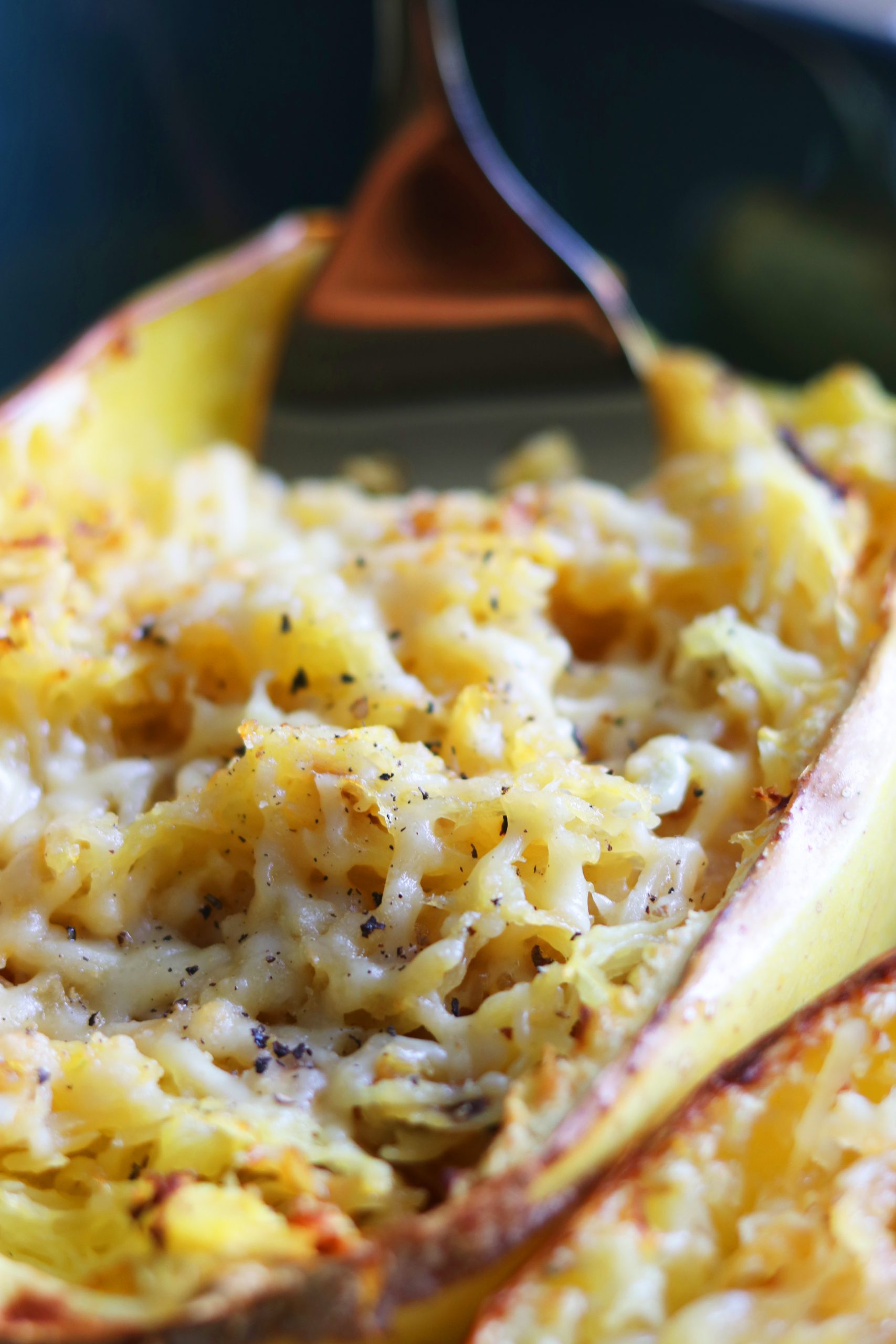 I promised my newsletter list more Air Fryer recipes, and here's the first one I'm putting on the blog: Air Fryer Parmesan Garlic Spaghetti Squash. If you find it hard to get spaghetti squash the perfect crisp-tender texture in the oven, microwave or Instant Pot, I'm with  you! There's nothing more disappointing in the cooking world than overcooked, mushy veggies.
Most of us actually cook our veggies too long, and we don't appreciate the mouthful delight that comes from a crisp-tender vegetables. If you weren't a fan of Brussels sprouts, broccoli, cauliflower, or asparagus as a kid, this was probably why. You'll find this Air Fryer Spaghetti Squash to really hold up well to any sauces like marinara or pesto, but you can totally eat it alone as a side dish. Or be like me, and eat it alone at your kitchen counter while your baby naps.
I've been cooking with the Air Fryer for a few weeks now, and I'm getting the hang of the different temperature and cooking time settings. Air Fryers cook food about 20 to 25% faster than a traditional cooking method like oven or stovetop. Air Fryers work similar to convection ovens by utilizing circulating hot air to cook your food. If you're looking for an oven spaghetti squash method too, check out my Beef & Mushroom Carbonara.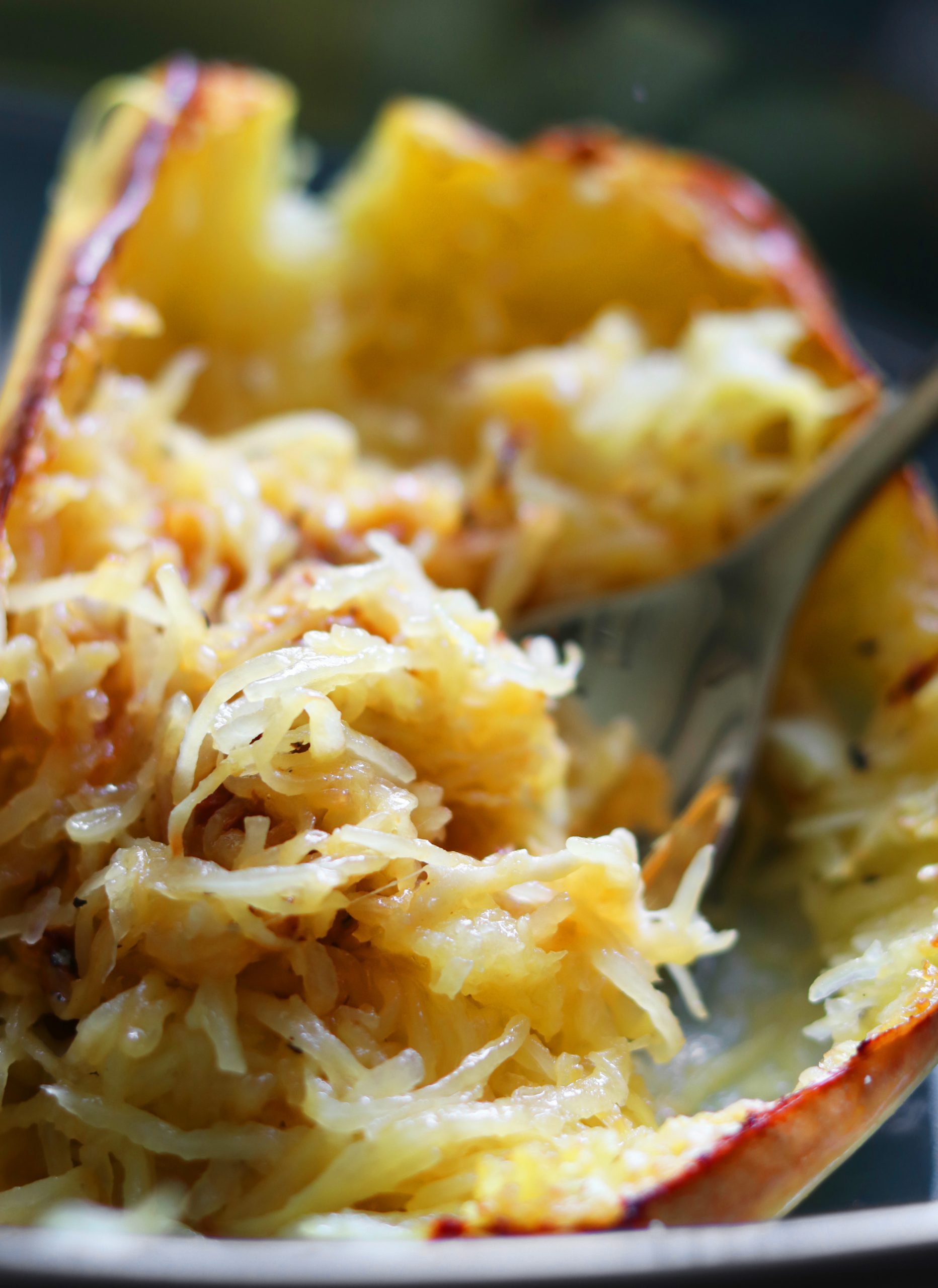 Other than time savings, here are some other pros I've found with using the Air Fryer:
They are essentially more affordable, space-saving countertop convection ovens. If you've been thinking of adding a convection oven to your kitchen, the Air Fryer will be a much cheaper option.

You will use less of your expensive cooking fats. Don't get me wrong: many fats are good for our health. But fats like organic coconut oil, grass-fed ghee and tallow and avocado oil can also be pricey. You'll use less fat while cooking and can add a drizzle to your finished plate, if desired.

It's fairly hands-off cooking… not quite as hands off as the Instant Pot but close! I give the fryer basket a shake every 4 to 5 minutes to prevent sticking and make sure the food gets browned and cooked evenly. Some foods like chicken tenders or meatballs require you to flip them halfway through for even browning.

Use up the produce/meat that's going bad in your fridge even when you're not inspired to cook! I had some wilting broccoli, slightly mushy mushrooms and ground beef that was on it's last leg in my fridge. Instead of wasting the food, I quickly prepared it for the Air Fryer and minimized waste even on nights when I have no desire to cook.
You won't need many ingredients for this easy Parmesan Garlic Air Fryer Spaghetti Squash 
A two-pound spaghetti squash: anything larger wouldn't fit in my Gowise Air Fryer basket.

Extra virgin olive oil: I add a bit more fat to this recipe than other Air Fryer vegetable recipes for the best texture.

Garlic powder and minced fresh garlic

Sea salt and pepper

Shredded Parmesan: for dairy-free, you could use nutritional yeast or simply omit all together. It'll still be delicious

White wine or coconut vinegar: the white wine vinegar has a much more mellow taste but I like the umami in the fermented coconut vinegar too
And bonus: it'll be done in less than 25 minutes! Spaghetti squash in the oven can take easily 35 to 40 minutes to get to that scoop-able texture.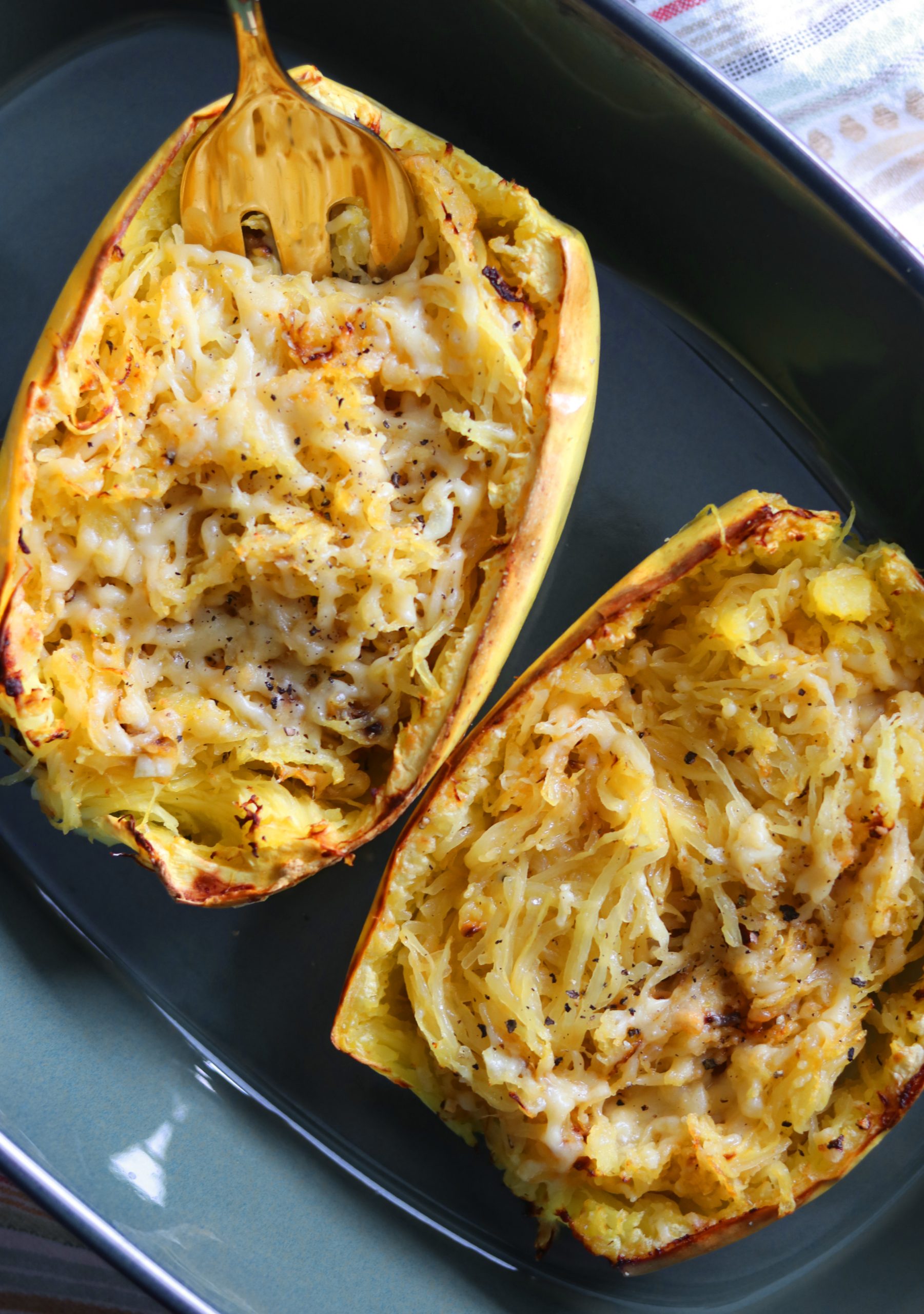 How to make Spaghetti Squash in the Air Fryer
1. Slice the spaghetti squash in half lengthwise. Scoop out and discard the seeds.
2. Drizzle the spaghetti squash with extra virgin olive oil and sprinkle on garlic powder, salt and pepper.
3. Cook the spaghetti squash in the Air Fryer at 360 degrees for 20 minutes.
4.  Halfway through the cooking time, fluff the spaghetti squash with a fork. Drizzle with additional olive oil.
5. Remove the squash from the Air Fryer and scoop out the flesh, leaving the skin intact. Toss with white wine vinegar and fresh  garlic. Return to the squash skins. Sprinkle with Parmesan.
6. Return to Air Fryer and cook at 400 degrees for 3 to 4 minutes until the Parmesan is melted. Serve warm.
Print Air Fryer Parmesan Garlic Spaghetti Squash
Author:

Prep Time:

5 min

Cook Time:

24 min

Total Time:

29 minutes
---
Scale
Ingredients
1 2-pound spaghetti squash
3 tablespoons extra virgin olive oil, divided
½ teaspoon fine sea salt
¼ teaspoon garlic powder
cracked pepper
1 teaspoon minced garlic
1 teaspoon white wine or coconut vinegar
3 to 4 tablespoons shredded parmesan
---
Instructions
Slice spaghetti squash in half lengthwise. Scoop out and discard the seeds.
Place in air fryer basket and drizzle with 1 ½ tablespoons olive oil. Sprinkle evenly with sea salt, garlic and cracked pepper.
Air fry at 360 degrees for 20 minutes. Halfway through at the 10 minute mark, fluff the top of the spaghetti squash to prevent burning and drizzle with the remaining 1 ½ tablespoons olive oil.
Once the timer is up, carefully transfer the squash to a cutting board. Using serrated tongs, scrape and scoop out the squash noodles to a mixing bowl, leaving the skin intact.
Combine the squash noodles with the minced garlic and vinegar. Divide evenly among the two intact squash skin halves. Sprinkle with parmesan.
Return to air fryer and cook at 400 degrees for 3to 4 minutes until the cheese is melted.
---