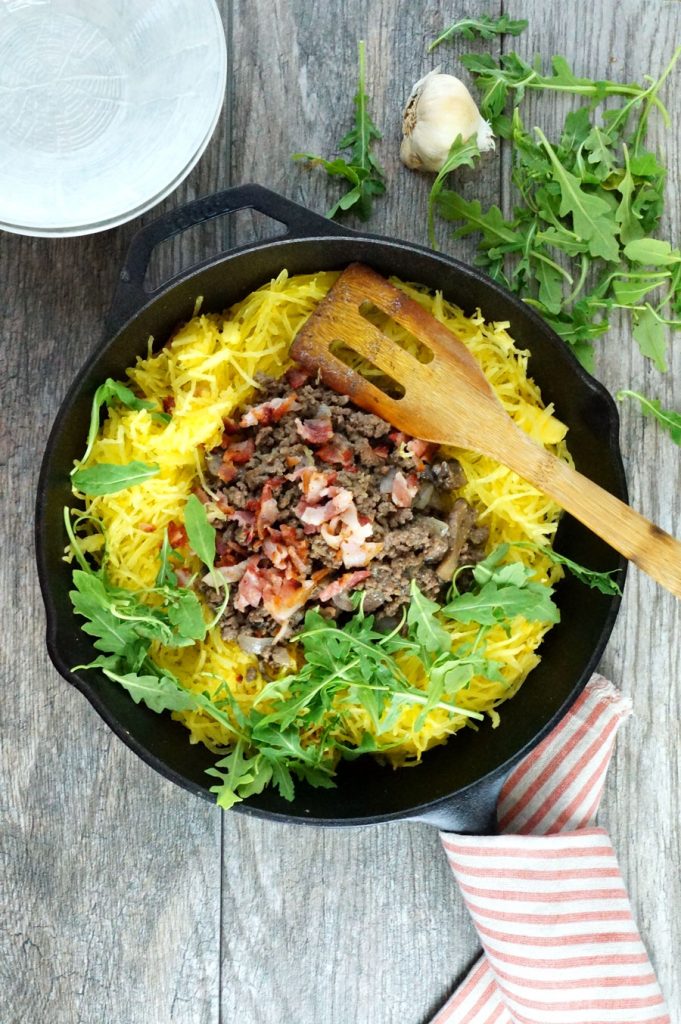 I'm a lover of meat sauces. My mom used to make a big pot of her meat sauce every few weeks when we were kids, and the smell of it simmering all day got me so excited for dinnertime! Of course then we served it with boiled pasta, and in my well-informed years of adulthood, I'm serving it with spaghetti squash! By the way, this is also how my mom serves her meat sauce now! We both went Paleo around the same time in 2012!
Last night I made the Meat Sauce from The Healing Kitchen and I was inspired by this Beef + Mushroom Carbonara to add a glug of red wine to it… omgsh you guys. And THEN I served it over white sweet potato wedges for an Italian take on Poutine!
WHAT MADE THIS RECIPE EVEN BETTER?
I didn't think ground beef could get yummier than my local farmer, but Butcher Box consistently delivers me the tastiest beef and pork I've ever had! Everything arrives at your door in a neat reusable cooler bag that I take to the beach or for traveling with homemade food! My mom signed up to receive her shipment every other month and is always anxious to get her next box in!
It would honestly be even yummier (if that's possible) with this Carbonara because of the bacon and mushrooms! I topped everyone else's Italian Poutine with raw grass-fed sharp cheddar and they went bonkers over it. Just bonkers. So that being said – you don't have to serve this over spaghetti squash – you can eat it with par-boiled zoodles, sweet potato fries, over cauliflower rice, or in a bowl by itself!
Find the full recipe HERE