These Whole30-friendly Breakfast Meatballs have veggies AND fruit in them and are spiced with warming flavors making them the perfect grab & go meat and veggie morning option! They are Paleo, dairy-free, grain-free, egg-free and nightshade-free to boot! Make them AIP-friendly by omitting the mustard!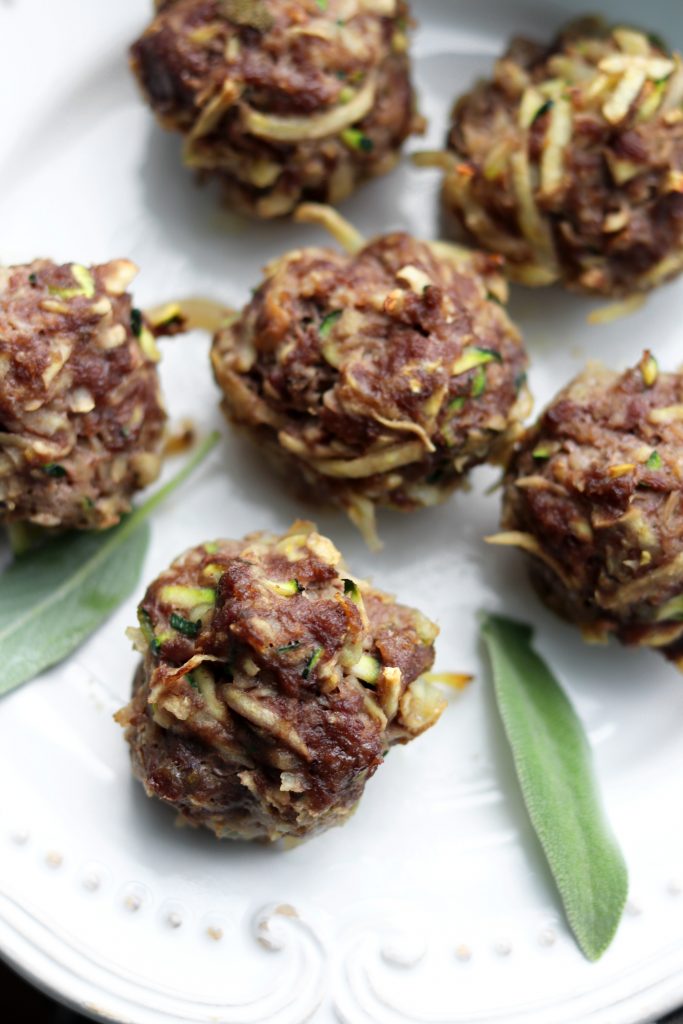 What do you feel best eating in the morning? I've experimented with fasting, smoothies, fat and protein only breakfasts, and everything in between. What I've found that works best for me: eating a fairly large breakfast that contains protein, fat AND carbs! Imagine that – balanced nutrition on a plate without having to subscribe to any restricting protocols.
Intermittent fasting didn't work for me. Frankly, I intentionally and unconsciously under-ate for years and years… probably over a decade of my short 31 years on earth. My body knows what it's like to skip a meal, feel deprived after being too focused on portion control or limiting carbs because FAT-BURNING (eye roll at that over-used phrase). It goes into immediate hormonal haywire. I don't know a single woman who has not fallen into the under-eating category at some point in her life. You have coffee and a banana and call it breakfast. You eat a small salad with a handful of protein and a few raisins and that's lunch. Dinner is a few sweet potato fries, slices of avocado and a small burger patty. This is not enough food for the vast majority of people – heck it's not enough food for my 3-year-old!
I'm done with that ish. I wake up in the morning ready for breakfast and see nothing wrong with that. I don't question my leptin, ghrelin and insulin levels. In fact, I've had them all tested and they're perfectly normal, even optimal. We've been trained to think that being hungry means there is something morally or internally wrong with us. This has been perpetuated by the male-dominated health community as we are inundated with "healthy ways to lose body fat and gain energy and mental clarity".  Sure, fasting may help some of us with that but at what expense? Losing your period? Missing out on brunch with friends? Feeling guilty if you do wake up hungry? Questioning every bite of food you put in your mouth? Going farther down the rabbit hole of trying to "optimize health" by basically obsessively controlling any external factor that you can.
It is exhausting. And toxic.
Lastly, if you base your plate around what you see on social media, DON'T. Many "health influencers" have their own restrictive-mindset demons they are silently (or quite obviously) battling. It's easy to look up to someone with tens or hundreds of thousands of Instagram followers and assume they're doing it "right". You have no clue what goes on inside their head or inside their home. Just because XYZ on Instagram fasts until 11 am and breaks her fast with a 250-calorie cold brew smoothie does not mean that's the right choice for you. For the majority of women, that would result in a hormonal backlash… maybe not at first but eventually. The human body does not thrive in a state of deprivation and starvation. No matter what the media wants to tell you. Starvation does not equal wholeness, happiness or spiritual grounding despite even the Eat Like a Buddhist Monk Diet being a thing.
I want to bring your attention to a good friend of mine, Meg Doll, who has been chronicling her journey of eating MORE, more than she's ever done in her lifetime, in order to restore her menstruation. As females, our menstrual cycle is one of our best indicators of wellbeing, and I'm grateful for women like Meg who give themselves permission to eat more. Read this post where Meg shares that she restored her cycle after 12 years of amenorrhea during a time she was both intentionally and unintentionally under-eating.
If you struggle with eating more or subscribing to every new health fad that finds its way to your Instagram, ask yourself the following questions:
Who am I living my life for? Who do I allow to influence my decision making? Do I factor in the opinion of others' when making judgments about my own body?

Do I try to rationalize my eating behaviors to myself and others? Am I always finding a reason why I should or could be eating less?

Does the thought of increasing my calories, which are essentially energy that my body can use for repair and hormonal balance, cause me anxiety? Even though I know I intentionally or subconsciously under-eat?

Am I easily influenced by the content I see on social media? Do I base the majority of my decision making on what I see others on Instagram doing?
If your answer(s) made you at all uncomfortable (and you answered honestly) that is your internal signal to do the inner work involved in becoming your own agent of change. If you felt defensive while reading the questions that is your internal signal that your ego-protective mechanisms are at work.
This post is a discussion piece – really a launching pad of thought. And has nothing to do with Breakfast Meatballs but hey, this is a little bit more of an important topic than morning meat.
MEATBALL TIPS
~ You can use ground beef OR ground pork in this recipe! Or try half and half for a more authentic breakfast sausage taste.
~ If you tolerate egg, you can add 1 whisked egg into the mixture but they hold together well on their own.
~ You can bake these in muffin cups for easy clean up or bake them on a parchment-lined baking sheet.
~ It's easy to over-cook meatballs. Most meatballs do not need longer than 15 to 16 minutes in the oven. Anything longer and you get a dried out, rubbery texture.
~ This is a super easy recipe to double or triple for a batch cook – especially for an expecting mom! It's vital post-partum to be focusing on high-quality animal meats and iron in your diet.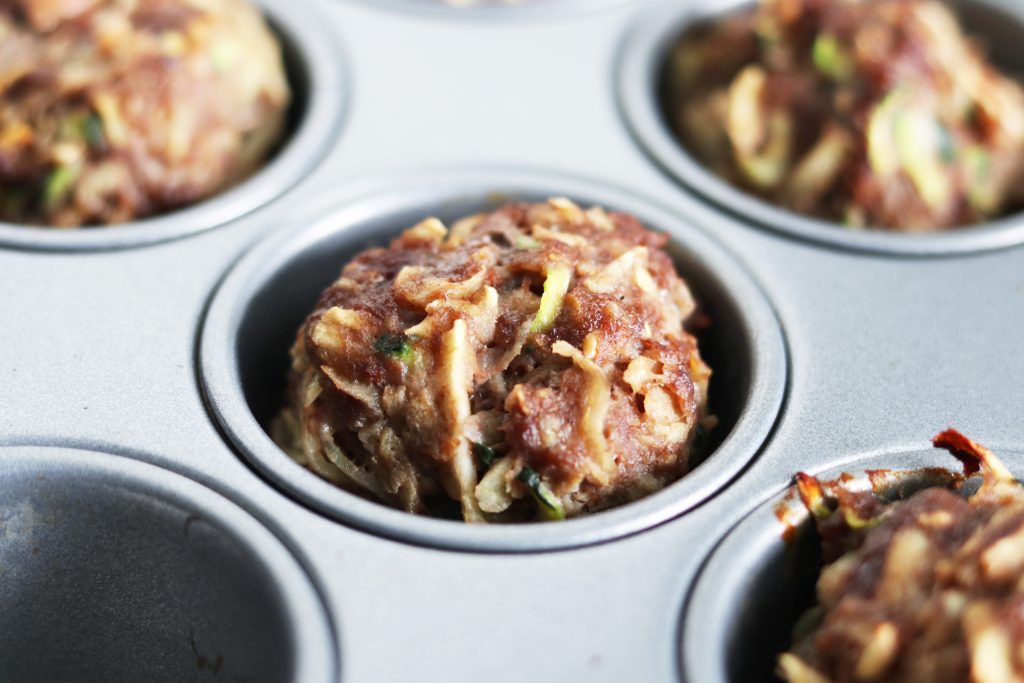 Print Whole30 Breakfast Meatballs
---
Scale
Ingredients
1 pound grassfed ground beef
1 8-ounce white or regular sweet potato
1 medium zucchini, ends removed, sliced in half lengthwise and widthwise
1 medium gala apple, cored
1 tablespoon finely minced sage
2 teaspoons Dijon mustard
1 ½ teaspoons fine sea salt
1 teaspoon ground cinnamon
½ teaspoon granulated garlic
½ teaspoon ground ginger
---
Instructions
Preheat oven to 400 degrees. Have a 24-cup muffin tin pan ready.
Peel the sweet potato and shred it in your food processor along with the zucchini using the shredding disc. Transfer to a clean kitchen towel and squeeze out excess liquid.
Now shred the apple in the food processor. No need to squeeze out the liquid.
In a large bowl, mix the ground beef, shredded sweet potato, zucchini and apple, sage, mustard, and seasonings.
Using your hands, form about 1 1/2-ounce meatballs with the mixture (I measure using a kitchen scale for even-size meatballs) and place in the muffin tin. I got 20 Breakfast Meatballs out of this recipe as written.
Bake in the preheated oven for 14 to 16 minutes until cooked through. Let cool 5-10 minutes before serving.
If prepping for the freezer, freeze in individual layers separated by parchment paper in a Ziploc bag for up to 6 months.
---