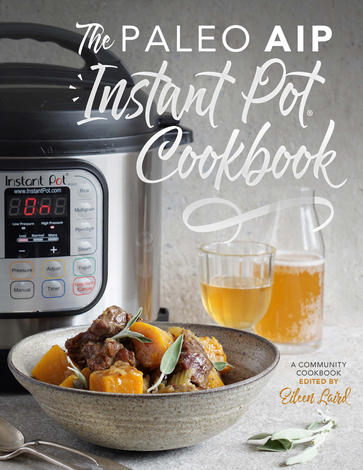 It's no secret I'm unabashedly obsessed with my Instant Pot. It is the reason I do not go bat-poop crazy and start kicking and screaming like a toddler when I have to cook another dang dinner after I just finished up the dishes from lunch. The Instant Pot saves lives, it saves marriages, it saves new moms on AIP from going completely nuts and eating at the Whole Foods salad bar every night ($$$).
And most of all, it gives you more time to spend with your family, hobbies, and exploring other passions!Which is why I'm so stoked to be a part of the brand new e-cookbook containing over 140 AIP-Compliant recipes: The Paleo AIP Instant Pot Cookbook which releases today October 1st! A
nd who doesn't want some time off from the kitchen, especially if you're dedicated to this whole healing through food AIP thing. And on top of that, most of us are dealing with autoimmune conditions that cause fatigue, joint pain, and sore muscles, which makes limiting time in the kitchen important for recovery.
If you still haven't bought an Instant Pot, what are you waiting for? They're really reasonably priced considering how much time they save you every week and how much money you'll save on groceries. I held out on getting one for awhile and since I got it 2 years ago, I can't imagine life without it. I use it at least 5 days a week and it runs perfectly new! How does it save you money? Well you can cook cheaper large cuts of meat in it and achieve fork-tender pulled meat and roasts. You can also cook large amounts of affordable root vegetables in broth and simply puree them into soup for a super-healing, super-easy anytime meal! 
If you're feeling run down, bored, or just plain freakin' over all the cooking required by the AIP, then this is the cookbook and appliance for you. Not only are all the recipes super quick, easy, and hands-off, but they're flat out decadent, comforting, uber-flavorful, and inspiring!
141 AIP-compliant Paleo Instant Pot Recipes

Recipes from 37 different bloggers for a wide variety of flavors

Gorgeous design & layout, easy to read and search for recipes

9 Recipe Chapters: Broths, Sauces & Condiments, Vegetables, Poultry, Meat, Seafood, Offal, Dessert & Extras

Dietary Modifications for Low FODMAP, GAPS/SCD, & Coconut-Free 

Only $17.95 which is only 12 cents per time-saving recipe!
Some recipes in the book I personally love include :
Cranberry BBQ Sauce

Bacon Orange Cherry Jam

Creamy Root Vegetable Curry Soup

Rosemary Bacon Braised Cabbage

Mofongo

White Chicken Chili

Italian Wedding Soup

Maple Lime Shredded Chicken

Pineapple & Mango Chicken Thighs

Turkey & Gravy

Italian Beef

Spiced Cranberry Pot Roast

Carolina Style BBQ Pork

Pork Vinadaloo

Korean BBQ Bison Meatballs

"Chocolate" Cake

Sticky Date Pudding

Mini Pumpkin Pies
AND THIS FREE RECIPE FOR SWEDISH MEATBALLS & MUSHROOM GRAVY!
FREE SAMPLE RECIPE: SWEDISH MEATBALLS & MUSHROOM GRAVY
by Andrea Wyckoff of Forest and Fauna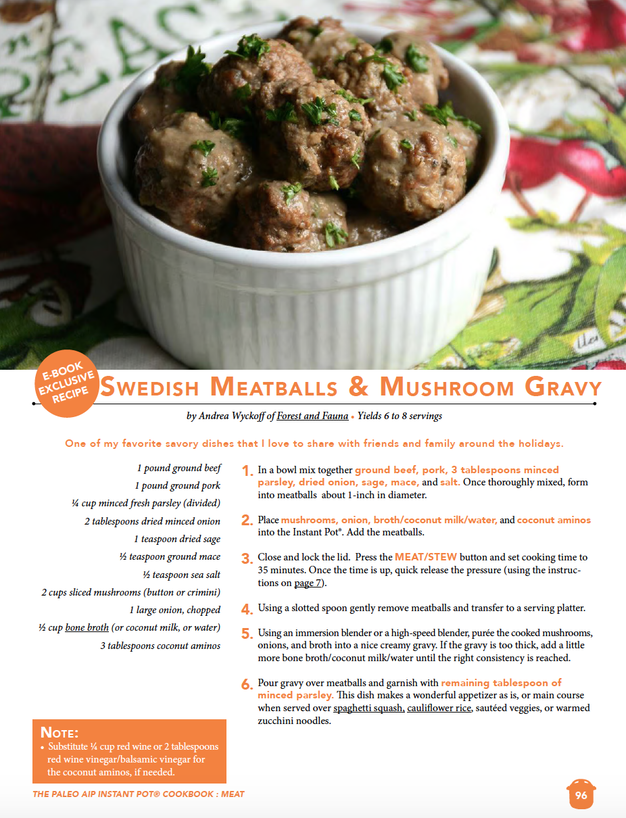 10 REASONS WHY YOU NEED AN INSTANT POT
Super Safe:

Easy to use electric pressure cooker with tons of safety features. This isn't your grandmother's scary stovetop pressure cooker.

More time-saving than the crockpot:

 Cooks foods in 70% less time than regular cooking methods!

More Flavorful

: The high pressure allows recipe flavors to build quickly, so you get super tender, flavorful meals without much work on your part besides prepping any veggies!

Easy Bone Broth:

 Makes nutrient-rich bone broth in 2 hours versus the typical 24 to 48 hours in stovetop and crockpot methods. 

Convenient & Well Designed:

 Lightweight, easy to store and clean, pleasing design

Keeps Food Warm:

 You don't have to worry about getting home to put the food away!

No smells

: The Instant Pot is fully sealed when cooking food, so smells won't permeate the house for hours (I'm sensitive to bone broth smells, so this is important to me!)

Energy-Efficient

: The Instant Pot saves 75% energy versus a slow cooker!

Money Saver

: Turns cheaper, less-exciting cuts of meat and same-old, same-old vegetables into something new. Always tender, savory, delicious creations with literally a push of a button!

The Paleo AIP Instant Pot Cookbook

: So you can cook through the 141 recipes in this new book!