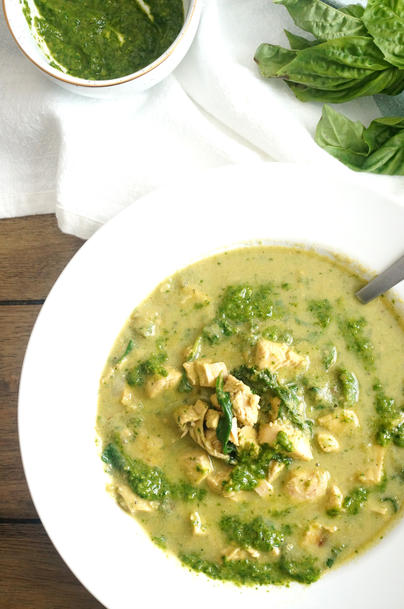 Anyone else a pesto fanatic like myself? I can't get enough of AIP pesto… I really don't miss the nuts or cheese. I know that sounds crazy and like I've been doing this too long, and maybe I have. 
Pesto Chicken is my favorite combo which is why I created the infamous (as in infamous for turning you into a pizza-craving demon) Pesto Chicken Pizza for The Healing Kitchen. That recipe is legit. Definitely try it if you haven't yet. Gimme.
You all make some crazy delicious pizzas out of my pizza crust recipe from the cookbook – holy moly! I stalk all of them.Today, however, I'm eating it as soup. I've never thought to combine the two until I had a craving for bone broth + garlic herb goodness. And goodness. A perfect pair. Still not into making your own bone broth? I found this frozen bone broth by a company called Bonafide Provisions at my local health food store the other day + used it in a pinch for a different soup I made. It was SUPER delicious! It's also AIP – no nightshades or seed spices – making it the perfect in-a-pinch broth for your gut-healing soups, stews + mugs!
over on the 21 Day Sugar Detox blog!