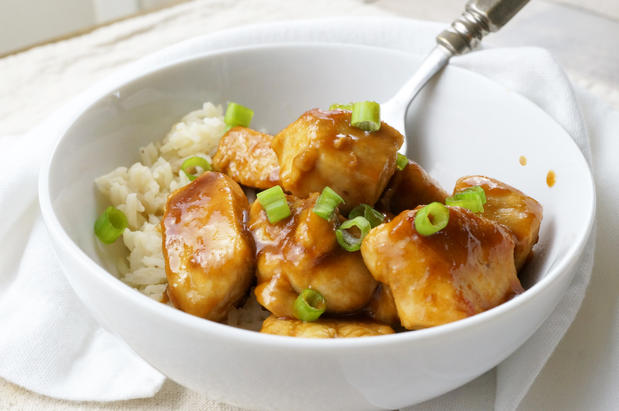 So I am one of those people who cannot move on from a craving, especially if hormonally-driven. Aren't all cravings hormonal? I guess some are nostalgia-induced, but really I think nostalgia is PMS disguised in visual memory. This one was both. I wanted sticky Chinese chicken because 1) sugar 2) salt  3) meat treat 4) it used to be the occasional Sunday night take-out order as a kid . I am not above food cravings. I am not so health-centered and "perfect" in my diet that I can say things such as "Yes after all these years of eating salad, I do not crave sweets anymore" and "I could really go for some cucumber slices around that certain time of the month". In fact, I think people who abstain from sugar for decades (I've met them) are weird, immortal, and/or sleep-snort sugar packets from the 7-11 down the street.
While I am not above my cravings, I am also not into eating things that make my insides go "Huh?" or "Wow, thanks jerk." No, it's all about finding ways to eat what makes you feel happy while still leading a health-promoting lifestyle. I am so thankful that I love being in the kitchen so much that I find ways to create recipes that satisfy my cravings! Whenever you see a new recipe on G&E, you can be guaranteed I woke up one morning "needing" it so badly I couldn't move on with my life.
So in this super delicious, Asian-y dish, I wanted a healthful sticky chicken reminscent of takeout without the MSG. I decided to reduce 1/2 a bottle of ginger-flavored kombucha as part of the base for the sticky sauce because it adds both a concentrated ginger flavor as well as the perfect sweet vinegar! I first mixed it just with raw honey but decided the sauce really need to be lightened up in flavor without thinning it out with acid. No-sugar-added apricot preserves (which can be found at most grocers; I got mine at Home Goods) not only thickened the sauce up but added a fruity and chunky sweetness that was absolute perfection. So, so good. And I am so, so glad I have leftovers for breakfast or lunch tomorrow! I served mine over white rice cooked in my Instant Pot in garlic bone broth. The ONLY way to cook white rice in my opinion. Of course for AIP, serve it over our beloved cauliflower rice and you have got yourself one nourishing, unique, and comforting bowl!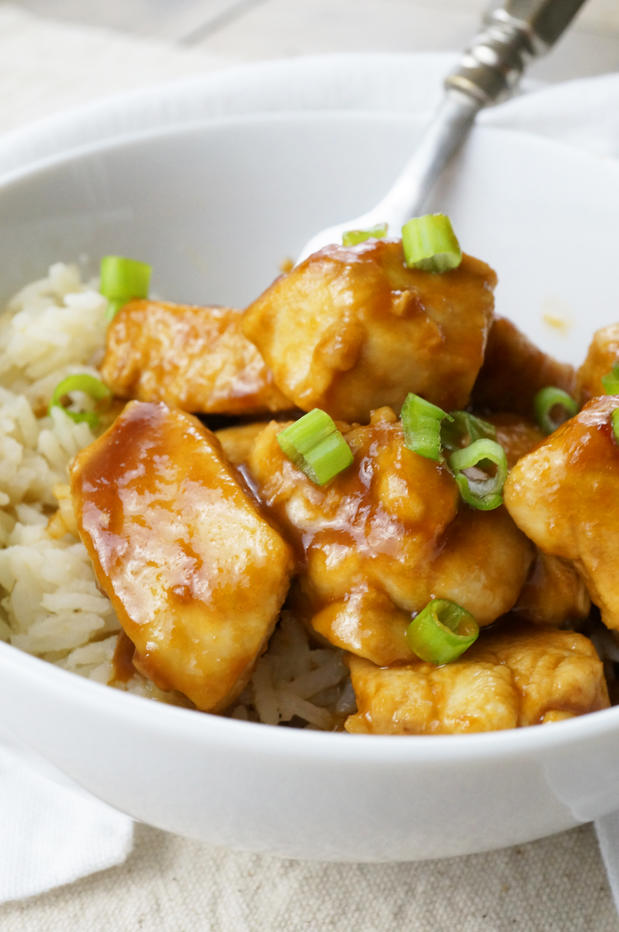 Sweet & Sticky Chicken
Serves 3 | Prep Time 10 minutes | Cook Time 20 minutes
Sticky Sauce
8 ounces ginger-flavored kombucha
1/4 cup raw honey, divided
3 tablespoons no-sugar-added apricot preserves
1 teaspoon fish sauce
1 teaspoon blackstrap molasses
½ teaspoon – 1 teaspoon ginger powder (to taste)
½ teaspoon sea salt
¼ teaspoon garlic powder
¼ teaspoon onion powder
Chicken
1 ¼ lbs boneless skinless chicken breast
2 tablespoons coconut oil
½ tablespoon coconut flour (optional but helps absorb moisture so sauce does not thin)
For the sticky sauce

, combine kombucha and 1 tablespoon  honey in a small saucepan. Bring to a boil over medium-high heat until liquid has been reduced to 1 ½ tablespoons. Watch closely so it does not over-reduce. This should take 10 to 12 minutes.
In a glass bowl, stir kombucha reduction with all of the remaining sauce ingredients until a thick sauce has been achieved. Set aside.

For the chicken

, chop the chicken breast into 1-inch pieces.
Heat the coconut oil in a large deep skillet over medium-high heat. You will likely want to use your largest skillet to avoid over-crowding the pan.
Cook chicken undisturbed for 3 to 4 minutes until the bottom is golden brown. Flip and cook for an additional 3 minutes until cooked through.
Sprinkle with coconut flour and stir to help absorb some extra moisture and give the sauce something to stick to on the chicken.
Turn the heat to low and pour in the Sticky Sauce. Toss continuously with the chicken for a couple minutes until it has thickened.
Serve over cauliflower rice or white rice cooked in bone broth (my favorite way but an AIP reintro food). Make sure to scoop all the sauce from the skillet on top of the chicken when serving!