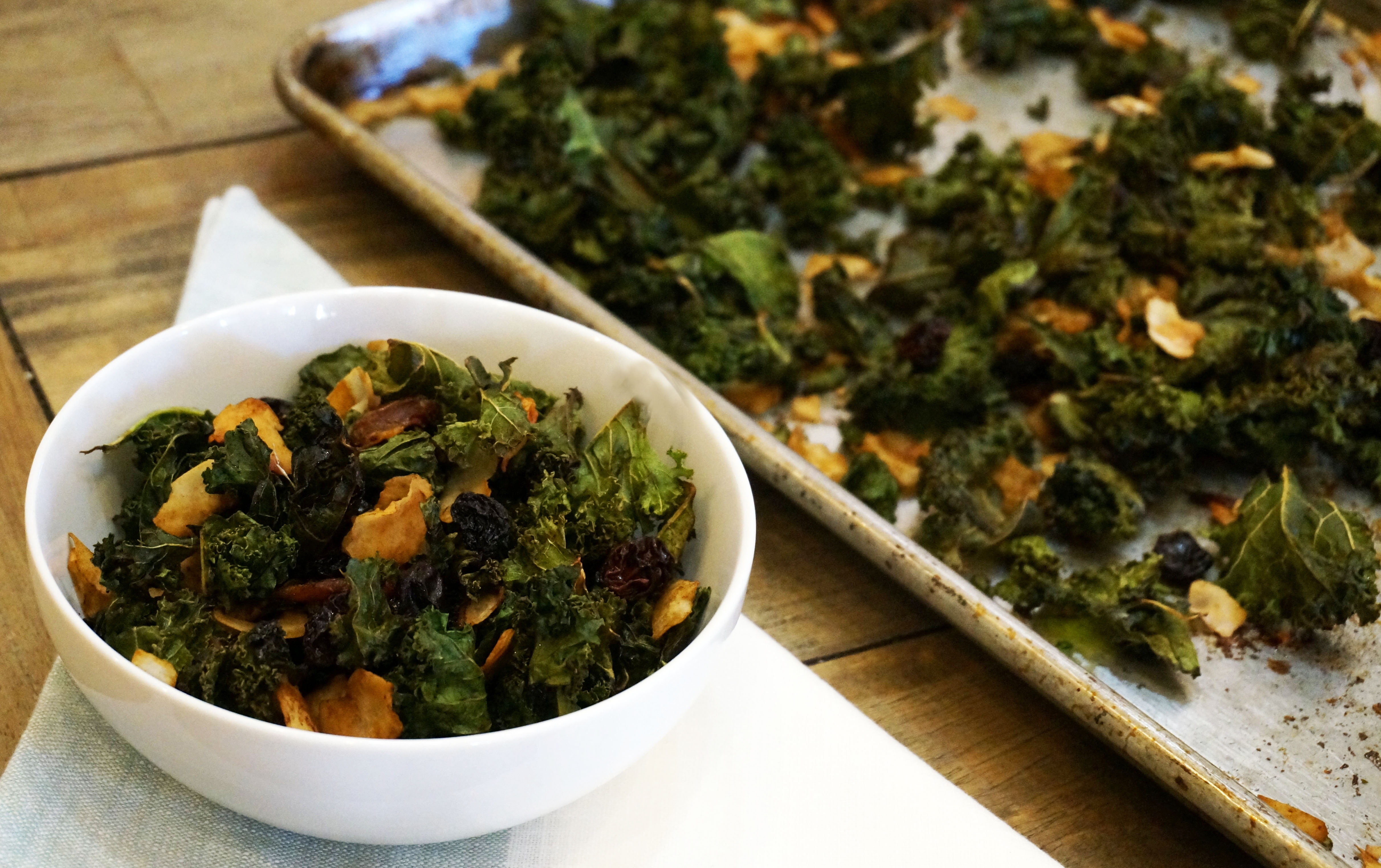 Yay for AIP snack food that you can actually travel with, enjoy the taste, and is nutritious to boot. I got the idea for Kale Granola after visiting Hu Kitchen in NYC last weekend. Their version was much sweeter and had nuts/seeds in it, so I was bent on developing an AIP version I could make for vacations or school snacks when I definitely want to stay 100% within AIP. You will love it! Promise! Even if you're not a fan of kale chips.
I didn't celebrate Halloween this year – it's really a hit or miss holiday for me. I particularly do not like dressing up nor spending money on a costume that I will only wear once and likely be embarrassed of within 5 years. We instead saw Million Dollar Quarter with my mom who was visiting for 4 days. On the train ride home, the costumes provided a good chuckle. A group of Guy Fieri impersonators wearing flame-decorated shirt and bandanas. Ted the giant teddy bear, who stared at me the whole time with intent of making me as uncomfortable as possible. And a large white boy dressed as a ditzy white girl… Uggs, stretch pants, Victoria's secret bag in hand, blonde wig saying things like "Omg guys we lost Stacy. We lost Stacy!!" and "Can we take a selfie? SELFIE TIME! Omg, wait, can we do it again? I wasn't on my good side."
Maybe you had to be there. Or maybe you need to just got turn on Bravo for 3 minutes and then you'll understand why Generation Y is the way they are. Including myself – I do have VIP status at Sephora after all.
Sweet & Crunchy Kale Granola [AIP Friendly]
Serves 4 | Prep time 15 minutes | Cook time 35 minutes
1 large bunch curly kale, stems removed, torn into 1-inch pieces*
 6-8 pitted dates (I used 8 Deglet Noir dates, but I recommend 6 if using Medjool which are larger)
 2 T coconut oil, melted
1 T blackstrap molasses
1 tsp cinnamon
¼ tsp ginger
¼ tsp fine sea salt
1/3 cup raisins
1 cup unsweetened coconut flakes (I used Let's Do Organics brand)
*Make sure the kale is very dry. I did this by sending it through my salad spinner after tearing it.
1.     Preheat oven to 300 degrees.
2.     Soak the dates in very hot water for 10 minutes until softened. Drain the dates and place in a shallow bowl. Using a potato masher or the back of a fork, mash dates with coconut oil into a paste. Stir in cinnamon, ginger and sea salt and mix well.
3.     Place kale in a large mixing well. Pour the date mixture into the bowl and mix well to coat the kale. Now stir in the blackstrap molasses until well coated. Add the raisins and coconut flakes and ensure they are coated as well.
4.     Spread kale onto a baking sheet. Bake for 15 minutes, stir, and bake for another 18-20 minutes until all kale leaves are crispy and the coconut is a toasty brown.